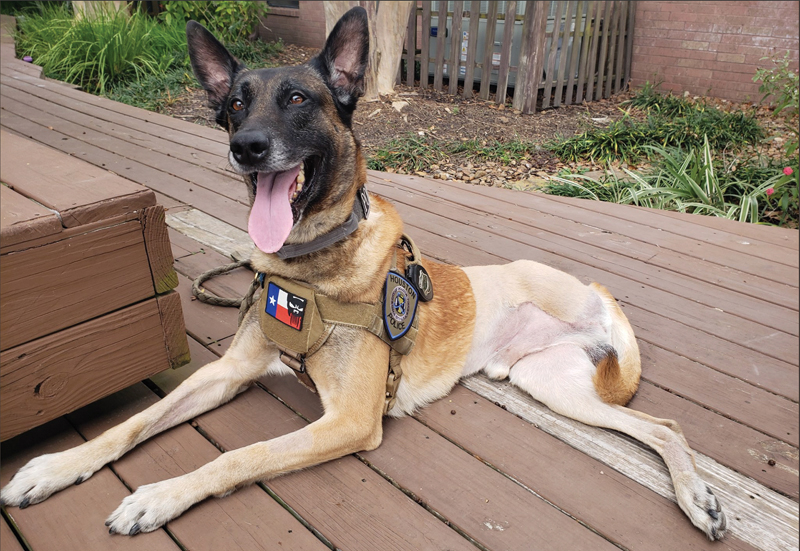 A surgical oncologist at Texas A&M College of Veterinary Medicine and Biomedical Sciences (CVM) is credited with saving the life of a canine officer after diagnosing the pooch with an uncommon type of tumor.
T-Rex, a four-year-old Belgian Malinois, was diagnosed with bone cancer a few months ago after his handler, Officer Paul Foster with the Houston Police Department, noticed the dog was limping.
T-Rex was brought to Texas A&M CVM's Small Animal Hospital (SAH), where he was examined by the unit's surgical oncologist, Brandan Wustefeld-Janssens, DVM, BSc, BVSc, CertAVP, DipECVS, MRCVS.
"Bone cancer is typical in large or giant breed dogs and is located in a long bone near the knee," he says. "Most often, about 85 percent of the time, these types of tumors are osteosarcoma."
Additional examinations, however, determined T-Rex had a low-grade chondrosarcoma (a tumor of the cartilage), which carries a very good prognosis as compared to the more common osteosarcoma, reports Texas A&M.
Dr. Wustefeld-Janssens and his team determined T-Rex did not require chemotherapy and instead opted to amputate the affected leg.
The canine's recovery was remarkably fast, according to Texas A&M, and is now back to work with the Houston Police Department.
"He dragged the student working on his case out the front door of the hospital the very next day," Wustefeld-Janssens says. "I am always blown away how amazing dogs are. They can recover so quickly from a fairly large surgery that would take a person months to recover from."
To read the full story, click here.