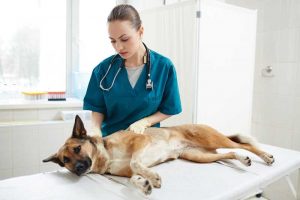 * Editor's note: At press time, California became the first state to give veterinarians legal protection to discuss the use of medicinal cannabis for their animal patients in their licensed practice.
On an increasing basis, veterinarians across the country are faced with questions about the use of cannabinoids to treat their clients' pets. In my own practice, it seems not a day goes by that a pet owner brings up the subject or asks whether cannabinoids can help their dog or cat.
Case in point: The local school superintendent's dog was having a mild bout of diarrhea, likely from eating goose droppings from a nearby shore. We discussed Lady's overall health—she had recently seen a specialist for thyroid cancer issues, but she was doing much better than nine months earlier. Will, her owner, told me Lady was being treated with a "new therapy" he had stumbled on after leaving the dog with his brother-in-law while he was out of town. Given the bleak outlook presented by the oncologist, the brother-in-law decided to give Lady cannabidiol (CBD) oil to alleviate her symptoms. When Will returned from vacation, he noticed Lady was "almost a new dog," and asked his relative what he had done. He told him about the CBD oil. Needless to say, Lady has remained on it ever since and continues to demonstrate the dramatic rebound she first experienced when given the oil.
Recently, I discussed a feline client's case of osteosarcoma of the zygomatic arch, which had caused damage to several tooth roots, necessitating their removal. I considered conventional treatment options, referral to an oncologist being at the top of my list, as Frisky was still eating well and showed minimal signs of other complications. Very soon in the discussion, the client brought up CBD oil as an option for ameliorating cancer pain and inflammation. She and her sister had been using this product to relieve their own discomfort.
Two days prior, a client whose dog suffers from cluster seizures came in for a phenobarbital level check. Despite the fact Max had an apparently adequate level of phenobarbital in his system, he was still having some pretty severe cluster seizures every month. When the client asked about CBD oil to help alleviate the seizures, I informed them I legally cannot prescribe or recommend it as a treatment. That said, I felt obligated to point them in the direction of where to find more information, as we often do in practice in myriad situations.
Let's talk
These three cases illustrate the realities of what we face every day as veterinarians. CBD oils and other cannabinoid-based products are being used on an ever-increasing basis in people and pets. There's no doubt anecdotal stories highlight some stunning results, but they also create as many questions as answers. There is an abundance of interest from clients wanting to give CBD or medical marijuana products to their pets, but a very limited research pool from which veterinarians can draw conclusive evidence.
As the knowledge and use of cannabis-based products in pets increase, it is time practicing veterinarians stand at the forefront of the issue to freely and openly advise our clients as to the potential applications and dangers regarding the use of these products.
During a webinar this past August organized by the American Veterinary Medical Association (AVMA) entitled, "What veterinarians need to know about cannabis," participants indicated by a 90 to 10 margin they had clients expressing interest in cannabinoid use in their pets, but agreed veterinarians could be at risk legally for discussing it with them.
When it comes to cannabis-based medicine, navigating the legal landscape is very difficult, as no state (except perhaps California, where Bill AB-2215 sits on Governor Jerry Brown's desk awaiting his signature) has passed laws whereby veterinarians can legally discuss medical marijuana with their clients.* AB-2215 would change that—it sets a deadline of 2020 for the state's veterinary medical board to develop guidelines for discussion of cannabis within the veterinarian-client-patient relationship. The short-term solution would be for all states to pass such a law.
California has led the way when it comes to reforming cannabis laws. It's been 22 years since it became the first state to legalize medical cannabis with the passage of the Compassionate Use Act of 1996. Several bills relating to cannabis are currently before the legislature. If history is any indication, veterinarians practicing in California may be the first in the country to be able to legally discuss cannabis-based medicine with their clients.
With the veterinary market poised to expand, it will be interesting to see whether other states seek changes. Some would argue there is a disconnect when it comes to the use of nonapproved drugs or supplements. The latter is a somewhat undefined category in terms of the U.S. Food and Drug Administration (FDA), which classifies everything for use in animals as either food or drug. Veterinarians frequently recommend products, such as Denamarin for pets with liver issues and glucosamine for joints, although they are not legally allowed to prescribe those products as they are not drugs. Considering the FDA and Drug Enforcement Administration do not have the allocated resources to enforce the use of cannabis products in pets, will the issue simply become a case of enforcement discretion?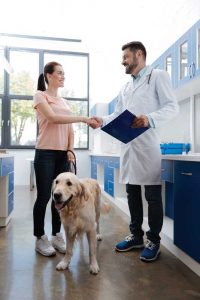 Consider this: The use of cannabinoids—particularly CBD-infused oils or whole hemp extracts—has increased dramatically over the last year and is expected to triple by 2022 (See bit.ly/2NDSn3U). And according to a report published by Hexa Research, the U.S. medical cannabis market size is expected to balloon to $19.48 billion by 2024 from $5.44 billion in 2016.
We face a situation where clients are striking out on their own and using hemp or marijuana oil and edibles containing varying amounts of CBD, and in some cases, THC, at an ever-increasing rate to improve their pet's health and well-being. It stands to reason the most educated person in charge of dealing with animal health issues should be able to freely discuss the use of cannabis products with their clients, as is the case in human medicine.
Change with the times
So what needs to change? First, we need an all-out effort to research the effects of CBD/marijuana products on animals to develop a larger data set of evidence, similar to what has happened in human medicine. Second, the veterinary community, including its various associations, must work to educate and inform veterinary professionals on the issues surrounding the use of cannabinoids in animals. Remember, pet owners are seeking out and using these products at an increasing rate. Shouldn't veterinary professionals be the experts they turn to for answers?
Veterinarians are trained to assess all the factors involved in the health care of their patients. As such, it is imperative they be able to discuss the potential benefits and the possible dangers of giving pets cannabis, including toxic overdose. AVMA has taken steps to inform its members by developing information on its website, conducting webinars for veterinarians to understand the current status of cannabis in veterinary medicine, and directing them to websites, such as veterinarycannabis.org.
Some VMAs in states such as Colorado and California are working to advocate for change and inform their members. However, not enough is being done to put practicing veterinarians in a comfortable position to educate and inform their clients regarding the potential beneficial effects of cannabis. Perhaps veterinarians ought to become involved in the cannabis discussion by participating in the development of medical marijuana laws. For change to occur, state and national organizations must proactively lobby on their behalf to elevate the veterinary profession to a leadership role in this area. Only then will
pets receive the informed care they deserve.
Jeffrey Powers, DVM, earned his veterinary degree with honors in 1980 from Michigan State University. That same year, he began clinical practice in rural southeastern Michigan in predominantly dairy and equine practice. In 1983, Dr. Powers founded South Sanilac Veterinary Hospital, and has practiced in both large and small animal ever since. He is currently the owner of Veterinary Clinics North in northern Michigan, with practices in East Jordan and Beaver Island. Powers was president of the Michigan Veterinary Medical Association (MVMA) in 1997 and has served on numerous committees and councils for MVMA and the AVMA. He is currently the vice-chair of AVMA's Council on Biologic and Therapeutic Agents and chair of the Clinical Practitioners Advisory Committee. He can be reached via email at jpowers@powershardware.com.