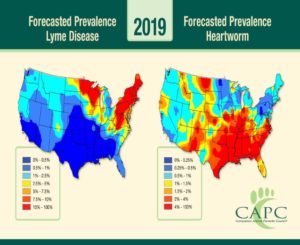 The Companion Animal Parasite Council (CAPC) predicts in its newly released parasite forecast that heartworm occurrence will be higher than average this year .
"We started providing our annual forecasts over eight years ago because of the dynamic and ever changing nature of parasites," says CAPC executive director, Christopher Carpenter, DVM. "Over the years, we have seen these diseases continue to move. Our annual forecast will alert pet owners to the risks this year and remind them our pets need to be tested and protected year-round."
The council's forecast predicts these areas are the riskiest for parasite-related diseases:
South Central and Southeastern states are expected to see a higher than average infections with heartworm. The areas of greatest concern are those along the Mississippi River from Northern Louisiana into Illinois. Areas with historically lower incidence of heartworm such as Indiana, Illinois, and Iowa, should note the predicted higher prevalence.
The Appalachian region, the Atlantic Coast, Wisconsin, and Minnesota are seeing a high threat again for Lyme disease.
Northwestern Minnesota is forecasted to be active with the transmission of the agents of anaplasmosis.
Southern Central states, particularly Oklahoma, Arkansas, and Missouri are expected to see higher numbers of ehrlichiosis.
To monitor the activity in your county throughout the year, click here.