Suggested Veterinary Products
Right after graduating from Tufts University School of Veterinary Medicine in 1990, Elizabeth J. Colleran, DVM, MS, set out on the typical small-animal career path. She did an internal medicine internship, then went to work for a mixed practice, caring for dogs, cats and the occasional bird.
Right away, she saw some problems—or rather, some opportunities.
"I came to see that cats were really underserved, and, in many respects, misunderstood," says Dr. Colleran, 59. "I worked where there were barking dogs everywhere, and where there wasn't great ventilation, and when cats came in, they freaked out."
That made Colleran think that the way to structure her own practice would be to create a separate specialized facility where cats could receive care in a less stressful setting.
Cat Advocate
Colleran joined the American Association of Feline Practitioners (AAFP) and began meeting other veterinarians who specialized in caring for cats. Finally, in 1998, she opened the Chico (Calif.) Hospital for Cats. She now also owns the Cat Hospital of Portland (Ore.).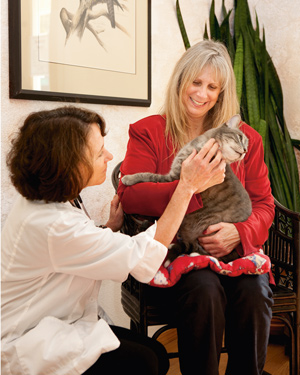 Elizabeth J. Colleran, DVM, MS
Along the way, she became not only a passionate advocate for better veterinary care for cats, but president of the AAFP in 2010. Under her leadership, the association is partnering with the International Society of Feline Medicine to present the first-ever World Feline Veterinary Conference this September in Boston. She sees the conference as one of several initiatives that AAFP is leading to improve standards of care for cats.
"She sees the big picture," says colleague and friend Ilona Rodan, DVM, Dipl. ABVP-Feline Specialty, and herself a former AAFP president. "She's reached out to make connections with other organizations and help educate about how to create cat-friendly practices. And she is doing a fantastic job at helping veterinarians understand what that means—not just feline veterinarians but all veterinarians."
Colleran designed her clinics herself, keeping in mind not just cats' medical needs but their environment preferences. Her Chico hospital, for instance, has a reception area with wood floors, soft Oriental rugs and classical music on the sound system, so cats and owners feel they're entering a private home, not a scary vet's office.
The spa-like interior hides clinical adaptations for sound dampening and specialized air filtration that minimizes the sounds and smells of other cats. Instrumentation is scaled down to cat-size. Instead of steel cages, enclosures are made from a composite material that is quieter and more comfortable for cats.
"Everything is done from the cat's point of view," Colleran says. "We set everything up so the cat never sees other cats. We teach the entire staff to speak in soft voices and use gentle handling techniques."
Client Eva Schweber says she noticed the difference immediately.
"The space feels completely different," says Schweber, whose cats, Rosie, Dancer and Nom Nom are patients at the Portland clinic.
"Cats are never big fans of the vet's office, but there isn't that additional layer of stress here. [The staff] is much more flexible. They let the cat walk around the room while we're talking, or they let them hide in the carrying case except for the few minutes they need to be on the exam table. It helps chill the cats out a little bit."
From Corporate to Cats
To build her business, Colleran also relied on good marketing—not surprising considering her background. Before entering veterinary school, she was a marketing executive for IBM.
Her time there taught her great business and communication skills, she says, which helped when she wrote the business plan for her first clinic.
But eventually, Colleran says, "I realized all I was doing was making money for stockholders. It didn't hold the meaning I wanted to have in my life."
Veterinary medicine seemed like a great way to make a difference, but going back to school after years as a professional was a leap of faith, she recalls. To get the necessary prerequisites for veterinary school, she first went to night school, and eventually had to quit work to earn the credits quickly enough.
When she finally started to practice, Colleran found working with cats especially fascinating and challenging, partly because of the way they present symptoms.
But it was her business acumen that helped her identify cats as a niche. Colleran notes that although cats outnumber dogs in American households, cats made up only about 25 percent of the caseload at the clinics where she worked early on. She says there's a lesson there for all small animal clinics.
"If you are able to increase your feline patient load by even 15 percent, imagine what that would do to your bottom line," Colleran says. "Even if you don't specialize in cats, you can focus on understanding the differences in medicine and surgery in cats and dogs, and make a few key changes that will help" attract and retain more clients with cats.
These don't have to necessarily be expensive, structural changes, she says. For starters, make the practice's unofficial "cat person" a team leader, and charge her with researching and instituting changes that will improve cat care. (Some, like coaching staff members on how to better approach and handle cats, cost virtually nothing beyond training time.)
Or designate one day as cat visit day: Spend lunchtime cleaning up and eliminating as many dog odors as possible, then treat only cats all afternoon.
A huge part is educating clients, Colleran says. Practices can help educate clients on not just how to transport their cats to the clinic in a less stressful way, but on the need for regular checkups. As predators, cats instinctively hide pain so as not to appear weak, and even attentive owners may not bring cats in for care until illness has progressed and treatment may be difficult, invasive and expensive.
Veterinarians who teach clients signs to look for, and encourage clients to keep regular appointments, not only build their business, but can provide a better quality of life for cats.
"My real goal now, as president of AAFP, is to create that kind of awareness and accommodation in small animal practices everywhere," Colleran says.
"I find that veterinarians do want to do a good job, they want to change the way feline medicine is practiced. They just need the information to be able to do so."