Suggested Veterinary Products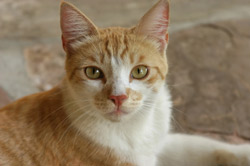 The Catalyst Council, a Kansas City-based organization created to promote increased veterinary care for cats and to boost the image of cats in society, has named its initial board of directors.
Dan Kramer, senior marketing manager of Pfizer Animal Health, will chair the group.
"At the Catalyst Summit, the entire feline industry came together and in one voice declared the current situation as unacceptable while painting a very optimistic path to making a positive difference," Kramer said, referring to the number of cats that do not receive veterinary care. "The Catalyst Council is simply the next step in putting these plans into action. I am very proud of the many companies, organizations and individuals who have been so proactive in their desire to make a difference, and we welcome everyone who has an interest in the outcome to join us in a broad-based initiative to raise the standard of care for all cats."
Other officers include vice chair Robert Rohde (president of the Dumb Friends League), corporate secretary Jane Brunt, DVM (a former American Association of Feline Practitioners president and chair of the CATalyst Summit, a event held in February at which the group decided to form an ongoing organization), and treasurer Cal Morgan, president of the Society of Animal Welfare Administrators.
Other board members include Dr. John Albers of the American Animal Hospital Association, Dr. Christine Jenkins of Hill's Pet Nutrition, Dr. Jack Stephens of Pets Best Insurance, Dr. Alexis Nahama of VCA Animal Hospitals, Dr. Patricia Olson of Morris Animal Foundation, and syndicated pet writer Steve Dale.
The group's by-laws provide permanent board seats to the American Veterinary Medical Association, AAHA, the AAFP, and SOWA, but the AVMA has not yet named its representative.