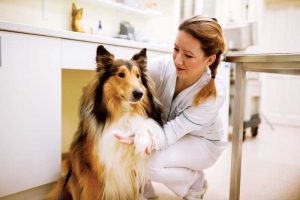 Opioids are the first line of treatment for animals with acutely painful conditions and surgeries. They are important in providing pain management with minimal and manageable cardiovascular and respiratory side effects. Veterinarians rely heavily on opioids for pain control and reduction of inhalation anesthetic dosages in veterinary anesthesia, incorporating drugs such as morphine, hydromorphone, buprenorphine, and fentanyl in sedation, anesthesia, and pain control in the perioperative period.
But a shortage of the drugs, caused by a combination of inspection issues, production delays related to changes and upgrades at a Pfizer facility in Kansas, and DEA-mandated decreases in production, means their availability is unpredictable, especially when the opioids in question are those approved for use in humans but used extra label in animals. When that's the case, veterinarians are last in line to receive opioids, trailing behind hospitals and doctors. That limits their ability to alleviate pain in an optimal manner and complicates the practice of anesthesia. Different subclasses of opioids exist, with varying effectiveness in treating pain, and sometimes veterinarians may be limited to less effective drugs.
"The shortage has presented a significant challenge for those caring for patients around the time of major surgeries including laparotomies, thoracotomies, spinal surgery, and limb amputations," said Alexander Hawley, DVM, DACVAA.
For those practices, delays in production of the drugs are expected to continue at least until 2019 and possibly into mid-2019. In a statement issued in June, Douglas Throckmorton, MD, of the Food and Drug Administration's (FDA's) Center for Drug Evaluation and Research, said mitigating steps include releasing some products that were on hold due to potential quality issues, with instructions for safe handling and use.
"We are also working with other companies that manufacture FDA-approved injectable analgesics, and who have agreed to increase their production, including Akorn Pharmaceuticals, Fresenius Kabi USA, and West-Ward Pharmaceuticals," Dr. Throckmorton said.
But getting production of those drugs up and running takes time. Until then, veterinarians are learning new techniques, using different drugs, or making do.
Limited options
One way to manage the shortage has been to use formulations with regulatory approval for animals, which are more consistently available, but few such drugs exist. One, Recuvyra, a fentanyl product and the only FDA-approved opioid for use in animals (specifically dogs), is not currently marketed by the manufacturer, Elanco, according to an August 15, 2018, statement by the Food and Drug Administration (FDA).
"Companies are making business decisions about discontinuing the marketing of these products in the context of the current epidemic and with the goal of wanting to avoid the possibility of products being obtained or used illegally," said FDA Commissioner Scott Gottlieb, MD, in the statement.
In Europe, some types of fentanyl are labeled specifically for dogs and cats. That means when there's a shortage of the drug for humans, veterinarians aren't affected. But taking drugs through trials to achieve FDA approval so drugs can be labeled for pets is time consuming and expensive. For those reasons, it's unlikely more such drugs will be labeled for pets in the United States.
Keeping drugs safe
The other side of the opioid shortage is the concern over preventing abuse of the drugs by humans. National, state, and sometimes local regulations govern storage of controlled substances at veterinary practices. Legal requirements to minimize the potential for diversion include storing opioids in locked cabinets, discarding excess drugs in the presence of witnesses, and carefully logging individual amounts dispensed to patients.

"If your records are good and you've done what the rule book said, you shouldn't have a problem with [the Drug Enforcement Agency] at all, but you never, ever do any shortcuts with recordkeeping with controlled drugs," said Sheilah Robertson, BVMS, DECVAA. "If you lose that license, you're done."

Inventory management units such as Cubex are in use at some large practices and academic institutions, but at smaller practices, access to controlled drugs may be limited to a few individuals. When shortages loom, it can be tempting to stock as much of the drugs as can be obtained, but Bruno H. Pypendop, DrMedVet, DrVetSci, DACVAA, said this should be discouraged as it may increase the risk for diversion.

Veterinarians may be required to take courses on drug diversion so they can recognize signs that clients may be trying to acquire opioids for their own use. At MedVet, a specialty practice in Louisiana, controlled drugs are kept behind two locks and only certain people can access the drug box. Opioids are rarely sent home with clients and only in limited amounts when they are.

"We just send home a very limited amount for the time we think the patient is going to need it," said anesthesiologist Julie Smith, DVM, DACVAA.

In August, the U. S. Food and Drug Administration issued advice for veterinarians on safely stocking and administering opioids. It includes keeping up to date with federal and state regulations on prescribing opioids, where to find information on nonopioid protocols, advising pet owners on how to dispose of opioids, how to deal with overdoses in patients, and how to recognize signs clients or employees may be abusing opioids.
Who is affected?
You may not have noticed a shortage at all. Whether veterinarians and, by extension, pets, are affected by the shortage often depends on the type of practice. Veterinarians who focus on chronic pain management may use opioids very little.
"We tend to look at other analgesics or try to identify the cause of pain and work on that so the need for analgesics is reduced or eliminated," said Michael Tomasic, DVM, in Santa Fe, N.M.
In specialty practices with boarded surgeons, oncologists, and criticalists on staff, opioids are a large part of case management for any patients who require specialized surgical techniques or have acute pain from some other condition. When opioids are not available, veterinarians in those practices may find themselves working with drugs and doses that are less familiar to them. Sometimes the only drugs available may have been poorly studied, making it difficult to determine dose or predict effects. But general practitioners who don't perform major surgeries requiring the inclusion of opioids may not notice the shortage at all.
"I think the difference is that the majority of general practices see a different population of patients," said Julie Smith, DVM, DACVAA, an anesthesiologist at MedVet, a specialty practice in Louisiana. "In a specialty practice, our patients tend to be sicker, require more intensive care, require more specialized surgical techniques, such as adrenalectomies, liver lobectomies, lung lobectomies. As they're more compromised, these patients benefit from opioid support intraop, allowing us to use lower levels of the more compromising inhalant or gas anesthesia. We use opioids in some form or fashion on a daily basis."
The situation can compromise quality of care, said Bruno H. Pypendop, DrMedVet, DrVetSci, DACVAA, but it also forces veterinarians to re-examine the way they practice, potentially leading to improvements.
Managing shortages
For those veterinarians who rely on opioids in their practice, alternatives and workarounds exist. They may require some creative thinking, prioritization based on patients' special needs, or use of other types of drugs.
Some veterinarians are replacing morphine, hydromorphone, and fentanyl with opioids that are less commonly used, such as methadone, oxymorphone, meperidine, buprenorphine, and butorphanol. Unfortunately, Dr. Hawley said, this has led to dwindling availability of those opioids as well.
At Medvet, anesthesiologists have had to modify their anesthetic protocol and be creative with their analgesic choices, Dr. Smith said.
"We've had to learn how to use different opioids," she said. "We started using Sufentanil, which is a more potent opioid than we're accustomed to using, but we learned how to use it and we incorporated it into our practice."
Workarounds include focusing on other classes of drugs that provide analgesia, such as NSAIDs, alpha-2 agonists, NMDA-receptor antagonists, and local and regional anesthetics. For instance, local and regional anesthesia can provide excellent intraoperative analgesia. Depending on the drug and technique used, effects may last for several hours postoperatively.
"Lots of people are learning how to do better local anesthetic blocks because they're so effective," said Sheilah Robertson, BVMS, DECVAA, senior medical director for Lap of Love Veterinary Hospice.
The shift toward local and regional blocks can also reduce the incidence of postoperative side effects, especially those from opioids. Systemic opioids can produce side effects such as dysphoria, vocalization, nausea, drooling, and inappetence. In his orthopedics and dentistry practice, Hawley has been moving away from opioid agonists at the systemic level.
"I rely on local and regional anesthesia and analgesia primarily for pain control," he said. "There are techniques suited for most procedures: everything from incisional and intraperitoneal/testicular blocks in spays and neuters to epidural and brachial plexus blockades for orthopedics. With the recent advent of liposomal bupivacaine formulations in veterinary medicine, we have an alternative for long-acting analgesia in our patients."
For surgeries such as spays and neuters, NSAIDs can also provide good pain control. A new NSAID, robenacoxib, is available for cats and has good safety and efficacy data for pre- and postsurgical pain relief. For dogs, the new piprant class of drugs can be considered for patients who can't take NSAIDs. Those drugs are for chronic pain such as osteoarthritis, Roberts said, but work on the whole cascade of inflammations.
For postoperative pain, cats, in particular, have some good options. Simbadol—injectable buprenorphine—lasts 24 hours and can be given for up to three days. It can't be sent home with owners, but often they are willing to bring cats back for additional injections. Tramadol, an opioid-like drug, is an effective pain reliever for cats, but has poor bioavailability in dogs. Gabapentin, too, has been shown to help cats with postoperative pain. For dogs and cats, an injection of bupivacaine, a long-acting local anesthetic, into the surgical site provides analgesia for three days.
Nonopioid analgesics, such as dexmedetomidine, ketamine, and systemic lidocaine, also have a place in the veterinary toolbox. And when indicated, other drugs may be combined with opioids to minimize their use.
Multimodal analgesia is the key, said Tamara Grubb, DVM, PhD, DACVAA, at Washington State University's College of Veterinary Medicine.
"We can use a less potent opioid, plus a local block," she said. "We can use local blocks, plus an NSAID. I can't replace fentanyl with one drug, but I can replace fentanyl with premedication of dexmedetomidine and maybe a less potent opioid, a local block, and an NSAID. Now I've got pretty good analgesia."
Survey highlights impact of opioid shortages in veterinary medicine
A nationwide survey conducted by Wedgewood Pharmacy shows the unintended consequences for veterinary medicine caused by the Drug Enforcement Administration's (DEA's) efforts to address the national opioid crisis.

To address the misuse and diversion of opioids by people, the DEA has proposed an average 10 percent decrease in the 2019 manufacturing quotas for six frequently abused opioids, including five key Class II opioid drugs commonly used by veterinarians.

When supplies of these drugs are limited, manufacturers and distributors give preference to allocating supplies for use in human health, creating shortages for veterinary medical practitioners, Wedgewood said in a statement.

The key findings of the survey are:
In 2017, anywhere from 27 to 73 percent of veterinary professionals have had difficulty obtaining necessary supplies of five opioids (hydromorphone, morphine, fentanyl, hydrocodone, and oxymorphone) they consider "important to your practice and to your patients' health" by 50 to 80 percent of respondents
Shortages of these opioids have led to the use of less effective, non-narcotic alternatives such as NSAIDS (83 percent), increased patient suffering (71 percent), use of a local anesthetic (49 percent), postponed procedures (26 percent), and patient deaths (three percent)
88 percent of respondents "rarely" or "never" see the four warning signs published by DEA that a client is potentially abusing opioids; nevertheless, 63 percent "have training and/or procedures in place for medical and other staff members to recognize the signs of opioid abuse"
The results will be included in formal comments the company will submit to the DEA regarding the proposed production quota reductions.
"Shortages limit therapeutic choices and are especially problematic given the number of species veterinarians treat—from tiny kittens to large dogs, horses, and even elephants—and how different species react to opioids or their alternatives," said Michael Blaire, RPh, FIACP, vice president, government and regulatory affairs for Wedgewood.
"Shortages demand that veterinarians frequently change medications and pain-management protocols, and this increases the risk of medical errors. While we applaud DEA's efforts to address the national opioid crisis among humans, we're asking them to be thoughtful about the impact the actions they take will have on the animal patients owned by 68 percent of American homes and the millions of animals in zoos, aquaria, stables, shelters, hospitals, research facilities, police, and military facilities. We need to work together to address a national crisis in human health while continuing to provide veterinarians with the medicines they need to practice." l
Pain assessment
One important way to provide good pain management while reducing the use of opioids is to develop pain-scoring skills. Assessing pain frequently ensures analgesics are administered according to patient needs rather than relying on a pre-established schedule that could result in using more of a drug than necessary.
A number of pain scales are available. Some to consider are those from Colorado State University School of Veterinary Medicine (Canine Acute Pain Scale and Feline Acute Pain Scale), Glasgow (Composite Measure Pain Scale for cats and for dogs), and Interactive Visual Analog Scale (IVAS).
"Pain scoring can often reduce the amount of opioid drugs administered if you are already giving frequent opioids postoperatively," Hawley said. "A recent study found that using pain scores to guide postoperative methadone dosing reduced the amount administered, which led to fewer side effects such as vomiting, vocalizing, and inappetence." [Bini et al. A retrospective comparison of two analgesic strategies after uncomplicated tibial plateau levelling osteotomy in dogs. Vet Anes Analg. 2018: 45, 557-565].
While it's true a shortage of drugs can be frustrating, it can also be an opportunity to improve skills or learn new ones. A number of CE opportunities for upgrading clinical skill sets in local and regional anesthesia and analgesia are available to general practitioners and specialists. They include the combined American College of Veterinary Anesthesia and Analgesia and International Veterinary Emergency and Critical Care Symposium annual meeting, the Veterinary Anesthesia Nerds Symposium in association with Western Veterinary Conference, and a new organization—North American Veterinary Anesthesia Society—for veterinary anesthesia, analgesia, and related animal welfare.
"Though this is a difficult time, alternative strategies do exist. It's finding what works with the way you practice," Hawley said.