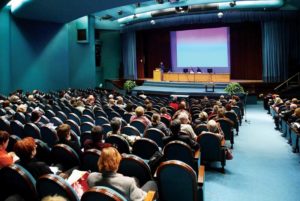 It's coming down to the wire. You need a couple more continuing education (CE) credits to meet your credentialing requirements. You have a lot of random options. Yet, how do you choose the ones that truly align with your values and career path?
For starters, go beyond simply "filling the hours." Consider how your time and the money you paid for the CE are valuable. Your career is supported by the choices you make in growing your technical and interpersonal skills. Choose wisely!
Career path and values
There is a plethora of educational opportunities for you to choose from. However, some take more planning than others. By establishing clear goals and objectives for yourself now, you can be on the lookout for those stellar CE opportunities.
Consider where your passions lie in your career. Whether or not you are performing the task now, what do you see yourself doing in the future? What skill set do you need to get there? Choose the educational opportunities that will elevate your professional growth.
Start by asking yourself the following questions to get the creative juices flowing:
1) Where do you want your career path to take you?
2) What makes you excited in veterinary medicine? The following are a few suggestions:
b) Other technical skill sets (define them)
c) Outpatient care/inpatient care
d) Client relationships
e) End-of-life care
f) Inventory management
g) Training or mentoring
h) Management
i) Business management or ownership
j) Self-employment
k) Other: ______________
3) What do you value about being a veterinary team member? Pick all that apply:
a) Teamwork
b) Patient care
c) Client experience
d) Efficiency
e) Policies and procedures
f) Technical skills
g) Communication
h) Self-awareness
i) Well-being
j) Other: _____________
Now you have a point of reference when choosing your CE. Use your career path and values as guiding principles.
What comes next?
The next step is to define some details and parameters for the classes. After all, you have limited resources, so use them wisely.
Planning for CE in advance sets you up for success. You will have the ability to look for appropriate CE, save money, ask for time off, and ensure the course meets your credentialing requirements. If you wait until the last minute, you may miss out on quality, career-boosting education.
Answer the following questions:
1) How many CE credits do you need to maintain your credentialing? How long is the credentialing period?
2) What type of allowance or benefit does your veterinary clinic allow for? What is reimbursed (travel, lodging, time off)?
3) How do you prefer to learn? Is it in a large setting (such as a conference), in a classroom setting, via webinar, by yourself, through reading and testing, or some other way?
4) Is it time to stretch yourself and attend CE that may be out of your comfort zone? We suggest your answer is, "Yes!"
5) How much time do you have to take classes: an evening, a weekend, or an entire week?
6) Finally, what are your overall career goals and how does CE fit into the big picture? (You've already considered this, so the answer should be straightforward.)
CE focus example
Let's consider Amy, a seasoned RVT whose long-term goal is to become the veterinary clinic's end-of-life coordinator. She is passionate about helping pets through the final life transition and assisting the family through their grief.
She sits down with her manager to discuss her career goals, put together a continuing educational plan, and determine the support she will receive from the clinic. Her manager agrees to approve time-off requests. Financially, she has a CE allowance and a professional merit allowance ($500 total). She feels comfortable adding an additional $400 from her own pocket. So, with $900 to work with, she begins her research.
She finds the Companion Animal Euthanasia Training Academy (CAETA) website and feels this organization's mission meets her needs and is offering online courses! This falls within her CE allowance (roughly $400).
Another aspect of the end-of-life experience is supporting the family through the final stages of their pet's life and the impending loss. Amy feels classes in empathy and communication would be beneficial. She discovers a half-day empathy and active listening training course offered within driving distance. Perfect! The fee for the program, hotel room, and gas totals approximately $450. She is good to go!
Finally, she has negotiated with her manager a wage increase once she completes the CAETA course and designs an end-of-life manual for the team. Bonus! Amy is on her way to fulfilling her goal, offering an exceptional experience to the clinic's clients, improving patient care, and elevating the team. She's got a great plan!
Technical skills versus interpersonal skills
From the exercises outlined in this article, you have now established your career path, values, and details for the classes. Now consider rounding out your training for long-term success.
In our experience, veterinarians and veterinary technicians focus heavily on technical skills. These are important and mandated areas for maintaining credentialing (state license or private agency). However, failing to consider interpersonal skills (soft or people skills) may be a career-ender. Think about this: Rarely is a veterinary team member fired because of what they know, technically. Most of the time, team members are let go because of their interactions with others (inability to play well in the sandbox) or their ethical decisions.
In the previous example, Amy thoughtfully signed up for training on empathy and active listening. That is great!
Leveraging
Another area to consider is having the appropriate skill sets to be fully utilized. Staying up on the most advanced CE in a specific area will help demonstrate you're capable and trustworthy.
There may even be a new role or procedure you'd like to undertake. By taking CE in this area, it validates you're interested in getting the skills required to perform this task.
Ceiling
Do you believe you have no career advancement? We challenge you to shatter the glass ceiling! Maybe your title won't change, but there is no reason why you can't learn new skills or become even more efficient in current ones, thereby advancing your own career.
Again, don't just consider the technical area. Having someone who can communicate effectively with clients and coworkers is a skill to be embraced. Increasing knowledge in self-awareness and interaction with others is invaluable.
Compensation
Finally, once you have demonstrated the value you bring to the clinic, consider negotiating some form of compensation to benefit you as well. Don't just think pay raise. There are many possibilities for rewards, such as additional time off or a more flexible schedule. Approach your manager with the intent of proposing a win-win scenario.
Choose CE with intent
Take control of your educational opportunities. Define what you want and then seek to obtain it. When you begin your search, you may be surprised to learn there are loads of options. Some will be within the veterinary community and many will be outside it.
Ultimately, obtaining continuing education should be about personal growth and gain, not just meeting some credentialing requirement. By focusing and elevating your skill sets, both technical and interpersonal, you will become a better and more confident veterinary professional. True career growth and satisfaction start internally and are elevated with thoughtful and intentional continuing education.
Rebecca Rose, CVT, director of possibilities at CATALYST Veterinary Professional Coaches, has a diverse background in the veterinary community, working in and managing clinics, collaborating with industry partners, and facilitating engaging team workshops.
Denise Mikita, MS, CVT, CATALYST's manager of possibilities, brings extensive knowledge in practical clinic experience, organizational management, and team dynamics. Combined, the authors have more than 50 years' experience in elevating veterinary teams. In addition, they have sat on veterinary councils, led state and national professional organizations, and have volunteered for animal welfare groups. Rose and Mikita can be reached via getCATALYST@CATALYSTVetPC.com.
Recommended reading/resources
Veterinarian: bit.ly/1Fx9tnJ
Veterinary technician: bit.ly/2Jj9vsD
Managers: bit.ly/2GWyXCk
Veterinary team careers within veterinary practice, 2016, bit.ly/2GWleLO
Veterinary team training: Is it the right training? 2017, bit.ly/2GYMf1p