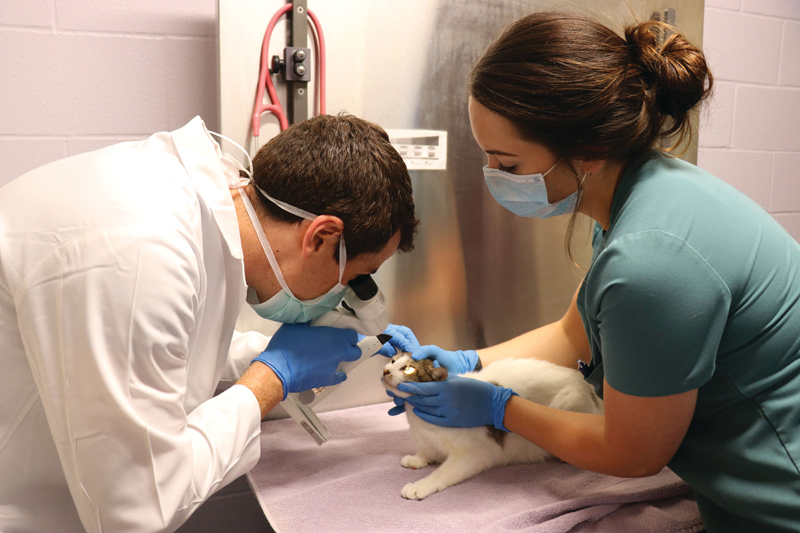 Saving the eyes and lives of shelter cats is central to a clinical trial underway at Louisiana State University (LSU).
Morris Animal Foundation-funded researchers are testing three common antiviral drugs to determine which is most effective in treating eye infections caused by feline herpesvirus (FHV-1).
The results, researchers say, could aid in the treatment of the highly contagious virus and slow its spread in densely populated environments, such as animal shelters.
"This virus can be debilitating, with outcomes pretty variable from cat to cat," says the study's principal investigator, Andrew Lewin, DVM, BVM&S, MRCVS, DACVO. "We want to be able to make a meaningful recommendation for veterinarians to improve the welfare of these animals."
Typically transmitted through sneezing or grooming, FHV-1 can infect cells and remain dormant in cats indefinitely. Felines can experience severe issues related to the virus at some point in their lives, with afflicted animals presenting with respiratory issues, discharge from the nose or eye, and, in extreme cases, loss of vision or chronic upper respiratory disease, LSU says.
For the clinical trial, Dr. Lewin and his team will administer three available antivirals—cidofovir, ganciclovir, and famciclovir—to more than 120 shelter cats with symptoms of FHV-1 eye infections to test each treatment's efficacy.
The team will also conduct tests using a DNA sequencing technique to determine if the virus develops a resistance to the antivirals.
"Feline herpesvirus is a huge welfare issue for shelter cats and it is important we find a viable method to address it," says Morris Animal Foundation's chief scientific officer, Janet Patterson-Kane, BVSc, PhD, FRCVS. "We want all animals to have a chance at a full, healthy life and, because this virus has such an impact on adoptability, a study like this could do wonders for cats waiting for a permanent home."