Suggested Veterinary Products
Follow Veterinary Practice News on Twitter at @vetpetnews
There?s no question who Ed Blach, DVM, MS, MBA, will be rooting for Saturday when 11 contenders burst from the starting gates at the Belmont Stakes. Dr. Blach's eyes will be on California Chrome, who will be chasing horse racing's Triple Crown while wearing the equine veterinarian's invention: a Flair nasal strip.
The idea behind the adhesive device, similar to the Breathe Right nasal strip for people, is to hold open a horse's airway, reducing exercise-induced pulmonary hemorrhage.
The Breathe Right strip was already on the market when Blach was lying back one night in 1997.
"I sat up in bed at 3 in the morning, and I had this idea," he said. "Why hasn't anyone developed a nasal strip for horses?"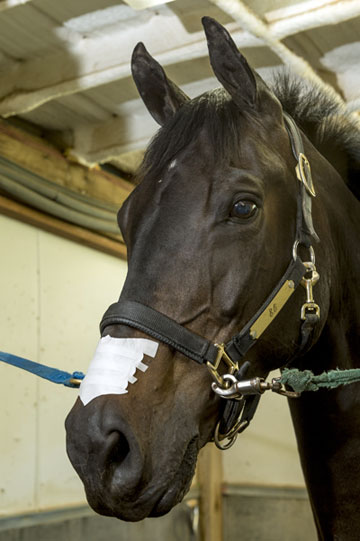 Colorado State University
Eli sports a Flair nasal strip, the same kind California Chrome will wear at the Belmont Stakes.
The 1984 Colorado State University alumnus teamed up with Jim Chiapetta, DVM, JD, then a patent attorney after working with Blach in the mid-1980s at Littleton Equine Medical Center in Colorado. Their goal was a strip that would help keep the equine nasal passage open during performance, making breathing easier and relieving stress on the lungs.
Licensing their technology to the company that made Breathe Right was easy. Persuading horse trainers and veterinarians to try the Flair strip was hard.
"We were told we were nuts, that it wouldn't work for this reason or that," Blach said.
Heads began turning in 1999, when a winning horse wore the Flair strip during a Breeder's Cup race. California Chrome's owners had threatened to keep him out of the Belmont Stakes unless race stewards approved use of the strip, which they did.
"There is increased awareness and more willingness to listen to the true health intent of the strip now," Blach said. "We weren't interested in creating a fad."
The Flair strip, which measures 4 by 6 inches and costs $10.50, comes with scientific backing. Two Kansas State University veterinary researchers who studied the device reported in May that it is effective.
"The nasal strip reduces bleeding, reduces the secondary infections that can damage the lung afterward and also may help facilitate the horse to perform better," said researcher David Poole, Ph.D., DSc.
Wayne McIlwraith, BVSc, Ph.D., Dipl. ACVS, a University Distinguished Professor at Colorado State, said the Flair strip could be better than drugs when used to prevent exercise-induced pulmonary hemorrhage.
"If I was a racehorse trainer with a good horse, I'd use them," he said. "But there are plenty of people who ignore science."
Dr. McIlwraith taught Blach at Colorado State.
"He was always inquisitive, always thinking, very smart, but very humble," McIlwraith said.
Blach and Dr. Chiapetta's company, Flair LLC, is headquartered in Delano, Minn. Blach lives in Monument, Colo., about 100 miles south of Colorado State, and credits his former professors with encouraging his entrepreneurial spirit.
"I had a great time in vet school, with really good people," he said. "CSU was fabulous. I had really good mentors all the way."
Previous: Dogs Sprout New Jaw Thanks To UC Davis Research
Want more Veterinary Practice news? Go here.