James L. Voss, MS, DVM, a former Colorado State University administrator and for whom CSU's Veterinary Teaching Hospital is named, died Friday at age 79 in Fort Collins, Colo., after a long illness.Dr. James Voss, who died July 12, 2013, served as dean of the College of Veterinary Medicine and Biomedical Sciences from 1986 until his retirement in 2001. Dr. Voss served as dean of the College of Veterinary Medicine and Biomedical Sciences from 1986 until his retirement in 2001.
"CSU's world is a little dimmer today for the passing of Dr. Jim Voss," said university president Tony Frank, whom Voss hired as an assistant professor, department chair and associate dean. "It is no exaggeration to state that CSU's veterinary medical program is a world leader in no small part because of Jim Voss. CSU lost a great leader and a great alum, and I lost a great friend."
Born in 1934 on a farm in Grand Junction, Colo., Voss earned his master's and doctorate degrees from Colorado State. He went to work at CSU in 1958, first as an equine ambulatory clinician and later as an equine reproduction specialist and university administrator.
He received the university's 2004 Distinguished Alumni Award.
In his administrative roles, Voss pushed for the construction of the Veterinary Teaching Hospital as the centerpiece of the South Campus. Today, the hospital records nearly 40,000 patient visits a year—from small and exotic animals to livestock and horses—and employs almost 400 faculty, staff members, students and volunteers.
The hospital, which opened in 1979, conducts clinical trials and other research and is known for its specialties, including cardiology, internal medicine, neurology, oncology and orthopedics.
Another Voss hire was Timothy Hackett, MS, DVM, Dipl. ACVECC, the hospital's interim director.
"He really positioned us to move into the 21st century with the very best care and the very best teaching. That's his legacy," Dr. Hackett said. "It was certainly his leadership that positioned us to be one of the top veterinary schools in the country."
Voss was credited with establishing research focus areas such as animal reproduction and biotechnology, cancer biology, environmental health sciences, infectious diseases and neurobiology.
"As someone who is trying to follow in his large footsteps, I truly appreciate all he did for our college, our university and our profession," said college dean Mark Stetter, DVM, Dipl. ACZM.
Voss also hired animal ethicist Bernard Rollin, Ph.D., to teach ethics to veterinary students. Rollin recalled meeting Voss in 1969 and asking the veterinarian to castrate a donkey. The Brooklyn-born philosopher soon learned that the donkey was female.
"I would never have had the success I've had without him," Rollin said. "He was the best man I've ever known, and the best administrator. He was brilliant, morally committed, thoroughly decent and honorable—everything good."
Voss is survived by his wife, Kay; two sons, Ed and Bill; and a daughter, Laura.
A memorial service will take place at 11 a.m. Tuesday at the Hilton Fort Collins. The Voss family requested that any donations go to the Colorado State University Equine Reproduction Laboratory.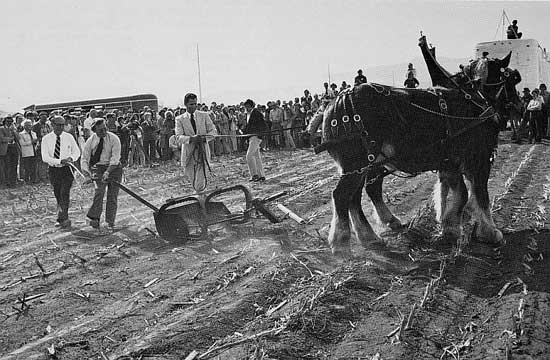 Dr. James Voss (in suit) drives a team of Belgian draft horses as they pull a Fresno scraper through a field of corn stalks during the 1977 groundbreaking for the Colorado State University Veterinary Teaching Hospital.