Suggested Veterinary Products
Engineer-turned-veterinarian says biggest factor in his success is volunteerism.
To understand the influence David Beltran, DVM, has had on a generation of California kids, just look at Monica Trujillo.
When Trujillo was in the fifth grade, her mother signed her up to volunteer at Beltran's practice, Veterinary Healthcare Service in Monterey Park, Calif.
One day a week, after school, she'd show up faithfully. At first, she just cleaned tables and mopped floors. Soon, Trujillo was making labels and counting pills; eventually, she was trained in more complex tasks, such as taking patient histories and assisting during exams.
The day she turned 16, Beltran hired her as a tech, a job she held through high school and college. And later this year, with more than 10 years of practical experience under her belt, Trujillo will apply to veterinary school—a dream she directly attributes to her long-ago opportunity at the clinic.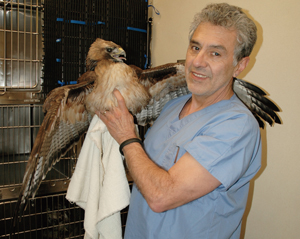 Dr. Beltran is committed to serving his community, both as a veterinarian and as a volunteer.
"I love veterinary medicine, and I know exactly what I'm getting into, thanks to Dr. Beltran," she says. "I am so lucky I was able to start here as a volunteer."
Trujillo is just one of more than 1,000 young people who have come through Beltran's practice over the last 25 years, estimates office manager Charlie Sanchez, who also started as a young volunteer.
Beltran's commitment to nurturing the next generation in the community he serves—all while building a thriving practice—explains why he was named the 2012 Veterinarian of the Year at the Purina Pro Plan 58th annual Show Dogs of the Year Awards, presented by Dogs in Review magazine. The event was held in New York City in February.
Beltran was a natural choice, says Travis York, a senior loan officer specializing in the veterinary industry for Live Oak Bank in Wilmington, N.C., which sponsored the award.
"He really represents what a veterinarian ought to be, both in the clinic and in the community at large," York said. "He exemplifies the leadership character that all of us aspire to."
Time for Change
Beltran, 61, was born and raised in East Los Angeles, just a few miles from where his practice is located today. But originally, he had no intention of becoming a veterinarian. He started his career as an engineer, working on refinery plants and the Alaska pipeline. He loved the design and problem-solving work involved, but quickly realized that "sitting at a desk for 10 hours a day wasn't my lifestyle."
So at age 27, he "retired"—cashing in his retirement package and going back to school, this time choosing veterinary science because it tapped into his love of biology, math and animals, while allowing him to more directly help people. In 1984, he graduated from the University of California, Davis, with his veterinary degree.
Beltran went to work as an associate at another California practice, and in 1987, the owner helped Beltran make a down payment on a "fixer-upper" practice in Monterey Park. It was a one-doctor practice with just four employees. The first year, it took in $185,000.
"That first year was interesting," Beltran recalls. "For one thing, I had absolutely zero business experience. You hopefully think there's more money coming in than going out, and I found at first, there was money in, money out, but nothing for me. … And then there was the idea that I was responsible for my new employees, and I didn't know about anything except for the medicine."
So Beltran dug in.
He took some business classes. He treated patients to the best of his ability, hoping to ensure customer loyalty, no matter who the customer was. Located on the cusp of three very different cities, the clinic has always attracted a diverse mix of clients, from very wealthy owners for whom money was no object, to those for whom even an office call was a budgetary strain.
Event Honors Industry Leaders
Industry achievement awards in several categories were presented at the Purina Pro Plan 58th annual Show Dogs of the Year Awards, presented by Dogs in Review magazine. The event was held in New York City in February.
David Beltran, DVM, was named Veterinarian of the Year. Live Oak Bank of Wilmington, N.C. sponsored his award.
Irina "Pina" Pinkusevich was named Groomer of the Year at the black-tie event, held at the Grand Hyatt Manhattan in New York City. Andis, sponsor of the award, cited Pinkusevich in recognition of her significant accomplishments in the world of professional grooming.
Walter Goodman was presented the Anne Rogers Clark Hall of Fame Award for 2012, which honors the individual who embodies the very best qualities of the show dog sport and who has given a lifetime of contributions to the dog fancy.
The Show Dogs annual event is sponsored by Dogs In Review magazine, which is published by Lumina Media, which also owns and operates Veterinary Practice News and DogChannel.com.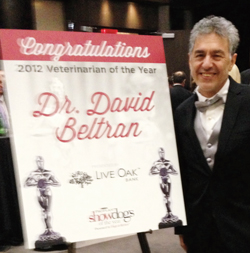 "I have always loved helping all of them," Beltran says. "For those who have a tight budget, we would work to find something that would not cost a lot of money. There is always a way to help."
But Beltran believes the biggest factor in his success was not even really a business decision—he simply became active in the community. In addition to opening his practice to student volunteers, he joined clubs, such as his local Rotary, and began volunteering at area middle schools and high schools one afternoon a week.
"I would say 99 percent of my (business growth) is just by being active in the community," he says. "It's not that I'm going and handing out business cards, but that I'm active in local schools and clubs. I get a lot of people coming in because they already knew me, or somebody else knew me."
Whatever it was, it worked.
From that humble beginning, Beltran's clinic has grown to three doctors and 34 employees, taking in more than $3 million per year. A fourth doctor will join the practice later this year.
But to hear Beltran tell it, the rewards he's earned from his volunteer work far outweigh the business success.
Of his 34 employees, most started as volunteers. He proudly ticks off the successes earned by others: Some were former gang members who transitioned into great employees and then went on to do well in school and other careers. Several have gone on to medical school, veterinary school or other health-related fields. Others, like Sanchez and Trujillo, earned their degrees and developed career goals while working for him.
The kids he works with inspired him to become involved with Water For All, a nonprofit that helps provide water to villagers in developing nations. He helped middle schoolers raise money to drill wells in Lagos, Nigeria, then visited Africa to oversee the work. The project has grown into a continuing collaboration between Rotary, Beltran and the students, and he plans to visit Nigeria to oversee the drilling of more wells this year.
Like most of his projects, this effort has multiple benefits, he says—from the African families who finally have access to clean water, to the California kids who take great pride in knowing they were able to help someone else.
"It's as much for me as it is for them," Beltran says.
"I was one of those kids not too long ago, and back then there were local people who reached out to me and my friends," he adds. "So it is extremely important to me to be able to reach back, too."