Suggested Veterinary Products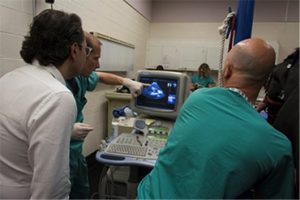 Cardiologists at the Cornell University College of Veterinary Medicine are touting a new procedure to treat atrial fibrillation (AF): transvenous electrical cardioversion (TVEC).
"I'm very excited to be able to offer this procedure," said Bruce Kornreich, DVM, Ph.D., DACVIM, associate director of the Feline Health Center and staff cardiologist. "AF is a very common condition in horses that we're often asked to diagnose and treat. This is another tool in our toolbox to convert these patients back to a normal heart rhythm."
Cornell's Equine Hospital offered TVEC until about five years ago, when the hospital could no longer purchase catheters needed for the procedure, which involves electrodes in the heart to reset its rhythm via an electric shock.
Recently, the catheters came back onto the market.
At around the same time, Cornell veterinary students examined On-Star, a 19-year-old mare from the Cornell Equine Park teaching herd.
"The students picked up the arrhythmia, and we diagnosed it as AF," said Gillian Perkins, DVM, DACVIM, medical director of the Equine/Nemo Farm Animal Hospitals, who coordinated the procedure.
For horses that don't respond well to the traditional quinidine treatment or that have had AF for several years, TVEC might be a better option, according to Cornell.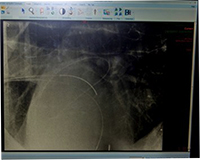 TVEC works like defibrillator paddles and even makes the horses "jump" from the muscle spasm. However, horses' thick chest muscles and lungs make it impossible to shock the heart from the outside; veterinarians place 3-foot-long catheters tipped with electrodes into the heart via the right jugular vein, according to the university.
"The most difficult part of the procedure for us is to guide the catheter," said Cornell cardiologist Romain Pariaut, DVM, DACVIM, ECVIM-CA. "In horses, it's a long path to the heart from the outside."
Cornell veterinarians use a cardiac ultrasound to monitor their progress and perform an X-ray to verify the metal electrodes are sandwiching the right atrium. Then, they anesthetize the horse and apply a timed electric shock to return the heart rhythm to normal.
On-Star's procedure took approximately four hours with the help of cardiologists, internists, radiologists, anesthesiologists, and licensed veterinary technicians. The procedure costs $3,500 to $4,000, including the catheters, the initial diagnostic evaluation, and hospitalization.
Because TVEC carries risks, including those associated with general anesthesia, Drs. Pariaut and Kornreich tried to reduce the amount of time On-Star was under through careful attention to electrode placement. So far, she's doing well and has had no complications, Cornell stated.