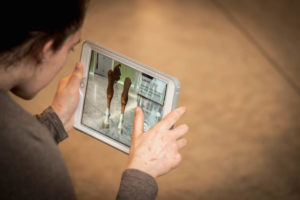 An app created by a team from Cornell University's College of Veterinary Medicine (CVM) is helping students learn and understand the anatomy of a horse.
According to the Cornell Chronicle, the Equine X-Ray Positioning Simulator is an augmented reality app that overlays a digital image of a horse limb onto surroundings seen through an iPad. The app was first used in the spring during CVM's eight-week Anatomy of the Horse course.
Allison Miller, DVM, lecturer in the department of biomedical sciences and the department of clinical sciences, helped create the app to allow students to study parts of the equine musculoskeletal system. "We try really hard not to teach anatomy as memorization," Dr. Miller told the news source.
According to the same article, Miller had students complete exercises such as dragging and dropping bone labels onto parts of a horse's body.
"Students can hear a lecture on how to take certain oblique radiographic views, but actually positioning yourself to take them might prove more challenging," Miller told the Cornell Chronicle. "While nothing can fully prepare you for an emergency where you have primary case responsibility and emotions are running high, I think we are doing our absolute best to prepare our students while they are here."