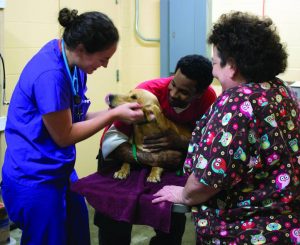 A combined endowment of more than $10 million to Louisiana State University (LSU), School of Veterinary Medicine is expected to provide resources to injured and homeless animals, support oncology research, and fund forensic training to help veterinarians and law enforcement identify animal abuse.
The $8.1-million estate commitment made by Herman C. Soong, MD, is the largest in the school's history. Coupled with his wife Connie Soong's $2-million donation, the Soongs' total support of the school tops $10 million.
"This amazing gift will help shelters and law enforcement across the state prosecute those accused of animal neglect and cruelty," said Wendy Wolfson, DVM, assistant professor of shelter medicine and surgery at LSU School of Veterinary Medicine.
"Herman and Connie's generosity will also ensure a strong shelter medicine program, which will continue to help local shelters in the quest for humane care of animals, increase adoption rates, and promote humane education in our communities. It will help continue the education of veterinary students about shelter medicine and the importance veterinarians play in the humane treatment of millions of shelter animals each year."
The donation will provide resources to the Connie Soong Good Samaritan Fund and the Dr. Herman C. Soong Shelter Medicine Program and help establish the Dr. Herman C. Soong Oncology Professorship and the Dr. Herman C. Soong Veterinary Forensic Sciences Program.
It will also support the Dr. Herman C. Soong Minority Scholarship to fund opportunities for underrepresented students at LSU School of Veterinary Medicine.
"As one of just 30 veterinary schools in the country, being able to offer scholarship funds to specifically recruit and support underrepresented students is important for the future of veterinary care nationwide," said Joel Baines, DVM, PhD, dean of the School of Veterinary Medicine.
"In committing these gifts as endowment funds, Herman and Connie are ensuring their support will continue year after year, generation after generation."