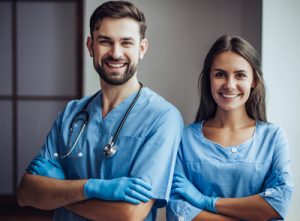 The mental health of veterinary professionals is the topic at all of our professional meetings and in all the publications. I'm so thankful that it has transitioned from a taboo topic to a mainstream one. While attending the July 2018 AVMA and VetPartners meetings in Denver, I had the pleasure of meeting and learning from several esteemed people who are teaching and coaching on the topic.
As a practice management consultant, I am always looking for ways to help my clients improve their practices. So, in evaluating all that I learned about this topic, I began to wonder… all of this talk is fantastic, but what are clinics doing to turn these conversations into action?
Veterinary practice leaders need help creating and executing a wellness plan that fits their practice and and their team. Daily practice is hard and busy, and despite your best intentions, the demands of patients and clients fill your days, leaving bigger projects such as an employee wellness plan on the back burner.
I turned to certified compassion fatigue coach Julie Squires for guidance. Julie is with Rekindle (rekindlesolutions.com) and is known nationwide for her exceptional teaching and coaching about compassion fatigue in veterinary medicine.
It's easier than you think
Creating and implementing your clinic's employee wellness plan isn't that hard. First and foremost, commit to making the well-being of the team a top priority. Actions speak louder than words, so be sure to show your team that you care.
"Healthy and highly engaged staff will take excellent care of patients and clients," said Julie.
Next, invest in getting to know your team. What's important to each of them? What do they like? How do they like to be recognized? Asking these questions shows you care and helps you create a plan that feels good to those it serves. For example, a very introverted person might not appreciate a huge round of applause during a staff meeting, but an extrovert might love that.
Here are some super easy ways to begin building and implementing an employee wellness plan in your practice:
Celebrate little and big things alike—birthdays, work anniversaries, passing a big test, getting that catheter in after three others couldn't… these are all fantastic reasons to celebrate someone.
Invite team members to practice gratitude every day. This can be a group or private exercise. It's simple and takes just a few seconds, but it triggers an entirely different brain chemistry (hooray for neuroscience!). Either do this verbally in a morning team meeting or post a paper in the breakroom that says simply "Today, I am grateful for… " I have found that teams embrace this exercise and end up having fun with it through the day. Those little moments of gratitude and joy can change the energy of the entire practice.
Start an employee appreciation board. Pinterest is loaded with ideas for employee recognition boards. Make it interactive so that everyone can post shout-outs for their teammates. Entering the breakroom to find that you've received a shout-out for something makes you feel great (again, hooray for neuroscience!).
Perform random acts of kindness for your team. This can mean putting healthy snacks in the breakroom or giving them a little token of your appreciation. Something as simple as a thank-you card or making sure everyone gets a break goes a long way in helping people feel happy at work.
Begin and end meetings on a high note, and keep all the stuff in the middle objective. Staff meetings should be productive—not emotional.
Survey your team. People appreciate being heard. Find out what things are currently causing them stress. Some issues may be easy to change. Removing the stressors will provide immediate relief.
Feeling like creating a more robust plan?
Here are some additional considerations:
Maintain an open-door policy. Team members need to know they can talk to you without being made to feel insecure or inadequate.
Establish boundaries for inappropriate behavior from colleagues or clients. Your employee manual should include an antibullying/grievance policy. As for clients, there are times when they are wrong, such as when their behavior is unacceptable or abusive. In these moments, your team needs to know that the practice stands with them. Their expectations are sometimes unrealistic and not in sync with your practice philosophies. Empower your team with the communication skills needed to help clients through those confusing issues.
Be willing to change the culture at your practice. Julie and I shared that in our respective roles, we both run into the "We've always done it this way" mentality. Be a forward-thinking leader and embrace change. We have to take an honest look at our practice and ourselves, according to Julie.
Evaluate your team. Are the right people in the right roles? Julie and I agree that when employee talents aren't properly aligned with job descriptions, it creates stress, turmoil, and inefficiency. That serves neither the patients, clients, team, nor business. Provide training. Very often in veterinary medicine, an existing team member gets promoted or inherits new duties because they happen to be standing nearby when the need is identified. They proceed to struggle and suffer because they don't receive any training. Give them the support and resources they need to succeed.
Connect with other local businesses to offer your team access to such places as gym or yoga studios.
Plan team get-togethers, such as a ballgame or a paint-your-pet party. Be creative and mix things up seasonally.
Remember that leaders may benefit from having a coach of their own, as they are often alone in their responsibility to support the entire practice. Not a week goes by that I don't talk to a practice manager or owner who feels isolated in their role to guide and support their team. Leaders also need ways to feel validated in their accomplishments.
Of course the opportunities to enhance your practice's employee wellness plan are endless. The sky's the limit! I would love to hear what your practice is doing. Please comment in the space below so other Veterinary Practice News readers can learn from you. Working together as a community, we can achieve great things and make our profession a healthier one.
Visit Marshall Liger, LVT, CVPM, of Liger Veterinary Consulting at ligerveterinaryconsulting.com or email ligerveterinaryconsulting@gmail.com for additional tips on implementing employee wellness plans and other ways to improve your practice.