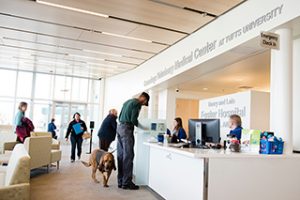 The Henry and Lois Foster Hospital for Small Animals at Cummings Veterinary Medical Center at Tufts University recently earned referral accreditation from the American Animal Hospital Association (AAHA) in 15 areas of specialty veterinary medicine. Foster Hospital is one of only a few facilities in the country to receive AAHA referral accreditation for such a large number of specialties, according to Tufts. The accreditation followed a rigorous review of the hospital's practice protocols, medical equipment, facility, and client service.
Foster Hospital is one of seven academic teaching hospitals and clinics that comprise Cummings Veterinary Medical Center, located at Cummings School of Veterinary Medicine at Tufts University. The hospital, which treated nearly 35,000 patients in 2017, provides care for dogs, cats, and exotic pets, offering consultation, referral, and 24-hour emergency veterinary services. Board-certified veterinarians across a range of specialties diagnose and treat complex conditions using advanced veterinary tools and procedures.
As part of the accreditation, Foster Hospital was evaluated for the following specialties:
Anesthesia
Avian
Behavior
Emergency & Critical Care
Exotic Companion Mammal
Internal Medicine – Cardiology
Internal Medicine – Neurology
Internal Medicine – Oncology
Internal Medicine – Small Animal
Nutrition
Ophthalmology
Radiology
Radiology – Radiation Oncology
Surgery
Zoology
Unlike human hospitals, not all animal hospitals are required to be accredited. AAHA-accredited hospitals elect to be evaluated on approximately 900 quality standards that exceed basic state regulations, ranging from patient care and pain management to staff training and advanced diagnostic services. AAHA standards are continuously reviewed and updated. To maintain its accredited status, Foster Hospital must be evaluated regularly by the AAHA.
"Becoming accredited in these specialty areas demonstrates our commitment to providing the best quality of care for our patients and excellent service to our clients," says Scott Handler, DVM, MBA, associate director of operations at Foster Hospital. "Veterinary medicine is frequently changing, and this type of evaluation will ensure that our practices and facility are at the forefront."
For more information about AAHA accreditation, visit http://vet.tufts.edu/foster-hospital-small-animals/ and aaha.org/petowner.