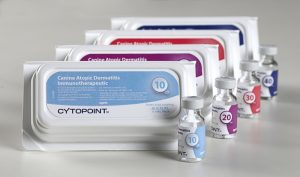 Zoetis announced the U.S. Department of Agriculture (USDA) has granted an expanded indication for Cytopoint, a monoclonal antibody (mAb) therapy for the treatment of allergic dermatitis in dogs.
Administered every four to eight weeks, one injection of Cytopoint works by targeting and neutralizing interleukin-31 (IL-31), a key protein involved in triggering itch in dogs, offering both convenience and sustained efficacy, according to Zoetis.
"This approval gives veterinarians much-needed flexibility for personalized treatment of allergic and atopic dermatitis in dogs with two therapeutic approaches—the injectable Cytopoint and the oral tablet Apoquel," said Thomas P. Lewis II, DVM, DACVD, of Dermatology for Animals in Gilbert, Ariz. "Allergic dogs and their owners have a variety of needs, and these medications from Zoetis can bring fast and long-lasting relief to my canine allergy patients, as well as bring peace of mind to their owners."
Apoquel (oclacitinib tablet) is formulated to start relieving itch within four hours and provides veterinarians with the flexibility to start and stop itch control, according to Zoetis. Cytopoint begins to relieve itch within 24 hours and provides sustained itch relief for four to eight weeks, giving the skin time to heal, the company stated. They may be used together to manage intermittent flare of pruritus due to fleas, food, or seasonal factors.
For more information on the new indication for allergic dermatitis, visit cytopoint.com.