Implant dentistry and bone grafting in small animals today is where it was in human dentistry 20 years ago. Dental implants have been well proven to maintain alveolar bone and avoid alveolar collapse, improve mastication and bone density, avoid orthodontic problems and prevent canine alveolar collapse, which may avoid lip catching.
It has also been well documented that the majority of implant failures occur in humans during the first year after implant placement. The main reasons for implant failure during the first three to six months prior to prosthetic replacement generally is poor surgical technique, poor patient selection or inadvertent overloading of the implant during osseointegration. The main reasons for failure of an implant after implant restoration is generally poor treatment planning or overloading of the implant during remodeling of the bone.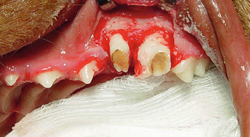 Figure 1A: Tooth sectioned
Courtesy K9 Implant solutions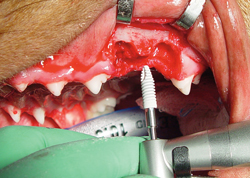 Figure 1B: Osteotomy being performed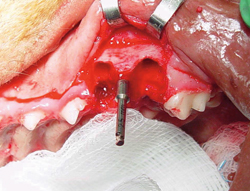 Figure 1C: Implant being placed
After the first year, it is well documented that success rates are close to 100 percent due to the body's individual ability to adapt its support to being sufficient for the loading.
Implant dentistry in small animals is expensive because multiple separate procedures are required, each requiring general anesthetic with its attendant costs. The multiple procedures include the tooth extraction (if necessary), probable bone grafting, implant placement, implant uncovering and impression taking, and finally the placement of the restorative crown or bridge. Each of these steps (unlike in humans) must be performed under general anesthesia.
As a result of the increased costs, implant dentistry in animals has received limited use unlike the widespread use that is found with humans. Some believe that more widespread use of implants among veterinary dentists would occur if clients were aware of this option.
Dental implants have also been well proven in humans to restore esthetics by allowing for the use of crowns or bridges attached to the implant. Although it has not been documented, one of the authors has successfully placed and restored more than 200 implants in dogs with six failures due to advanced periodontal disease.
A number of veterinary dentists have expressed a concern about the ethics of placing implants into small animals for esthetic reasons. It is our understanding that it is unethical to restore the appearance of "show dogs" and "breed dogs" if the tooth was genetically missing. If the tooth was extracted or fractured or diseased beyond repair, it is ethical to restore the appearance and function.
In conversation with several veterinarians who have placed a small number of implants into small animals, we have learned that some have experienced an inordinately large percentage of failures while others have had no failures. On further questioning, it appears that many failures were due to placement of mini-implants and using uncoated implants in areas where larger, conventional implants could have been placed, and/or by breaking basic rules on implant placement and restoration. We believe many of these failures were due to inadequate training in implant dentistry.
Advances in dental implants 25 years ago resulted from scientific documentation of protocols and dental implant designs used on dogs and other small animals at that time. The data collected were used to develop the design of dental implants for humans.
Over the past 25 years, the advances have been largely the result of scientific documentation of these protocols and designs performed on humans. The time has now arrived to transfer these advances to small animals.
The widespread negative perception of implant dentistry for small animals does not need to be the reality. The three authors have been working together for the past 20 years placing implants into pets and modifying design and protocols to make the placement and restoration of implants easier and more cost effective.
We are not suggesting that all small animals with missing teeth or facing tooth extraction should have implants placed and restored for esthetic or functional reasons. But we are suggesting that small animals be given the opportunity to have dental implants placed at time of tooth extraction to maintain bone.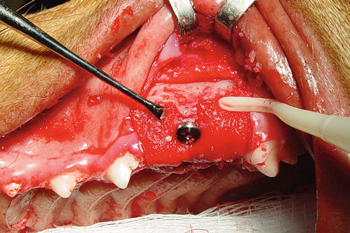 Figure 2A: Threaded implant in osteotomy site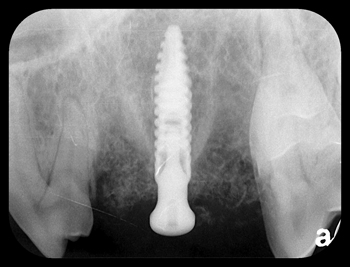 Figure 2B: Postop radiograph showing implant in position
After one year, the implant should have integrated sufficiently that restoration can be considered for esthetic reasons if the restored implant is not being overloaded.
Implants can be placed for esthetic reasons and for maintaining alveolar bone and avoiding alveolar collapse, improving mastication and bone density, avoiding orthodontic problems and prevention of canine collapse in felines. It is only for esthetic and functional reasons that impression-taking and crown restoration are required. All the others advantages offered by implants only need the placement of the implant and/or bone grafting; no restoration.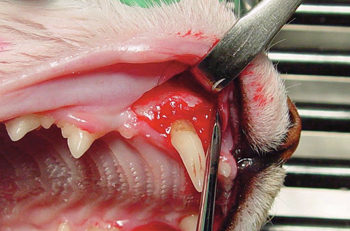 Figure 3A: Prior to extraction with flap reflection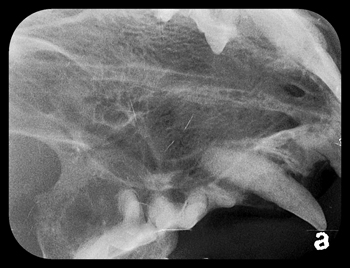 Figure 3B: Preop radiograph showing periodontal disease
Another recent development is combining many of these separate procedures into one. There are numerous studies in humans over the past 20 years showing that a tooth can be extracted, an implant placed and a bone graft placed at the same time, resulting in success both with the implant and the graft. It is no longer necessary to separate the procedures of tooth extraction, bone grafting, implant placement and impression taking in small animals; they can be accomplished during one procedure.
The actual restoration and putting the implant into function is presently being performed with success for up to one year post-restoration. Based upon studies in humans that show implant failures generally occur during the first year after implant placement, we have every confidence that restoration of implants in small animals can be equally successful.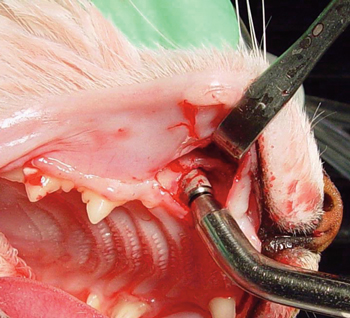 Figure 4A: Push-in implant being tapped into osteotomy site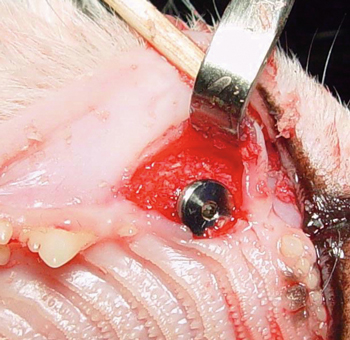 Figure 4B: Bone graft material around implant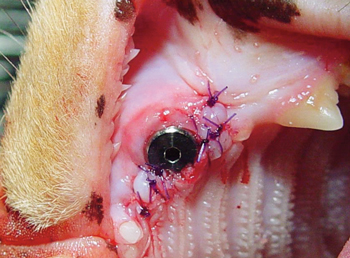 Fig 4C: With wound sutured
Dentists have been successfully extracting teeth in humans, placing an implant and grafting with bone at the same time for more than 20 years. In most extractions, the implant can usually be placed at the same time. In some cases bone grafting may be required, which can also be done at the same time. Placement of the restorative crown or bridge is not needed if the implant is being placed for non-esthetic reasons. In these cases only one anaesthetic is required, thereby reducing costs.

Should the owner wish to have the restoration of the implant, the veterinarian could take an impression of the implant at the time of placement and keep the animal's model in its records until such time as needed. Then, should the owner decide later to have the implant restored, the crown could be made from the existing model and only one anaesthetic would be required to have the restoration fabricated and cemented.
Pictures shown are cases presented by Rocco Mele, DVM, of Tucson, Arizona, depicting a successful upper fourth premolar extraction, implant placement and bone graft performed on a dog at the same time and a second case of a canine extraction, implant and bone graft at the same time in a cat.
James Anthony, DVM, MRCVS, Dipl. AVDC, Dipl. EVDC, is associate professor and head of dentistry and oral surgery at the University of Saskatchewan Western College of Veterinary Medicine, and is a member of the Veterinary Oral Health Council.
Rocco E. Mele, DVM, is owner and medical director of Eastpoint Pet Clinic, P.C., in Tuscon, Arizona.
Harold Bergman, DDS, Dipl OS&A, MSCD (Path), is owner of K9 Implant Solutions.