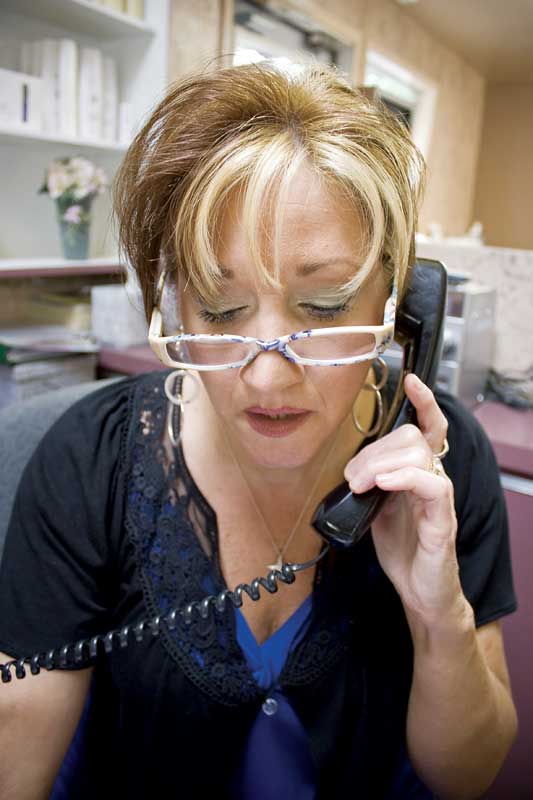 Dr. John's hospital previously had five-star reviews and passionately loyal clients. During the pandemic, with curbside-only service, his team got reviews such as, "rude receptionists," "can't get an appointment for weeks," and "is all about the money." Like many hospitals, half of his client service representative (CSR) team is new and were onboarded during curbside-only care.
"They forgot how to talk to clients," Dr. John told me during our discovery call to identify his team's training needs. "We are so busy clients feel they are being processed. My team needs to learn how to reconnect with people."
Like Dr. John's hospital, yours is likely short-staffed and overbooked. Research shows 27 percent of CSRs plan to quit.1 Employee burnout is at an all-time high. Now is the time to refresh the skills of new hires and seasoned employees to make their jobs and client experiences more enjoyable. Teach your team these skills to connect with clients:
Share your smile over the phone
Callers form an impression of your hospital within seven seconds.2 When you smile, a warm, friendly tone just happens, advises Anna Taylor of Ruby, a virtual receptionist service.3 Smiling will make you and your caller feel good. Place a small mirror next to the phone receiver as a reminder to wear your smile before answering calls. Even though callers cannot see you, smiling positively impacts your mood and tone.
You get what you give. A curt greeting of "ABC Veterinary Hospital. Please hold" will be off-putting. When you deliver a friendly greeting, you get cheerful callers in return. Sounding happy can be challenging in today's overstressed workplace. Before COVID, a CSR answered 600 calls a week.4
Now, call volume has ballooned with practices getting 800 calls a day.5 You may feel rushed to get the caller off the line so you can grab the next incoming call. Callers sense you are in a hurry. Give callers your full, focused attention. When you concentrate on the current conversation, you will have a concise call and make the caller feel she is the most important person in that moment.
Explain the "why" behind holding
Callers cannot see your chaos and do not know you are juggling three phone lines. Inspire patience with your greeting. Share why the caller needs to briefly hold, ask permission, and listen for the answer.
Say this when you need to initially place a caller on hold: "Welcome to <Your Veterinary Hospital>. This is <name>. I'm finishing helping another caller and will help you next. Is your pet having a medical emergency, or are you able to hold?"
The word "finishing" sets expectations that the caller's hold time will be brief. Use the phrase "medical emergency" rather than "emergency" because some high-maintenance clients may believe scheduling exams or refilling prescriptions are "emergencies."
Focus on what you can do
Many hospitals are booking three to six weeks out. Never say, "Dr. <Name> doesn't have any appointments available for two weeks," which may cause a client to yell at you. Say this: "Dr. <Name>'s next available checkup is <date, time #1> or <date, time #2>. Which do you prefer?"
Show empathy when callers have sick pets
Express empathy while controlling the length of the call. Some callers will describe symptoms for 20 minutes if you let them. Get the chief complaint to book the sick pet or urgent care exam.
People want to be talked "with" not "at." Carla calls about her sick dog, Coco. Reply with, "I'm concerned Coco is sick. What are her symptoms?" The word "concerned" expresses empathy and is a better word choice than "sorry," which could be perceived as guilt or an apology when you did nothing wrong. Getting a description of symptoms will let you identify the chief complaint, choose the right exam length, and note details in the record for the medical team.
If the client goes on and on about Coco's symptoms, politely reclaim control of the conversation. Say this, "The doctor will want to hear those details from you and will ask you more questions. I put a note about Coco's vomiting and diarrhea in the medical record for the doctor."
Help the caller focus on scheduling the exam. Explain, "Let's see how we can help Coco today. I have an urgent care exam available at 10 a.m. or 2:30 p.m. Which do you prefer?"
Stand to greet clients
If you are seated when clients approach the desk, they will dominate you. Stand to get on the same eye level and make eye contact. Your body language will communicate you are eager to help.
Show value for fees
Get reactions of "Wow, is that all?" instead of "Wow, it's how much?" Explain services before stating the total. Say this, "Today your dog had an exam and ear cytology. Dr. <Name> diagnosed an ear infection. You have ear cleaner and ointment for treatment. Your total is $____. Which payment method will you use today?" (CSR completes transaction.) "We will see you in two weeks on <date, time> for your pet's progress exam. I've highlighted the appointment reminder on your receipt and sent a text with confirmation. The technician will contact you in three days to see how treatment is going at home and to answer any questions."
When your team refreshes their client-service skills, your practice will create a culture benefitting employees and clients. Get a bonus tip in my video on "Got CSR Turnover? Teach This Skill" at https://youtu.be/rzw9KCNMhD8. Just as doctors and technicians get ongoing continuing education, invest in training for your CSR team. They are the first and last contact your clients have.
Wendy S. Myers, CVJ, has been training veterinary teams for 22 years as owner of Communication Solutions for Veterinarians. She teaches teams to become confident communicators, so more pet owners say yes to medical care. Wendy shares her expertise through conferences, online courses, and monthly live CE credit webinars. She is a certified veterinary journalist and author of five books. Her passion is to help practices like yours thrive and grow through effective communication skills. You may reach her at wmyers@csvets.com or www.csvets.com.
References