Suggested Veterinary Products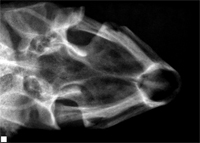 The baby turtle with pneumonia was so small that its entire body fit onto a single dental X-ray plate.
"We treated the animal for several weeks, and were able to follow the changes in the patient's lungs every few days," says Douglas R. Mader, DVM, fellow of the Royal Society of Medicine, of Marathon Veterinary Hospital in Marathon, Fla. Mader's creative use of his digital dental radiography machine made monitoring the baby turtle's lungs easier. "Since it is a dental unit, we can use it on very small animals (mice, small birds) or small parts of larger animals (feet, heads, etc.)," he says. The digital revolution of radiographic technology has infiltrated all sectors of veterinary practice and is gradually moving into exotics and zoo animal medicine, too. Gregory J. Fleming, DVM, Dip. ACZM, of Disney's Animal Kingdom in Lake Buena Vista, Fla., sees patients ranging from elephants to dolphins. His practice's new computed radiography machine has also been helpful for smaller exotic patients. "We use this system on everything from frogs to elephants," Dr. Fleming says. "In the case of small animals like frogs, we use the CR cassettes in our mammography unit. This took some practice but we have now worked out techniques for frogs weighing less than 5 grams."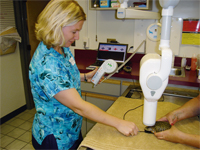 This innovative digital technology is not only changing the way practitioners treat individual patients, it's changing the way some set up preventive medicine protocols. Integrating digital technology at the San Diego Wild Animal Park's Paul Harter Veterinary Medical Center in Escondido, Calif., has significantly changed preventive medicine protocols for the park's equine species commonly plagued with enteroliths, says Donald Janssen, DVM, Dip. ACZM, associate director of the center.
In the past, many equine species living in the park for a period of time would present with signs of colic, which in several cases was attributed to large numbers of calculus in the animals' large intestines, he says.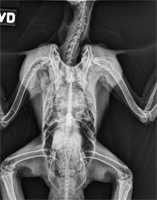 With the addition of two state-of-the-art digital X-ray machines, the veterinarians changed their protocols from reactionary to preventive. Now, the center uses its digital machine to screen all incoming equines for early signs of enteroliths. When stones are discovered, they are surgically removed. Animals are then screened every two years to monitor stones and head off complications that could occur in the future.
Digital radiography offers conveniences that can benefit all practitioners no matter their patients' species, practitioners say.
Several factors play into a decision to go digital, says Fleming, including "the ability to send the images from a work station to our desks and to monitors in our surgery and guest areas."
"This [technology] allows for about 30 percent fewer retakes and thus the time to radiograph a patient is decreased."
– Gregory J. Fleming, DVM, Dip. ACZM, of Disney's Animal Kingdom
The images can then be sent easily to referring radiologists via e-mail, he says.  He also notes that storing the images is much more convenient. "All images are backed up on a server in a secure location, so in the event of a fire we do not lose any information," Fleming says.  Digital technology allows for staff to manipulate images after just one exposure, making it a more efficient process for the staff and for exotic patients. Many exotics often require anesthesia for X-rays.
"The various options, like magnification and the reverse black-and-white, are often very helpful," Fleming says. "This [technology] allows for about 30 percent fewer retakes and thus the time to radiograph a patient is decreased."
Much like Mader, other exotics veterinarians in private practice are learning that the technology shows promise for those patients that are small in size.
"I find that we get a greater amount of detail for our avian patients where we can see the lungs and air sac margins more clearly," says Sue Chen, DVM, Dip. ABVP (avian), of Gulf Coast Veterinary Specialists, a private referral practice in Houston. Dr. Chen agrees that the speed of seeing the image helps decrease the amount of time needed to hold or anesthetize patients.
"This is especially important for our patients that stress easily or may be a higher anesthetic risk, such as rabbits and birds," Chen says. The magnification feature that DR machines offer can be helpful when "detecting small fractures by being able to enlarge or zoom in on the image," she says. "Inverting the image also helps in detecting hairline fractures."
Companies That Offer DR Technology
For information about digital radiography equipment, contact these providers. Click Here>>
However, she says, "It is important to note that the detail is not as great as we would like on some of the really small patients (mice, finches) when it gets magnified. " Fleming also notes one other benefit to digital technology.
"This unit is much more environmentally friendly as there are not gallons of toxic chemicals to use during the developing process," he says.
Mader says that in addition to factors such as cost, convenience and quality of care, the service after the sale and the tech support provided by the manufacturer played an important role in deciding which company to buy from. Mader and Fleming have each used the digital technology for about three years and they say the practice's transition from traditional to digital was smooth, thanks to the manufacturers.
"The learning curve was not that bad," Fleming says. "[The manufacturer] came three or four times to teach us what to do and to develop technique charts. It did not take long to get on track. " Like Fleming, Mader says that the manufacturer of his digital dental unit spent a good amount of time training his staff.
"It was a simple transition," Mader says.
 

When the shape of this California condor egg appeared abnormal, veterinarians at the San Diego Wild Animal Park in Escondido, Calif., took an x-ray. The picture revealed a malpositioned chick near the end of incubation. The beak tip is positioned away from the air cell. "X" and "O" marks were placed on the surface of the egg during a series of digital rediographs to determine the exact position of the beak tip. The chick successfully hatched with the help of park staff.
Courtesy of Paul Harter Veterinary Medical Center
**Seen in the September 2007 issue of Veterinary Practice News**