Suggested Veterinary Products
2010 starts a decade of demands and dilemmas. Each of us needs to gain tolerance for listening and understanding, especially for other people who may not see things the very same way we do.
Every day we are challenged to make wise decisions for patient care that rely on our personal ethics. The human-animal bond is a powerful force that drives our profession. Every moment that society beneficially interacts with animals for work, hobby, play, sport, companionship or nature affirms life enrichment and the value of our profession. Our professional responsibility is to serve society and relieve animal suffering.
Mankind's relationship with animals and the environment is important. Society is inclined to extend an attitude of gratitude to all the creatures and the lands and oceans of the earth. Organized professions will be challenged with questions and dilemmas such as:
• Can mankind and Big Agriculture restore the stewardship role with animals and the environment yet still feasibly feed the world?
• Will the amazing biodiversity discovered in the oceans by genomic researcher Craig Venter and his floating genomic laboratory generate volumes of nutritious food and clean fuel for the future?
• Will the emerging ocean harvests cause surf and turf battles over who provides the world's food and fuel?
• Will veterinarians play a bigger role in bioterrorism?
• Can conservation efforts save threatened species and terrain?
• Will cloning of beloved pets become more common?
No Fan of Vet Medicine
A disgruntled 32-year-old former veterinarian from England has harsh criticism for our profession in his book "On the Destiny of Species: By Means of Natural Selection, or the Elimination of Unfavoured Races in the Struggle for Life." The author is Matthew Watkinson, who reviles the fee-for-services system. He is upset about some unscrupulous veterinarians who he says overcharge for treating pets. He is especially upset when veterinarians treat older cancer patients. Watkinson finds fault in just about everything about our profession and the world at large.
As a veterinary student, Watkinson says, he developed an inherent conflict of interest in caring for sick pets, especially geriatric pets with cancer. He endured a horrible experience as a veterinary student tending to an older canine cancer patient who screamed all night after amputation surgery. Young Watkinson must have felt alone and helpless because the attending surgeon did not issue orders for him to treat the poor dog's pain.
Compassion for his patient turned into anger targeted at the dog's owners and smoldered into his embittered writing: "I was quite sure the dog's suffering was entirely based on the emotional needs of its owners, and that it couldn't have suffered if it had been euthanized, but the full implications were beyond me."
It seems to me that Watkinson felt alone and blamed the pet owners for their dog's pain instead of our profession's standard ignorance of proper pain management at that time. Knowledge and commitment to proper pain management have progressed enormously since Watkinson's veterinary school days.
But his fixed ideas and negative campaign against the profession still endure. No one would disagree about the injustice of untreated pain. This incident probably occurred before the formation of the International Veterinary Association of Veterinary Pain Management.
Today, veterinary students receive six times more pain management education than the medical profession does. Most of us who graduated more than 10 years ago do feel bad about all the pain that went untreated or poorly treated in our profession.
Unfortunately, that one horrible night soured Watkinson against everything about veterinary medicine forever. Instead of seeking expertise in pain management, Watkinson the student decided not to work at a small-animal veterinary clinic. He said in his book, "I knew I would be forced to look after the emotions of the owner more than I would the interest of the animals."
To avoid his dilemma in caring for pets, he chose to work in a dairy practice, thinking it would be more matter of fact and pragmatic. Over time, he felt dairy work posed moral dilemmas for him as well, so he quit after eight years. He conducted a personal research project to justify his viewpoints, looking into natural history and adopting a strong bias toward Charles Darwin's theory of natural selection.
Watkinson's book has chapters that discuss his moral dilemma of being a veterinarian and the issues that come with charging fees for services. "I don't believe that all veterinarians are cutthroat, heartless monsters," he writes in his book. "I think many are very compassionate but unintentionally end up supporting the problems they swore to get rid of."
He expands his bias to criticize conservation efforts, justifying his viewpoint with his adopted Darwinian theory on natural selection. He concludes that mankind's conservation efforts to control nature are narcissistic: "It's now quite clear that our relationship with nature has been severely corrupted by paradoxical emotion and unjustifiable self-reverence."
The Society for Veterinary Medical Ethics (SVME) conducts an annual veterinary student essay contest. This year the topic coincides with one of Watkinson's dilemmas regarding our profession's fee-for-services system. The SVME student essay question is: "When does veterinary care become financially or medically excessive?"
Responses should touch on medical, ethical, legal, financial and social aspects of this question. The veterinarian's role in guiding the client through these issues should be discussed and examined.
The winner receives $1,000 and up to $1,000 for travel expenses to attend the SVME plenary session at the AVMA convention in Atlanta in July. The essay deadline is March 30. If you know veterinary students who would like to enter this essay contest, send them to www .vetmed.wsu.edu/org_SVME.
Thumbs Up to 'Avatar'
The hit fantasy movie "Avatar" vividly portrayed reverence for the environment and the human-animal bond. A physical-emotional connection was established between the natives with their horses and giant flight birds. This connection parallels what we know in this universe as natural horsemanship. (Check out RobertmMiller.com.)
Wildlife Renewal
Last October, everyone in our group experienced awe and respect for the land and the animals during our Seminars in the Sun wildlife-viewing trip in South Africa.
After years of relentless hunting and killing of wildlife in South Africa, there are no more elephants and other species are either extinct or threatened.
Private game reserves have emerged to restore the balance of nature in parts of South Africa. They also protect the animals within their boundaries from poaching.
Dr. Peter Brothers and the game reserves invite the world to see and experience the bond with South Africa's amazing animals. Visit BrothersSafaris.com.
Stay Grounded
On the home front, the birds, dogs, cats, horses and creatures that enrich our lives surround us. When our pets are sick, we suffer emotionally with worry and concern for their well-being and we are willing to pay to help restore their good health.
It is clear to me that veterinarians serve society to relieve suffering at both ends of the bond. Compassion, common sense and a solid foundation in personal ethics will lead veterinarians to make the best decisions and do the right thing as they care for people and pets.
If veterinarians treat clients and their pets the way they would want to be treated, they will succeed with personal fulfillment and career satisfaction.
---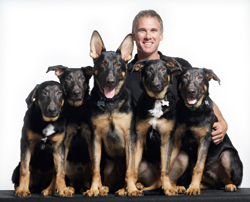 Bond Team Trakr. Photo courtesy of Tim Flach.
Trakr Lives On
James Symington won an essay contest that asked why he wanted to clone his dog, the beloved and celebrated K-9 Unit Trakr.
At Ground Zero after the twin towers collapsed, Trakr saved one of only two survivors found alive in the rubble after the Sept. 11 attacks. Trakr located a woman and would not give up the search until the rescue workers pulled her from under 23 feet of debris.
With their five clones, James and Angeline Symington have launched Team Trakr to create a search-and-rescue dog organization to be the first K-9 responders to work catastrophes around the world. The Symingtons will use money generated by the Team Trakr Foundation to train Trakr's clones (shown above with James Symington). Click here for the story that ran on CNN about Trakr's journey and his legacy. — A.V.
---
Alice Villalobos, DVM, DPNAP, is a past president of the American Assn. of Human-Animal Bond Veterinarians and is president-elect of the Society for Veterinary Medical Ethics. Her website is Pawspice.com.
This article first appeared in the February 2010 issue of Veterinary Practice News.