Suggested Veterinary Products
I want to share with you a story about a special patient. Teresa is a 2-year-old mixed breed dog, originally from Thailand, who was flown to New Jersey for medical treatment of prior maxillofacial trauma.
While in Thailand, Teresa was the victim of unthinkable trauma. In some portions of the world, dogs are considered a viable dinner option. During a failed attempt at decapitation, Teresa sustained significant trauma to her nose, upper jaw and tongue. The entire rostral maxilla, including the nasal planum, was missing (Figure 1). Teresa also sustained multiple tooth fractures and a laceration of the left rostral tongue. Two women, Karen Quigley and Michelle Weirich, raised funds to have Teresa flown to New Jersey. We evaluated her at NorthStar Vets in January.
When I first spoke to Karen, who now provides Teresa with a permanent loving home, she described the extent of Teresa's prior trauma sent me photos. I knew from those photos that Teresa would do well functionally despite missing a large portion of her snout. I knew it wouldn't be a problem due to my experiences with dogs that required major oncologic surgeries that left them with even less of an upper jaw than what Teresa had.
I always have been impressed with how well dogs adapt functionally after maxillectomy and mandibulectomy. I often mention to pet owners that it will take the owners longer to recuperate from their pets' surgery than it will take the pet.
When I first met Teresa, I was impressed by how well she tolerated her physical examination. After what she had been through at the hands of humans, I expected a much more skittish patient. Understandably, she was a bit reluctant at first, but she warmed up quickly, and it was obvious she was a gentle soul.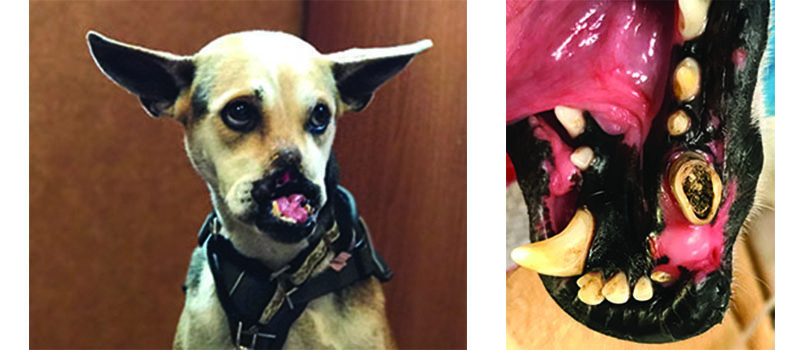 John Lewis, VMD, FAVD, Dipl. AVDC
Figure 1 (left); Figure 2
Teresa's Challenges
Though dogs are not obligated to breathe through their nose, the ability to breathe through the nose makes life much better. Similar to people with sleep apnea, dogs that cannot breathe through their nose likely suffer similar breathing challenges during sleep when their mouth is closed. When I first met Teresa, I took a cotton ball and teased away a few wisps of cotton from the main ball. I held it up to her exposed nasal passages to see if air was moving on both sides. Luckily, she had excellent airflow on both sides.
A CT scan of Teresa's head confirmed that the remaining portions of her nasal passages, her mandibles and her calvarium all were fine, except for a healed laceration of the tongue and multiple fractured teeth. The left mandibular canine tooth was discolored, and the pulp was exposed and packed with radiodense material that appeared to be gravel (Figure 2). All three left mandibular incisors were fractured (two below the healed gingival margin and one above). A healed laceration of the tongue resulted in a thin portion of the rostral tongue providing blood supply to a thicker tip of the tongue (Figure 3-A). The exposed nasal epithelium was normal in color with no evidence of purulent or mucoid nasal discharge. The nasal passages were flushed with saline after packing the nasopharynx with a laparotomy sponge, and only a small amount of mucoid liquid was found on the sponge after removal. An exposed retained root was visible in the area of the missing right maxillary canine tooth (Figure 4).
In cases like this, there always needs to be a discussion with the owners of what their goals of treatment are. Is the goal to make Teresa "normal" again? Or is there a more modest goal of removing any sources of pain and infection that have occurred secondary to trauma? Teresa's new owner had no aspirations to have cosmetic surgery done to try to make Teresa look different than she already looked. Karen saw through the change in appearance caused by previous trauma and stated "She's already beautiful."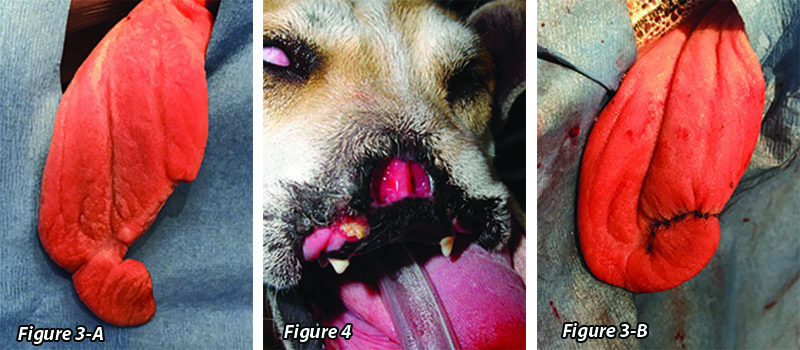 John Lewis, VMD, FAVD, Dipl. AVDC
Figure 3-A (left); Figure 4 (center); Figure 3-B
Challenges Met
With a plan in place, we focused on extraction of the fractured teeth and improving function by reconstructing the tongue. Teeth and roots were extracted after raising mucoperiosteal flaps, which were closed with 4-0 poliglicaprone 25 in a simple interrupted pattern. The edges of the healed tongue defect were trimmed with Mayo scissors, while a gloved assistant provided a "human tourniquet" effect by placing pressure across the tongue with the fingers. The tongue was closed in three layers using 5-0 poliglicaprone 25 in a simple interrupted pattern (Figure 3-B).
Teresa bounced back very nicely from her procedure and returned to her new home one day after the procedure. Reexamination at two weeks postoperatively showed a healed mouth and tongue except for a slight dehiscence at the most lateral 2 millimeters of the tongue.
---
Dr. John Lewis practices veterinary dentistry and oral surgery at NorthStar Vets in Robbinsville, N.J.