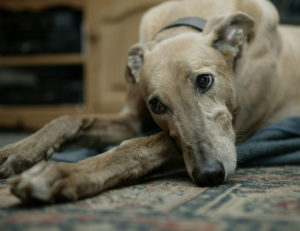 A new nonprofit is helping pet owners pay for canine cancer treatments by any board-certified veterinary oncologists in North Texas.
The organization, DogsLife, selects recipients through an application and interview process involving the pet's owner and veterinarian, as well as the treating veterinary oncologist. The private charity is primarily supported by donations and all of the funds go directly to providing treatments to the dogs.
Sir Desmond, a retired racing Greyhound, was diagnosed with osteosarcoma. As a result, the dog's veterinary oncologist recommended his leg be amputated. The price of surgery and chemotherapy was not in Sir Desmond's owner, Caitlin Schmidt's budget, so she applied for assistance from DogsLife. The charity covered half of the surgery and all of the chemotherapy costs.
"I cannot really put into words what the phone call meant to me when I was told DogsLife was providing a grant to help pay for all the overages for Desmond's treatment that I simply could not afford," Schmidt says. "Desmond had his amputation surgery and is beginning his chemotherapy."