Suggested Veterinary Products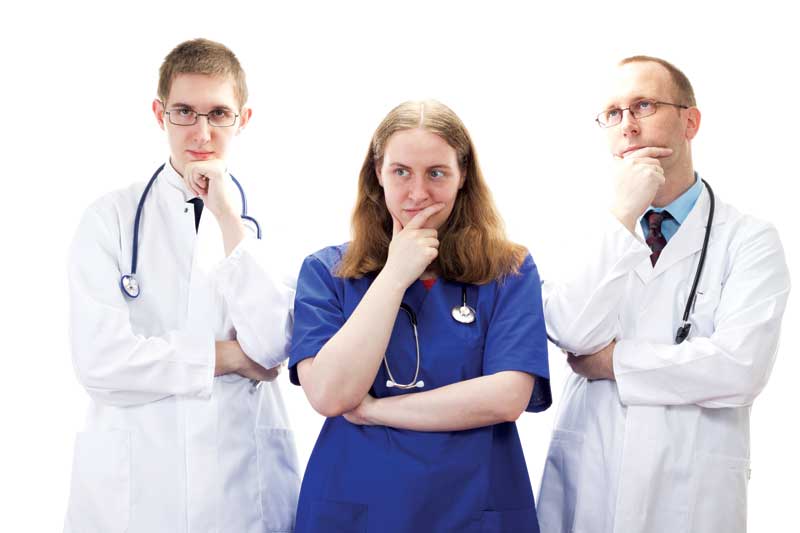 Not long after my first colonoscopy for screening, I reflected on the experience. Babac Vahabzadeh, MD, of South Denver Gastroenterology in Lone Tree, Colo., and his team have blended compassionate bedside manner with efficient protocols so that each patient's experience is consistent. From my perspective, I believe there are best practices used within Dr. Vahabzadeh's organization that veterinary teams could adopt for their surgical patients.
Complete paperwork 
in advance
One week before my procedure, I received a text confirmation reminding me to log into the patient portal and complete a presurgical history form. Two days before, another text included a link to the office's website with preparation instructions, frequently asked questions, and a video of what to expect. Completing this paperwork in advance helped the medical team reduce admission time.
If you diagnose a dog with dental disease today and schedule treatment next week, provide the treatment plan and anesthesia consent forms on the day of diagnosis. The client can ask questions about medical and financial concerns in the privacy of the exam room. Send the pet owner home with fasting instructions and text or call the day before the procedure to confirm the admission time and reiterate fasting instructions. You'll spend 10 instead of 20 minutes checking in patients on the day of procedures. Advance communication creates confidence among pet owners and demonstrates that you're organized and centered on providing positive surgical.
An alternative is to use text and email together before procedures. Two days before admission, text the client.
"See you tomorrow at 8 a.m. for <pet name>'s surgical admission. No food after 10 p.m. Water is OK. We emailed admission forms to <email>. Reply with questions."
The text prompts the client to check her email, where you can provide fasting instructions and attach the consent form and treatment plan.
"We will see <pet name> for surgery tomorrow at <Your Veterinary Hospital>. Please withhold food after 10 p.m. Water is OK to drink to prevent dehydration. Your admission begins at 8 a.m. with a technician, who will spend 15 minutes reviewing the consent form, answering your questions, and getting phone numbers where we can reach you the day of the procedure. I've attached your treatment plan and anesthesia consent form. To speed your pet's admission, please bring these signed forms with you, or we are happy to answer questions during check-in. Please allow 15 minutes for <pet name>'s admission to our hospital. If you have questions, call or text 555-555-5555."
Schedule admission appointments
I arrived one hour before my procedure to check in, provide my insurance card, talk with a nurse about my health history, meet the specialist who would perform my colonoscopy, and get changed into a hospital gown. My procedure started and ended on time.
Avoid the drop-off disaster at your front desk. If you tell clients to "drop-off" pets for surgery between 7:30 and 8 a.m., Murphy's Law will have six clients arrive at the same time, and you don't have enough technicians available to admit everyone. "Drop-off" implies the admission process is to hand you the leash and go. Instead, schedule 15-minute admission appointments.
Create scheduling guidelines for receptionists with the hardest cases checking in first to allow for preanesthetic testing and longer recovery time. The easiest cases will check in last.
When you schedule the procedure on the day of diagnosis, tell the client:
"We have scheduled your pet's dental procedure for Friday. Your admission appointment with a technician begins at 8 a.m.  Please allow 15 minutes to review admission forms and receive instructions on how we will care for <pet name>. We will text/call you to confirm the procedure, remind you of fasting instructions, and email your paperwork one day in advance."
Have the doctor greet the client during admission
While my nurse finished final preparations, Dr. Vahabzadeh introduced himself, shook my hand, explained the steps and length of the colonoscopy, and asked what questions he could answer before I went into the procedure room. He looked me in the eye and nodded to show he was listening. He knows first-timers may be anxious and used engaging body language to make a connection.
My nurse handled details of the admission, but having the doctor say hello gave me confidence in his skills. Likewise, veterinary technicians could admit patients with a quick hello from the veterinarian. Doctors should arrive at least an hour before procedures begin so they can have a morning huddle with the surgical team about the order of procedures, laboratory, and medication instructions, and confirm or assign technicians as "care pairs" to specific patients.
Assign doctor-nurse teams
The same nurse stays with the patient from beginning to end. After my nurse wheeled me into the surgical suite, she administered sedatives. Dr. Vahabzadeh arrived and patted my shoulder before I drifted to sleep. Watching Dr. Vahabzadeh's nurse team is like watching a ballet synchronized to an orchestra—everyone knew their timing and roles. Protocols that define who does what and when help the doctor efficiently use procedure time and see the maximum number of patients per day. The results are good patient experiences and healthy practice revenue. My insurance statement showed the procedure was $7,200—this doctor performs 30 daily.
Clients may be anxious when their pets have surgical and dental procedures at your veterinary hospital. To comfort pet owners, assign a "care pair" who will be the client's contact on the day of the procedure. The "care pair" is the surgery technician who admits the patient. The technician is the bridge that connects the family to the veterinarian. During the admission process, the "care pair" will review communication expectations for the day and answer questions.
"I will be your pet's 'care pair' for surgery today and your personal contact. I will call you after 1 p.m. to update you on <pet name>'s procedure. If you have questions before then, please call and ask for me. Here's my business card."
Set discharge times
My husband waited in the lobby of the outpatient surgical center during my colonoscopy. The nurse said she would bring him to my recovery room at 10 a.m. and have the specialist review the results. Dr. Vahabzadeh shared photographs 
of my colon and explained the findings were normal.
At your veterinary hospital, set discharge appointments at the time of admission.
"Let's schedule your discharge appointment after 4 p.m., when your pet will be ready to go home. You will meet with a technician/doctor for ___ minutes, who will explain results of the procedure, medication instructions, and wound care, and answer your questions. Do you prefer 4:30 or 4:45 p.m. for your discharge appointment?" (Client responds.) "Because you prefer text notification when <pet name> wakes up, so we will send you a text and remind you of the discharge appointment at 4:30 p.m. If you have questions today, here is my business card so you can ask for me."
If technicians release patients, put discharge appointments in the technician column of your schedule. If doctors release patients, put appointments in veterinarians' schedules. Ideally, the doctor or surgical technician who admitted the patient should do the release. Discharge appointments for routine procedures will take about 15 minutes. If a technician will discharge the patient, the veterinarian may want to do the wakeup phone call to the client. Also text the client a photo of his pet receiving loving nursing care, not behind the bars of a cage that looks like animal jail.
"Alex's dental procedure went well. We will see you at 4 p.m. for his discharge appointment. Alex is enjoying snuggles from our nurses. Call Sue at 555-555-5555 with questions."
Veterinarians should handle complicated medical or surgical discharges, such as amputations, because clients will have many questions. Budget 20 minutes for complex discharge appointments. Have set times because clients will be anxious to see their pets, and you don't want them to wait while the doctor tries to "catch" them between busy evening exams.
Provide home-care instructions
While in the recovery room, Dr. Vahabzadeh reviewed the results of my colonoscopy with my husband and me. 
I was still woozy, so having 
a procedure report and home-care instructions to read later allowed me to peruse the details when I was a little more alert. Discharge instructions included an on-call physician in case of any complications.
On your veterinary hospital's discharge instructions, include the name, address, and phone number of an emergency clinic. Tell clients what symptoms might indicate the need for emergency care.
Call clients the day after patients are discharged
A nurse called me the day after my colonoscopy to see if I had any complications or questions. Then he set expectations for when the next screening would be due. "Congratulations on a healthy colon. Dr. Vahabzadeh looks forward to seeing you again in 10 years."
Based on the complexity of the case, have the technician or veterinarian who provided care make the follow-up call. Most questions or complications—the dog chewed off the bandage or seems in pain—are likely to occur within the first 24 hours. Ask:

How is your pet feeling?

How is her appetite?

Is she taking her medication?

Any vomiting or diarrhea?

Any changes in her behavior such as lethargy or hiding?
Close with "What questions can I answer?" This phrasing invites the pet owner to ask questions and is more effective than "Do you have any questions?" Remind the client of follow-up care or an upcoming progress exam, or tell them all is well for now.
"We will see Alex again in October for his annual checkup. If you have questions or concerns before then, please call us. Thank you for the opportunity to care for Alex."
Dissect your next outpatient procedure or physician visit experience. What efficiencies 
did the medical team have that you could emulate at your veterinary hospital? Which communication strategies 
will you adopt from the doctor-nurse team?
Wendy S. Myers owns Communication Solutions 
for Veterinarians in Castle 
Pines, Colo. She is a certified veterinary journalist and the author of "101 Communication Skills for Veterinary Teams." Reach her at wmyers@csvets.com or csvets.com.