Suggested Veterinary Products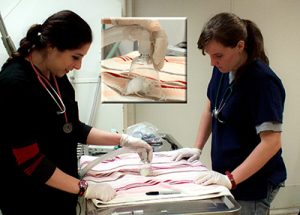 The veterinary technology program at Eastern Wyoming College (EWC) has maintained full accreditation from the American Veterinary Medical Association (AVMA) Committee on Veterinary Technician Education and Activities (CVTEA) after review last year.
"We are pleased to receive ongoing accreditation from the CVTEA," said Susan Walker, DVM, program director. "We constantly strive for excellence in order to meet the needs of the veterinary field in this region. As a result, our graduates continue to be in high demand."
EWC's program participated in a full site visit with a team from AVMA last September. The committee announced the continuation of the program on full accreditation following deliberation of the report of evaluation from the site visit.
The program, which first received AVMA accreditation in 1976, will complete a biennial report due in September 2019, with a full site visit scheduled for 2023.
"We are the only veterinary technician program in Wyoming and one of the most exceptional programs in the United States," said Lesley Travers, Ph.D., EWC president. "The instructors in this program work hard to ensure this level of excellence and to maintain accreditation. Our students benefit greatly from this level of commitment."