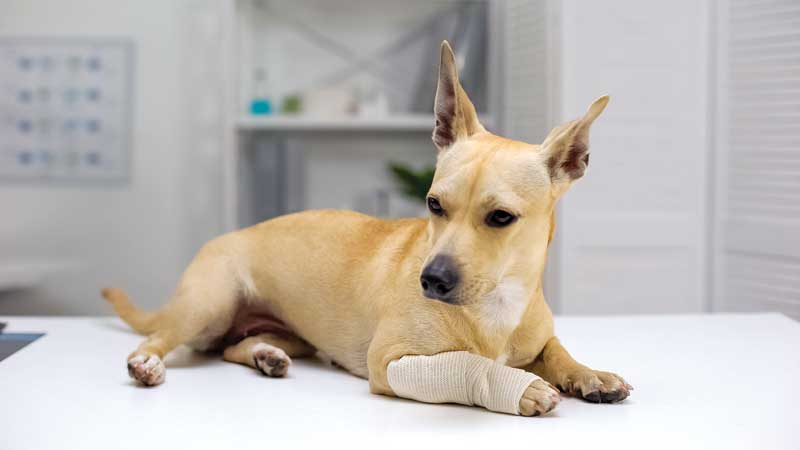 Veterinary medicine suffers from a chronic lack of scientific evidence to identify safe and effective treatments.
We are authorized to use medicines approved for human or animal use on an off-label basis in other species or conditions because the Food and Drug Administration (FDA) recognizes there are so few properly tested and approved medications for our patients.
Without this off-label authority, our ability to treat serious health problems would be crippled.1 Unfortunately, this means therapies are often widely used on the basis of low-quality or unreliable evidence, including in vitro or lab animal studies, extrapolation from human studies, clinical experience and anecdote, or weak clinical evidence.
NSAIDs or…?
One of the most critical unmet needs in companion animal medicine is for oral analgesics other than nonsteroidal anti-inflammatory drugs (NSAIDs). NSAIDs are the mainstay of our treatment for acute and chronic pain in dogs and cats. While they are safe and effective in many cases, sometimes they are contraindicated or the risks of NSAIDs use may outweigh the benefits.2–6 There is also an inappropriate level of anxiety among pet owners and veterinarians about using these drugs, especially in cats, that further limits their utility.
Many alternative oral analgesics are recommended and commonly used, but these typically lack the robust evidence regarding safety and efficacy we have for the NSAIDs.7–11 In some cases, such therapies have been widely employed and then eventually found to be ineffective. Tramadol is perhaps the most well-known example of this.12 Despite promising evidence from human and preclinical research, the extensive use of this drug as a treatment for acute and chronic pain in dogs has likely resulted in significant undertreatment and unnecessary suffering.
Though the evidence for CBD is slightly better, the ubiquity of this remedy as an analgesic is also disproportionate to the strength of this evidence, and it remains to be seen if we will come to regret rapid and widespread adoption of this as an oral analgesic.13,14
The current leading non-NSAID oral analgesic appears to be gabapentin. I often encounter pet owners and veterinarians firmly convinced this is a proven therapy for acute and chronic pain in dogs and cats. A recent survey of veterinarians found it the most popular prescription for chronic musculoskeletal pain in cats, ahead of much more extensively studied treatments such as meloxicam.8 Is this confidence justified? Let's take a look at the evidence.
A look at gabapentin
Gabapentin is a structurally similar to gamma-aminobutyric acid (GABA), though it is not a GABA receptor agonist.10 Its mechanisms of action are not well understood, but it appears to operate by affecting presynaptic calcium channels in neurons.10,11 It is licensed as an anti-seizure medication in humans and for treatment of herpesvirus-associated neuralgia.10,11
Human studies. Apart from its validated uses for seizures and herpetic neuralgia, gabapentin has been studied for many types of acute and chronic pain in humans. The evidence is mixed, low-quality, and inconclusive.15–23 Various studies of perioperative gabapentin use in patients undergoing knee replacement, hip replacement, Caesarian section, breast cancer, and other surgical procedures16-18,19,20, 22, 23 are inconsistent.
Some show reduction of opioid use and various measures of pain, and others do not. In many of these reviews, some assessment tools for pain or discomfort may show beneficial effects from gabapentin while others do not.
Even studies examining neuropathic pain in humans, which is considered the most reliable indication for gabapentin, find many patients experience no benefit.21 Nearly all literature reviews emphasize the evidence is of poor quality and better quality research is needed to support firm conclusions.
Veterinary evidence. Basic pharmacology and pharmacokinetic research indicates gabapentin given orally can be absorbed and achieve plasma levels associated with analgesia in humans.10 Because the drug has a very short half-life, it likely needs to be given every eight hours to achieve these levels.10
A few preclinical studies have been done in dogs and cats. Gabapentin did not affect thermal nociceptive response when given orally in cats. It also did not lower the minimum alveolar concentration (MAC) of isoflurane when given intravenously in this species.24,25 The MAC for isoflurane in dogs was decreased by oral gabapentin, though whether this reflects analgesia or some other effect, such as sedation, is unclear.26
Some case series, and the usual mountain of less formal anecdotal evidence, have suggested analgesic benefits from oral gabapentin in dogs and cats.27–30 However, these uncontrolled observations are at high risk of bias and error, and they frequently do not reflect the findings of better controlled clinical studies.
There are some clinical trial studies of oral gabapentin as an analgesic in dogs and cats. These have generally not been very encouraging, though they all have some methodological limitations, from ineffective blinding or other bias-control measures to administration of gabapentin every 12 hours, which is less than pharmacokinetic studies suggest is needed to achieve an effect.
In dogs, adding gabapentin to opioid or NSAID analgesia provided no additional pain benefit by most measures in dogs undergoing intervertebral disk surgery, mastectomy, and forelimb amputation. Studies involving dogs with neuropathic31-35 pain have also failed to find robust evidence of any benefit. One study in cats undergoing ovariohysterectomy found no analgesic benefit of oral gabapentin added to buprenorphine or meloxicam compared with a placebo.36 Reviews of the evidence uniformly conclude the widespread use of gabapentin for acute and chronic pain in dogs and cats is not based on high-quality, robust scientific research.9–11
Is it safe?
The potential risks of gabapentin are based almost entirely on anecdotal reports. Sedation, ataxia, and vomiting or diarrhea are commonly listed as potential adverse effects and have been reported in clinical trials, but there is virtually no research specifically investigating the potential risks of this drug in dogs or cats.37
Bottom line
The widespread acceptance and use of gabapentin as a safe and effective treatment for acute and chronic pain in cats and dogs is not based on reliable scientific evidence. Extrapolation from preclinical research and the limited evidence available in humans is a common, but poor foundation for clinical use of the drug in veterinary patients. The few studies so far published in dogs and cats have not been encouraging.
It may turn out tabapentin is a useful non-NSAID oral analgesic, but it seems equally likely we will eventually realize we have been relying on yet another ineffective pain therapy. While we inevitably have to make the best effort we can to treat our patients in the information-poor context of veterinary medicine, we have ample reason to be wary of trusting therapies with such weak evidence behind them.
Our patients deserve better than treatments we only hope will effectively treat their pain. Until better more definitive evidence is available, gabapentin should be regarded as no more than theoretically beneficial as an adjunctive treatment, and it should not be relied on as a sole therapy or an alternative to treatments with better evidence of real benefits, such as opioids and NSAIDs.
Brennen McKenzie, MA, MSc, VMD, cVMA, discovered evidence-based veterinary medicine after attending the University of Pennsylvania School of Veterinary Medicine and working as a small animal general practice veterinarian. He has served as president of the Evidence-Based Veterinary Medicine Association and reaches out to the public through his SkeptVet blog, the Science-Based Medicine blog, and more. He is certified in medical acupuncture for veterinarians. Columnists' opinions do not necessarily reflect those of Veterinary Practice News.
References
Extralabel Drug Use and AMDUCA: FAQ. https://www.avma.org/extralabel-drug-use-and-amduca-faq. American Veterinary Medical Association, 2021. Accessed January 7, 2021.
Monteiro B, Steagall P, Lascelles B, et al. Long-term use of non-steroidal anti-inflammatory drugs in cats with chronic kidney disease: from controversy to optimism. J Small Anim Pract. 2019;60(8). doi:10.1111/JSAP.13012
Sparkes A, Heiene R, Lascelles B, et al. ISFM and AAFP consensus guidelines: long-term use of NSAIDs in cats. J Feline Med Surg. 2010;12(7). doi:10.1016/J.JFMS.2010.05.004
Innes J, Clayton J, Lascelles B. Review of the safety and efficacy of long-term NSAID use in the treatment of canine osteoarthritis. Vet Rec. 2010;166(8). doi:10.1136/VR.C97
Luna S, Basílio A, Steagall P, et al. Evaluation of adverse effects of long-term oral administration of carprofen, etodolac, flunixin meglumine, ketoprofen, and meloxicam in dogs. Am J Vet Res. 2007;68(3). doi:10.2460/AJVR.68.3.258
Monteiro-Steagall B, Steagall P, Lascelles B. Systematic review of nonsteroidal anti-inflammatory drug-induced adverse effects in dogs. J Vet Intern Med. 2013;27(5). doi:10.1111/JVIM.12127
Epstein ME, Rodan I, Griffenhagen G, et al. 2015 AAHA/AAFP Pain Management Guidelines for Dogs and Cats. J Feline Med Surg. 2015;17(3):251-272. doi:10.1177/1098612X15572062
Adrian DE, Rishniw M, Scherk M, Lascelles BDX. Prescribing practices of veterinarians in the treatment of chronic musculoskeletal pain in cats. J Feline Med Surg. 2019;21(6):495-506. doi:10.1177/1098612X18787910
Ruel H, Steagall P. Adjuvant Analgesics in Acute Pain Management. Vet Clin North Am Small Anim Pract. 2019;49(6). doi:10.1016/J.CVSM.2019.07.005
KuKanich B. Outpatient oral analgesics in dogs and cats beyond nonsteroidal antiinflammatory drugs: an evidence-based approach. Vet Clin North Am Small Anim Pract. 2013;43(5). doi:10.1016/J.CVSM.2013.04.007
Moore S. Managing Neuropathic Pain in Dogs. Front Vet Sci. 2016;3. doi:10.3389/FVETS.2016.00012
McKenzie BA. Is tramadol an effective analgesic for dogs and cats? Vet Pract News. June 2018:32-33.
McKenzie B. A conclusion on cannabis? Vet Pract News. July 2019:26-27.
McKenzie BA. Cannabis-based remebdies: No reliable clinical research evidence. Vet Pract News. August 2017:38.
Fabritius M, Wetterslev J, Mathiesen O, Dahl J. Dose-related beneficial and harmful effects of gabapentin in postoperative pain management – post hoc analyses from a systematic review with meta-analyses and trial sequential analyses. J Pain Res. 2017;10. doi:10.2147/JPR.S138519
Fabritius M, Geisler A, Petersen P, Wetterslev J, Mathiesen O, Dahl J. Gabapentin in procedure-specific postoperative pain management – preplanned subgroup analyses from a systematic review with meta-analyses and trial sequential analyses. BMC Anesthesiol. 2017;17(1). doi:10.1186/S12871-017-0373-8
Mao Y, Wu L, Ding W. The efficacy of preoperative administration of gabapentin/pregabalin in improving pain after total hip arthroplasty: a meta-analysis. BMC Musculoskelet Disord. 2016;17(1). doi:10.1186/S12891-016-1231-4
Egunsola O, Wylie C, Chitty K, Buckley N. Systematic Review of the Efficacy and Safety of Gabapentin and Pregabalin for Pain in Children and Adolescents. Anesth Analg. 2019;128(4). doi:10.1213/ANE.0000000000003936
Han C, Li X, Jiang H, Ma J, Ma X. The use of gabapentin in the management of postoperative pain after total knee arthroplasty: A PRISMA-compliant meta-analysis of randomized controlled trials. Medicine (Baltimore). 2016;95(23). doi:10.1097/MD.0000000000003883
Fabritius M, Geisler A, Petersen P, et al. Gabapentin for post-operative pain management–a systematic review with meta-analyses and trial sequential analyses. Acta Anaesthesiol Scand. 2016;60(9). doi:10.1111/AAS.12766
Wiffen P, Derry S, Bell R, et al. Gabapentin for chronic neuropathic pain in adults. Cochrane database Syst Rev. 2017;6(6). doi:10.1002/14651858.CD007938.PUB4
Felder L, Saccone G, Scuotto S, et al. Perioperative gabapentin and post cesarean pain control: A systematic review and meta-analysis of randomized controlled trials. Eur J Obstet Gynecol Reprod Biol. 2019;233. doi:10.1016/J.EJOGRB.2018.11.026
Rai A, Khan J, Dhaliwal J, et al. Preoperative pregabalin or gabapentin for acute and chronic postoperative pain among patients undergoing breast cancer surgery: A systematic review and meta-analysis of randomized controlled trials. J Plast Reconstr Aesthet Surg. 2017;70(10). doi:10.1016/J.BJPS.2017.05.054
Pypendop B, Siao K, Lkiw J. Thermal antinociceptive effect of orally administered gabapentin in healthy cats. Am J Vet Res. 2010;71(9). doi:10.2460/AJVR.71.9.1027
Reid P, Pypendop B, Ilkiw J. The effects of intravenous gabapentin administration on the minimum alveolar concentration of isoflurane in cats. Anesth Analg. 2010;111(3). doi:10.1213/ANE.0B013E3181E51245
Johnson B, Aarnes T, Wanstrath A, et al. Effect of oral administration of gabapentin on the minimum alveolar concentration of isoflurane in dogs. Am J Vet Res. 2019;80(11). doi:10.2460/AJVR.80.11.1007
Davis L V, Hellyer PW, Downing RA, Kogan LR. Retrospective Study of 240 Dogs Receiving Gabapentin for Chronic Pain Relief. J Vet Med Res. 2020;7(4):1194. https://www.jscimedcentral.com/VeterinaryMedicine/veterinarymedicine-7-1194.pdf. Accessed January 7, 2021.
Steagall P, Monteiro-Steagall B. Multimodal analgesia for perioperative pain in three cats. J Feline Med Surg. 2013;15(8). doi:10.1177/1098612X13476033
Vettorato E, Corletto F. Gabapentin as part of multi-modal analgesia in two cats suffering multiple injuries. Vet Anaesth Analg. 2011;38(5). doi:10.1111/J.1467-2995.2011.00638.X
Lorenz N, Comerford E, Iff I. Long-term use of gabapentin for musculoskeletal disease and trauma in three cats. J Feline Med Surg. 2013;15(6). doi:10.1177/1098612X12470828
Aghighi S, Tipold A, Piechotta M, Lewczuk P, Kästner S. Assessment of the effects of adjunctive gabapentin on postoperative pain after intervertebral disc surgery in dogs. Vet Anaesth Analg. 2012;39(6). doi:10.1111/J.1467-2995.2012.00769.X
Crociolli G, Cassu R, Barbero R, Rocha T, Gomes D, Nicácio G. Gabapentin as an adjuvant for postoperative pain management in dogs undergoing mastectomy. J Vet Med Sci. 2015;77(8). doi:10.1292/JVMS.14-0602
Wagner A, Mich P, Uhrig S, Hellyer P. Clinical evaluation of perioperative administration of gabapentin as an adjunct for postoperative analgesia in dogs undergoing amputation of a forelimb. J Am Vet Med Assoc. 2010;236(7). doi:10.2460/JAVMA.236.7.751
Plessas I, Volk H, Rusbridge C, Vanhaesebrouck A, Jeffery N. Comparison of gabapentin versus topiramate on clinically affected dogs with Chiari-like malformation and syringomyelia. Vet Rec. 2015;177(11). doi:10.1136/VR.103234
Ruel H, Watanabe R, Evangelista M, et al. Pain burden, sensory profile and inflammatory cytokines of dogs with naturally-occurring neuropathic pain treated with gabapentin alone or with meloxicam. PLoS One. 2020;15(11). doi:10.1371/JOURNAL.PONE.0237121
Steagall P V, Benito J, Monteiro BP, Doodnaught GM, Beauchamp G, Evangelista MC. Analgesic effects of gabapentin and buprenorphine in cats undergoing ovariohysterectomy using two pain-scoring systems: a randomized clinical trial. J Feline Med Surg. 2018;20(8):741-748. doi:10.1177/1098612X17730173
Peck C. The adverse effect profile of gabapentin in dogs–a retrospective questionnaire study. 2017.