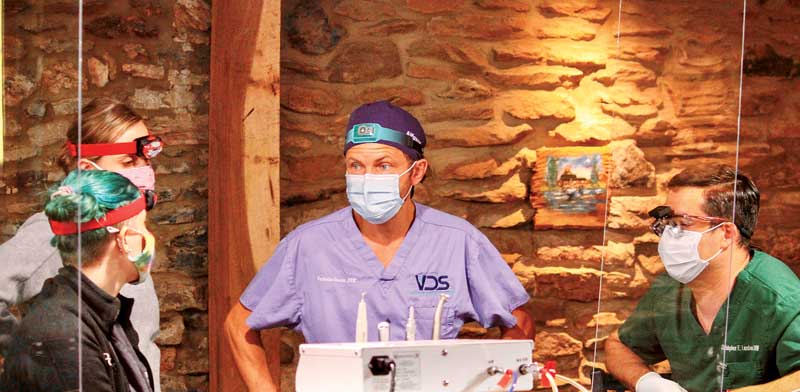 The pandemic has affected us in many ways. One of the most universal effects we have all felt is in the delivery and receipt of education. During lockdown, there was a need for parents and teachers to quickly adapt to remote learning. This was also true of centers of higher learning, including veterinary schools, centers for continuing education, and annual conferences.
It's so nice to be able to return to a greater degree of in-person learning as vaccinations have helped to decrease risk of serious illness or death. We recently hosted a veterinary student from The Ohio State University for a two-week externship, and I had the opportunity to interview him to discuss his interest in veterinary dentistry and his educational experience during the pandemic.
Tell us about yourself and how you became interested in veterinary medicine.
My name is Matt Meihls and I am currently a fourth-year veterinary student at The Ohio State University. I became interested in veterinary medicine at the beginning of my senior year of high school. I elected to do a "senior internship." If I am being honest, I mostly did the internship because I didn't want to sit at the high school for seven class periods, and it allowed me to take only three classes. I had always had an affinity for science classes in high school, and I had a friend whose father was a veterinarian. The friend helped arrange an internship, and from day one I fell in love with the job. I have my mentors and our patients to thank for the instant spark.
When did you decide to specialize in dentistry?
I officially made up my mind about specializing in veterinary dentistry in my first couple years of veterinary school. However, my interest in dentistry was stimulated by the work and research I did with one of my original mentors, Dr. Bill Chastain.
Not many veterinary schools have established specialty programs in dentistry and oral surgery?
I would be lying if I said it wasn't at least a little frustrating, especially since Columbus didn't even have our own small animal dental specialist until recently. Despite the challenges and frustrations of not having a dentistry and oral surgery specialty at school, I was able to continue to advance my knowledge base during my time at Ohio State.
The Foundation for Veterinary Dentistry sponsors student chapters as various schools throughout the United States and Canada. The CVM at Ohio State had a dentistry club with connections to veterinary dentists across the country who gave us lectures over the years. A host of doctors in our community practice service had dentistry interests and a willingness to teach. Opportunities to take online dentistry classes through the University of Illinois allowed me to test my knowledge and grow my collection of resources.
Why have you developed an interest in dentistry?
I think it was one of those things where at first I was like, "Teeth, really? Nobody likes teeth." Then I did some research in dentistry, I spent some time around dentistry, and I realized the great need that exists in the dentistry field; next thing you know I'm the guy who can't wait to pursue a career in dentistry and oral surgery.
What aspects of the rotations you completed did you like best?
Both rotations were unique, and both rotations were equally rewarding. The work that Dr. Chris Snyder, Dr. Jason Soukup, and Dr. Graham Thatcher have done with the Wisconsin Dentistry and Oral Surgery Service is incredible. They have built a team with a variety of interests and strengths that makes the program one of the strongest in the country. I loved the opportunities to learn in case rounds and from not only doctors but also a cohort of residents that the academic rotation provided.
My time in Chadds Ford was equally as special. The VDS team that you have constructed is full of wonderful individuals who were always willing to help me learn. I especially enjoyed getting to see the higher case volume, which private practice dentistry provides.
What has been your favorite aspect of veterinary school?
The relationships I have built along the way, with doctors, staff members at various hospitals, and my peers. I will always be a people person. For me, the connections I have made with those around me will be the most lasting thing I take away from this. Learning content in most every class you can see direct application of in your future career is pretty cool too.
What have been the biggest challenges learning veterinary medicine during a pandemic?
The biggest challenges for me at Ohio State have truthfully been minuscule. There was a small period of time where the online content was quite disorganized, but truthfully, disorganization was to be expected when you ask an entire college to transition all of its content to a remote platform. The disorganization was short-lived, though, as each department figured out their plan shortly after COVID pushed us to remotely. Another challenge, which was honestly probably the largest challenge for me, was the loss of valuable time at the school with my peers from whom I learned so much from.
Were there any silver linings to being in veterinary school during the pandemic?
Time management was as simple as it has been in years since there wasn't really a set time for anything. All lectures were recorded, and assignments were scheduled the entire semester in advance.
You could make your schedule be what you wanted it to be. If it was a nice day and you wanted to go golfing in the morning and then do your school work once the sun went down on a beautiful day, then you could do that. Otherwise, I'm a social human and COVID pretty much killed any ideas of being with my peers and mentors, so not many silver linings to that.
What should future employers know about the next generation of veterinarians?
These students are valuable. We have been in school for some of the most influential times in recent memory. My classmates have been in school during a pandemic, times of political unrest, and times of social/culture change.
The current students have learned so much about diversity and appreciation for all peoples. The current students have learned how to communicate in a professional medical setting in face-to-face, remote, and hybrid environments. To steal some previously used verbiage, the up-and-coming generation is unconventional; this will only make our profession stronger.
Anything else you'd like to share with readers?
I want to take this time to thank not only my mentors, but also everyone reading this who has ever been a mentor to a young adult or student with aspirations of becoming a veterinarian. You will never understand the impact you have on the blossoming generations. Thank you for helping us all to love veterinary medicine.
Thank you, Matt, for taking the time to answer these questions. I would also like to send out a  heartfelt thank you to educators everywhere who worked so hard during the pandemic to make the educational challenges easier for Matt and other students.
John Lewis, VMD, DAVDC, FF-AVDC OMFS, practices and teaches veterinary dentistry and oral surgery at Veterinary Dentistry Specialists and Silo Academy Education Center, both of which are located in Chadds Ford, Pa. For more, visit  www.vdsvets.com