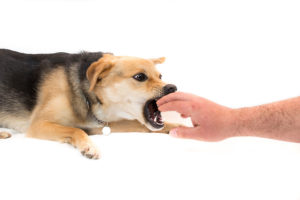 Parents learning canine behavioral cues and teaching them to their children to avoid injuries is one of the ways to prevent dog bites.
That's according to Texas Veterinary Medical Association (TVMA), which released several recommendations for parents and veterinarians to help keep children safe. The advice comes during National Dog Bite Prevention week, which runs from April 7 to 13. Parents should also be aware of a dog lifting its lip, panting or yawning inappropriately, cowering, holding its breath, flattening its ears to its head, growling, or snapping.
"Many dogs will give a warning or several warnings they are uncomfortable, and a person needs to back off," says Lori Teller, DVM, DABVP, a past TVMA president who is a clinical associate professor at the Texas A&M University College of Veterinary Medicine. "People often miss these signs and think a dog bite occurred out of the blue."
The Centers for Disease Control and Prevention (CDC) says 4.7 million dog bites are reported every year. Seventeen percent of them require medical care—half of the victims are children.
According to TVMA, it is important to teach children not to approach unknown dogs, but it also warns many dog bites occur when interacting with familiar dogs, too. If a dog is feeling frightened, distressed, or in pain, it may lash out.
The association recommends pet owners socializing their companion animals as a way of lowering the chance of their dog biting someone. It also suggests supervising children's interactions with dogs in case intervention is needed.
"Puppies need to be socialized to people of all ages, from crying babies to excitable children to teens listening to loud music to adults and senior citizens," Dr. Teller says. "And certainly, if your dog, whether a puppy or an adult, exhibits signs he or she may bite someone, it's imperative you seek veterinary help immediately to address the problem."
See American Veterinary Medical Association's (AVMA's) website for more prevention tips.