Suggested Veterinary Products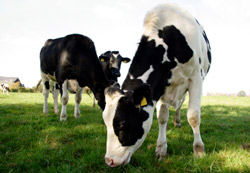 Elanco of Greenfield, Ind., a division of Eli Lilly and Co., has signed an agreement to acquire worldwide rights to the dairy cow supplement Posilac, also known as recombinant bovine sometribove (rbST), from Monsanto Co. for $300 million, plus additional contingent consideration.
Under the terms of the agreement, expected to close early October, Elanco will also acquire the product's U.S. sales force, technical service team and manufacturing facility in Augusta, Ga.
The acquisition is a good fit because it builds on the company's portfolio of dairy products, Jeff Simmons, president of Elanco, said in a conference call Wednesday.
With the global increase in demand of dairy products, the acquisition will also allow Elanco to provide dairy farmers more options and give consumers affordable choices, Simmons added.
In addition, Elanco has experience with the product because it has been marketing it outside the United States for more than 10 years.
Posilac has been the center of controversy since it was approved by the U.S. Food and Drug Administration in 1994. The concern surrounds the potential human and animal health risks connected to the animal hormone.
When asked why Elanco would acquire what is seen as a controversial product, Simmons responded that safety, along with efficacy and demand, were major considerations in acquiring the Posilac business.
Simmons said that although scientific evidence proves that Posilac is safe, the company still respects the choice of consumers.
Monsanto, an agricultural company that produces seed brands, is based in St. Louis, Mo.