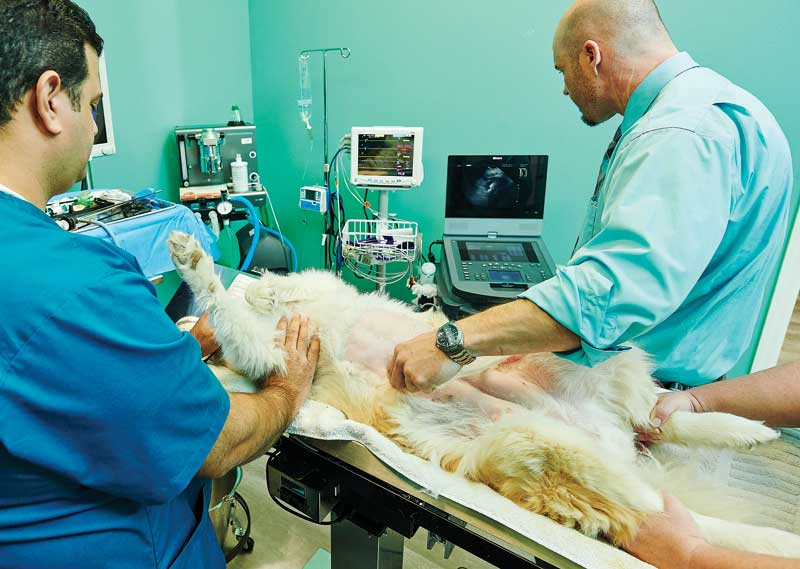 Adding new equipment to your practice expands the services you can offer clients, whether it is a portable ultrasound unit, a new dental or surgical suite, or a CT scan.
In the case of Justin Kerr, DVM, he turned a missed opportunity into a chance to build the clinic of his dreams from the ground up.
His original plan was to purchase a practice, but it fell through. In response, he opted to build his own diagnostic center from scratch, and in doing so elevating the standard of care he could provide clients. His practice, Burnt Store Animal Hospital in Punta Gorda, Fla., now boasts all the tools he needs to provide the best care possible, all under one roof.
How it started
"I practiced for about five years and was underwhelmed at every step of the road with the other clinics I worked at … with the referrals I got, with the lack of competent and thorough examinations and medical care, and with the lack of specialty involvement and communication with referrals," Dr. Kerr said. "I decided no more saying, "I wish." It was now, "I resolve to."
Kerr started his journey at Guiding Practice Success (GPS), a two-and-a-half-day event in which equipment, technology, financing, contractors, business management, real estate, and design experts meet all in one place. (Vets unable to attend events such as this can check out hospital design tracks at industry conferences.)
"I was able to go to the GPS event and meet with architects and contractors and other vets who had been right where I was at," Kerr says. "We were able to formulate a plan of how we would like to do things and how to them done."
Everything in-house
Kerr's goal to be able to do all diagnostics, surgeries, and procedures in-house has come true. "I have not sent one thing to a specialty clinic yet," he adds. "I've not had a single case that I have not been able to handle in-house. That includes orthopedics, intervertebral disc disease, nasal tumors, throat tumors. I work with the Cape Coral police department's K9 unit, and we are doing prophylactic stomach tacking so the dogs won't show up with Gastric Dilation-Volvulus. It's just been a dream come true." 
A complete diagnostic center
"I planned the clinic from the ground up, so I was able to map out a whole diagnostic center," Kerr says. "It includes a digital X-ray and CT machine. I was also able to make space in my surgery room for a laparoscopic tower and all the extra equipment. I was able to make sure I had the proper lighting, the proper equipment, orthopedic implants, and tools to offer a higher level of service within a given amount of space.
Kerr purchased his equipment rather than leasing it, which made sense for his practice because he works in an area where nearby clinics do not have these capabilities. The investment in his practice created an important point of differentiation.
"It's been really embraced by the community so far," Kerr says. "It's not just a regional or a local thing. I've got people that are anywhere from 10 to 50 miles away that drive in to bring their pets because we're able to offer that better service. We're open and honest. We're thorough and they trust us."
The smallest piece of equipment makes a big difference
In a sea of high-tech equipment, it is one of the smallest pieces that makes a big difference for Kerr. "My favorite? Hands down it's the vessel sealer that came along with the laparoscopic bundle. It is the single thing in this clinic I could not do my job without; and I never had one before! It's funny to think of that, but I use it for everything, from kidney removals to gall bladder, throat, tumors, and biopsies. In fact, I can even do a pyometra spay in less than 10 minutes with that particular piece of technology."
"I'm getting referrals from other clinics, other emergency rooms and things like that because I've got the tools and the technology to offer better service," Kerr says. "That little vessel sealer: it's one of the smaller, less expensive pieces of equipment I have, but I would never be without it again."
Actualizing success
Planning a practice and outfitting it with everything needed is a journey that can be made easier with teamwork. Kerr says. "It has been just an immense success, but we did not know that going in. We assumed it; we worked towards it; we did everything to make sure it happened that way. The actualization of success has been really rewarding and fulfilling."
"We can be a beacon within our community as well," Kerr continued. "I get referrals from other clinics all the time just because they want me to scan something for them. So, we can actually help out the other veterinarians in our area."
GETTING READY
Equipment purchases come at a cost, and it pays to plan well ahead in making your dream practice happen. Here, I listed a few points to consider:
Determine the holes in your practice. What services could you offer your clients that you are not offering today? Which services do you wish you could offer?
Research what services are not being offered in your geographic area currently. This is an important way to determine whether an equipment purchase can differentiate your practice.
Determine your budget and return on investment. Often the additional revenue will help offset the cost and will also generate more business, and revenue.
Gather information and estimates. Industry events, equipment specialists from the various distributors, and even consultants can help provide recommendations for consideration.
Consider who you buy from. Your equipment vendor should have a good reputation in the industry and should stand behind its equipment with solid warranties and strong service.
Pull the trigger and take flight! Doing the homework and research in advance can really pay off, both now and in the future.
Shawn Gann is an equipment specialist for Patterson Veterinary in its Florida branch, helping veterinarians select the right tools and equipment to build their dream practices. He also participates in Patterson's Global Practice Success (GPS) events that guide veterinarians in setting up new clinics.