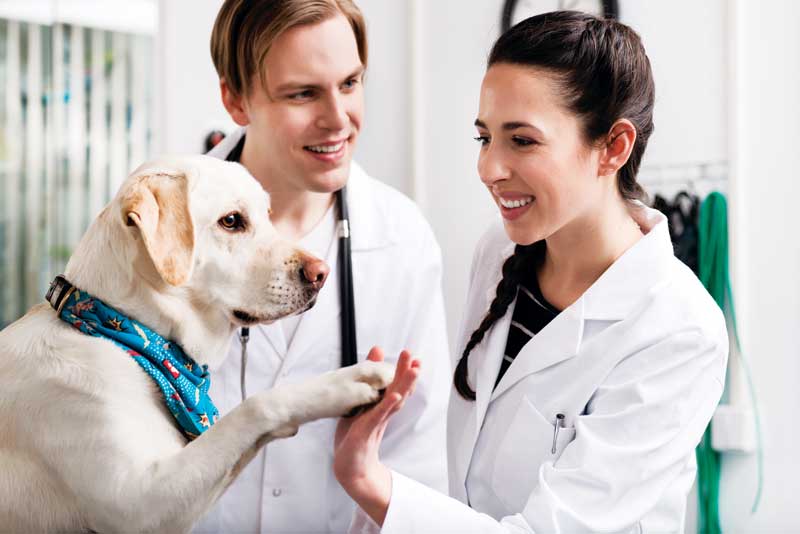 This is part one of an exclusive four-part series on the importance and benefits of employee assistance programs.
Careers in the veterinary industry offer a high degree of job satisfaction. However, the veterinary environment can be competitive, stressful, and emotionally draining. Given the challenges of the workplace, coupled with myriad personal, relationship, and family stressors most individuals confront throughout their lives, the toll work-life issues take on veterinary employees can leave them feeling exhausted and overwhelmed.
Employers are realizing that when a staff member's personal problems are left unchecked, they can fester, bubble over, and impact every aspect of their life, including job performance. Employee assistance programs (EAPs) can provide an antidote for addressing the issues employees cannot tackle on their own. EAPs are capturing the attention of more and more employers because they provide confidential services that address specific problems affecting the mental health and well-being of employees. 
What is an EAP?
An EAP consists of short-term counseling options that pinpoint specific behavioral or mental health topics, including substance abuse, relationships, health, family, and finances. As these issues become more severe, an employee may no longer be capable of objectively confronting them, which can blur the line between personal and work life. Counseling interventions provided under an EAP offer guidance and tools to take steps to begin addressing the problem. Services are confidential and free.
Rebecca Rose, CVT, founder and president of CATALYST Veterinary Professional Coaches, believes EAPs contribute toward a healthy workplace. "Because our work lives blend into our personal lives, employees with aging parents, in the throes of a faltering relationship, or caring for a sick child are affected physically and mentally," says Rose, who is also a Veterinary Practice News columnist. "It takes a Herculean effort to turn off the emotions associated with these issues and turn in a stellar performance on the job. Employers must be sensitive to the issues impacting performance and have the institutional supports in place that take away the stigma of asking for help and make it effortless to access services."
Elements of an EAP
Counseling services available through EAPs are confidential and can be broad. Many third-party carriers offer EAPs that employers can provide to their team. Although a supervisor may suggest a staff member utilize such a program, the employee can contact the service provider independently. Having access to an EAP through an employer can make it easier for employees to seek help. EAP posters with contact information can be posted in common areas, and the benefit of such programs can be discussed during onboarding.
Less common are EAPs that are administered by the veterinary practice within the human resources (HR) department. The services provided through these programs also are confidential. Counseling is at the heart of most EAPs, addressing a broad range of issues related to work, family, relationships, financial problems, legal issues, and substance abuse. The following is a sampling of programs that may be available:
drug and alcohol rehabilitation;
abusive households;
career planning/financial advice;
outplacement services/resume writing/interviewing skills;
housing/relocation services;
retirement planning;
health care/mental health care;
child/eldercare;
legal aid/advice;
grief/loss of loved ones; and
workplace stress.
What can an employee expect?
Employees who either request services from an EAP or are referred by a supervisor can expect the following:
To gain a better understanding of the issues(s) they are confronting
To begin to clarify and explore the issues at a deeper level
To develop a discussion and a plan for addressing the challenges
Cost to employees
Employers typically offer EAP services at no cost to employees, although restrictions might be placed on the number of free sessions that can be used. Employees are more likely to use these services when they are free.
Why an EAP makes sense
Leslie Boudreau, BASVT, RVTg, CVPM, PHR, PHRca, is the practice manager/administrator at Animal Hospital of Huntington Beach, Calif., a seven-veterinarian, American Animal Hospital Association- (AAHA-) accredited, small animal and exotic practice. During a one-year period, she dealt with five employees who were debilitated by mental health issues and required hospitalization. The issues that precipitated each employee's crisis were not directly related to the workplace, but were magnified by work stress and compassion fatigue.
Realizing supervisors and managers needed a tool to offer employees who are in crisis, Boudreau implemented an EAP, which is administered by a third party. Staff reaction has been overwhelmingly positive, Boudreau says. Although she receives regular updates about the number of employees utilizing services, due to program confidentiality, she does not know who is using it or why.
Boudreau characterizes EAPs as a win-win for employers and employees: employees receive the help they need, and supervisors have a solution to offer staff who are struggling. She also stresses EAPs are a relatively low-cost benefit. Even hospitals that don't provide benefits can make a modest investment in an EAP and offer employees a lifeline to grasp when work-life stressors threaten to become debilitating.
"Employees benefit because they have confidential access to lifesaving services," Boudreau says. "Supervisors and managers benefit, too. It's not unusual for employees to complain about personal problems. Supervisors are not trained counselors, nor should they try to assume the role of a counselor. EAPs allow supervisors to offer an employee a solution."
Rose points out that, "The conversation supervisors need to have with employees who are struggling is a complex one. It requires validating the employee's struggle and reassuring him/her it is OK to seek help, especially in times of stress and despair."
It is imperative practices endeavor to promote the EAP and its benefits, including the confidentiality of it, to ensure employees know it's an option, Rose adds. Discussing the EAP during onboarding is key, but employees need regular reminders that it is available to them.
She suggests providing EAP information in a work-related newsletter, on signage in common areas, and restrooms. "To truly bring the program to the attention of employees, we must promote it and banish the stigma of asking for help," Rose says. "We work in a profession that is stressful. The only way to counteract the hazards of the job is through good information and a message that says seeking help is OK."
Beth Drost is a communications specialist who has worked on veterinary industry issues for more than a decade. She is a member of the Veterinary Hospital Managers Association's (VHMA's) public relations team and is collaborating with the National Association of Veterinary Technicians in America (NAVTA) to produce this series of employee assistance program (EAP) articles.