Suggested Veterinary Products
When Evan Antin, DVM, graduated from Colorado State University's College Veterinary Medicine & Biomedical Sciences in 2013, he probably never expected to become famous for his good looks.
It all started in late 2014 when People's magazine named him "Sexiest Beast Charmer" in their annual "Sexiest Man Alive" issue. However, that press and fame that came from that was nothing compared to late January 2016, when the website Bored Panda published an article titled "The Hottest Animal Doctor Ever That'll Make You Want To Get Your Pet Checked."
Soon, BuzzFeed, US Weekly, ABC and media outlets around the world were labeling him as the Internet's "sexiest veterinarian."
Dr. Antin has taken the fame—and teasing from his colleagues—in strides. No stranger to media appearances even before he was Internet famous, he's been on FABLife, the Kris Jenner Show, Fox and Friends and has recently finished up a project with Carolina Panthers quarterback Cameron Newton. He has his own YouTube channel called "Evan Antin Wild Vet," where he "[promotes] animal conservation one wild video at a time."
On top of all that, he practices at Conejo Valley Veterinary Hospital in Thousand Oaks, Calif. He works alongside 14 other practitioners at the American Animal Hospital Association (AAHA)-accredited hospital. Outside of practice, Antin's hobbies include snowboarding, hiking and weightlifting.
Veterinary Practice News sat down with Dr. Antin in March 2016 at the Western Veterinary Conference held in Las Vegas, to talk about his Internet fame, why he decided to become a veterinary and about his passion for animals.
Read the first part of the interview here. The second part is below.
What's your favorite animal and why?
I get asked that question a lot. It's always been crocodiles and venomous snakes, but I usually end up saying crocodiles. For me, crocodiles are so unique-looking and they are so prehistoric. There are other animals that are extant, that are essentially living dinosaurs. But crocodiles I love because they get so big, and they're just so fierce-looking. They're really intelligent and unique as reptiles. [I like]the fact that they are such big and successful animals, and they've remained unchanged evolutionary—in some species, [they've remained unchanged] for a couple hundred million years. It's just really incredible and special to me.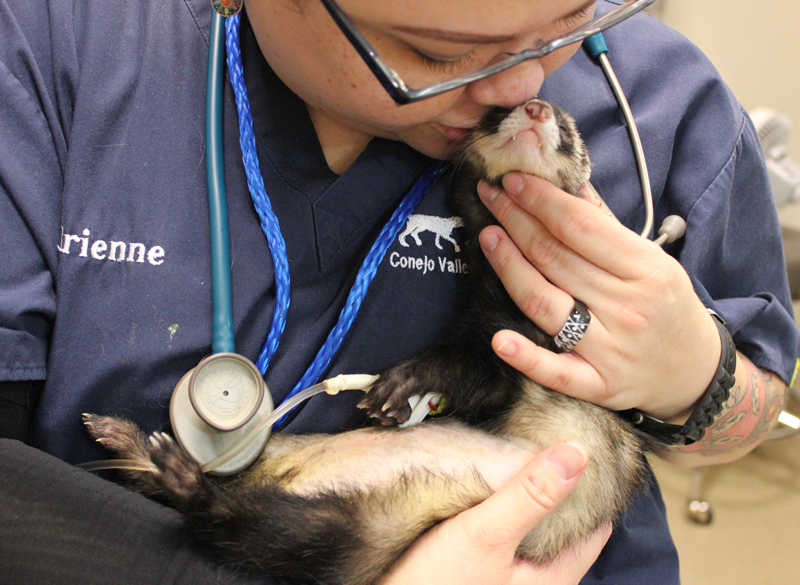 Conejo Valley Veterinary Hospital
Conejo Valley Veterinary Hospital, where Dr. Antin works, is an American Animal Hospital Association (AAHA)-accredited hospital.
What is your favorite fictional animal?
Favorite fictional animal? No one has asked me that before. To be honest, and I don't mean to sound negative, but fictional animals just annoy me. People start believing they might be real. I think it's doing a disservice [when some TV programs promote fictional animals as real].
On a joking level, a griffin, I guess.
On a serious level, too many people start believing "oh, maybe there is a Big Foot." And that completely goes against the modern scientific community.
What advice would you give to aspiring vet students?
The big thing is to get involved with the animal world. Get involved with some veterinarians you can shadow and spend time with. You have to get good grades in school; it's super competitive. If you're on the fence about whether or not you want to do this, follow your heart. Look into the pros and cons of any field you want to go into, and if it happens to be this field, great. Weigh out everything, and make sure it's the right move for you. If it's where you want to be and where you see yourself being happiest and the most successful, follow your heart.