Suggested Veterinary Products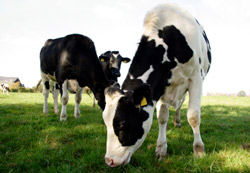 Citing a risk to public health, the U.S. Food and Drug Administration today prohibited the extralabel use of cephalosporin antimicrobial drugs in food producing animals.
The prohibition will  take effect Oct. 1; the agency will accept comments on the rule through Sept. 2 at www.regulations.gov (search for Docket No. FDA-2008-N-0326).
The FDA reports it has gathered evidence showing that "the extralabel use of cephalosporins in food-producing animals is likely to contribute to the emergence of resistance and compromise human therapies."
Of particular concern to the FDA are expanded-spectrum cephalosporins, notably ceftriaxone and cefotaxime, which are the drugs of choice for invasive Salmonella infections in pediatric patients.
The FDA believes that  some cephalosporin use in animals is contributing to an increase in cephalosporin-resistant human pathogens.
Although the FDA reported that there was only limited information regarding the extent of extralabel use of the antimicrobials in food-producing animals, it  said it is evident that such use is occurring.
The rule affects only the extralabel use of the antimicrobials.
Certain cephalosporins, including Ceftiofur, are approved for use in animals. Some of the uses approved for some of these compounds include respiratory disease in cattle, swine, sheep and goats, respiratory tract infections in horses, skin and soft tissue infections in cats and dogs, and the control of "early mortality associated with Escherichia coli infections in day-old chicks and poults," the FDA reported.
"Although ceftiofur is not used in human medicine, the observed trend of increasing resistance to this drug in human isolates highlights concerns about the movement of foodborne bacterial pathogens between animals and humans," the FDA  reported, noting an 18.8 percent prevalence of ceftiofur resistance among Salmonella slaughter isolates for cattle, up from none in 1997, when the National Antimicrobial Resistances Surveillance System began monitoring such isolates.
The prevalence also increased in swine, chickens and turkeys, according to the FDA.