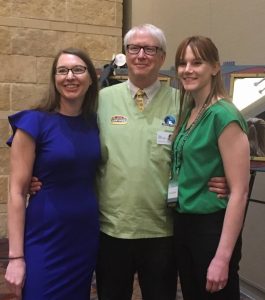 A number of emerging animal health professionals have been honored for their contributions to veterinary behavior research.
Fear Free, which aims to minimize stress and anxiety in pets, presented two awards for best research abstracts at the American College of Veterinary Behaviorists' (ACVB's) annual symposium. The recipients are Amanda Hampton, a fourth-year veterinary student at Louisiana State University (LSU) School of Veterinary Medicine, and Ragen McGowan, PhD, from Nestle Purina Research in St. Louis, Mo.
Two additional awards were presented at the European Congress of Behavioural Medicine and Animal Welfare (ECBMAW) to Ludovica Pierantoni, a veterinary behaviorist from Naples, Italy, and veterinary behavior resident Joao Da Silva-Monteiro of Portugal.
A Fear Free grant was also awarded to Alexis S. Deriberprey for veterinary student research at the University of Florida (UF) College of Veterinary Medicine. Three additional grants were made to projects for 2019 at Purdue University College of Veterinary Medicine (PUCVM), Western University College of Veterinary Medicine, and the Behavior Chapter of the Australian and New Zealand College of Veterinary Scientists (ANZCVS).
"Fear Free is also pleased to announce the funding of two awards for the highest-scoring papers accepted for publication in the Journal of Veterinary Behavior in 2019, as selected by a review committee of the journal," said Gary Landsberg, DVM, DACVB, DECAWBM (companion animals), Fear Free research portfolio director.
"They will be focused on improving pet welfare in two categories: Fear Free Veterinary Visits and Fear Free Happy Homes. We hope that with these awards we can further encourage and acknowledge Fear Free-related research and its awareness through publication in peer-reviewed veterinary journals."
Early this year, Fear Free will announce 2019 grant and award opportunities up to $5,000.
Fear Free was founded by Veterinary Practice News columnist Marty Becker, DVM.
For full abstracts of each award and grant, click here.