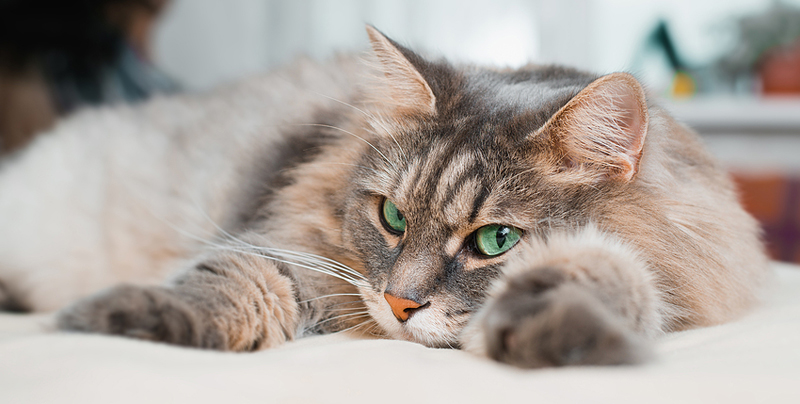 Cats afflicted with osteoarthritis (OA) pain can soon benefit from a novel treatment.
The U.S. Food and Drug Administration (FDA) has approved Zoetis' Solensia (frunevetmab), a once-monthly injectable monoclonal antibody (mAb) treatment for pain associated with feline OA.
The treatment, which is for veterinary use only, targets nerve growth factor (NGF), a key driver in OA pain, which helps improve the mobility, comfort, and overall well-being of feline patients.
"Feline OA pain is typically undertreated because of a lack of effective solutions that are safe to use long-term, along with how difficult it can be for cat owners to administer oral medicines," says Zoetis's chief medical officer, Mike McFarland, DVM. "The approval of Solensia is a significant step forward in the control of feline OA pain."
Signs of osteoarthritis-related pain are present in nearly 40 percent of cats, Zoetis reports. Without treatment, OA pain can worsen over time and significantly impact a cat's long-term health and well-being.
In a three-month study, the newly approved treatment was found to noticeably reduce OA pain
after a single injection, with 77 percent of cat owners reporting improvement in their pet's signs of pain.
"While feline osteoarthritis isn't curable, the pain from osteoarthritis can be effectively managed," says Margaret E. Gruen, DVM, MVPH, PhD, DACVB, an assistant professor of behavioral medicine at North Carolina State University. "Pain is the primary experience of osteoarthritis, and when left untreated, it becomes its own disease state, in part due to the action of NGF, which makes anti-NGF therapy such a game-changing advancement in the management of OA pain. For cat owners, knowing your cat's OA pain is well controlled with an easily administered monthly treatment can be a tremendous relief."
Solensia is expected to be available to veterinarians in the second half of 2022.