From her first paid operation to deodorize a pet skunk to becoming the first woman to build an equine surgical hospital, this world-famous "horse doctor" has done more in her lifetime than many.
M. Phyllis Lose, VMD, may no longer be practicing, but she is far from retired.
This active, energetic woman, who graduated from University of Pennsylvania veterinary school in 1957 and became the first woman equine veterinarian, has stayed right up with developments in veterinary medicine.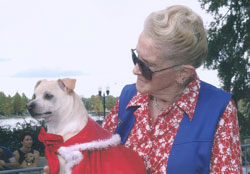 Her dog, Oscar, stars in a movie being filmed at Universal Studios Orlando.
"Bowed tendons used to be a two-year sentence for a horse," said Dr. Lose, whose name rhymes with "dose." "The developments they've made with stem cells almost make me want to go back into practice."
After about 50 years in practice, Lose closed her Berwyn, Penn., hospital several years ago to pursue her dog Oscar's movie career in Orlando, Fla. More about that later.
She admits she only recently developed a love for dogs—her first passion is taking care of horses.
When she graduated from Penn, Lose was one of two women in a class of 50. At the time, the prevailing attitude was that a woman took up desk space that a man could use for a career that would feed his family.
Lose was used to accomplishing whatever she set out to do, so no one else's opinion deterred her.
Many childhood lessons helped Lose through vet school and through her long, eventful career.
---
In 1953, the common belief was that "equine vets were on their way out," due to the rapid developments of city life and world changes.
~ M. Phyllis Lose, VMD ~
---
If she got a "no" at any time of her life, Lose said, it just made her work that much harder.
She said she didn't waste time "being heartbroken. … I just studied harder, worked harder and I never let it show," she said. "I was raised at the time when parents told you to pull your boot straps up and keep going."
In addition to being the first woman equine vet in the United States, Lose was the third woman in the country to hold a horse trainer's license. At 19, she was also the then-youngest to hold this license.
Lose noted that in 1953, the common belief was that "equine vets were on their way out," due to the rapid developments of city life and world changes. "They thought small animal practices would be where the money was," Lose said.
But Lose knew from the start she is a horse doctor.
She has never married, perhaps due to her tough schedule and driving discipline. But there is not a disadvantage in the world that would change her mind about being an equine veterinarian.
Her worst patient ever was a South American vulture that belonged to her horseman client Daniel Mannix. He asked her to take a look at it "while I was there," and it pecked a chunk out of her head. She wore a bloody turban as she finished her rounds at other clients' barns.
She and Mannix remained friends—he helped her write her autobiography, "No Job for a Lady," in 1978.
Lose's other books are "Blessed are the Broodmares" (1991); "Blessed are the Foals" (1987, 1998); and "Keep Your Horse Healthy" (1986). They have been translated into German, Spanish and Japanese.
Lose opened two equine veterinary hospitals in Pennsylvania, and she was the first woman equine vet to do so. Her second hospital specialized in orthopedic, colic and soft tissue damage cases. It had an innovative surgical suite and recovery area.
"But fate is funny," she said, telling how she came to close that practice and move to Florida.
Her dog had won $5,500 in a national Purina dog food contest in 1999. When she was invited to take him to Orlando to audition for a movie in 2000, she decided to close her doors.
After relocating to Florida, she had to take her boards again.
"I was the oldest person there," she said of test day. "I had to take them on the computer, and I was still the first to finish."
Since then, she has worked as a track vet.
"It gave me an income while I was here in Florida waiting for the movie to start filming," she said.
Lose has seen a tremendous change in the past 20 years in the way women veterinarians plan their careers.
"Today, you don't see women going into private practice alone," she said. "It seems they are in groups with other men and women, or as employees of a practice.
"Maybe this is because it makes it easier to be married with children," Lose said. "Mares always seem to foal at night—it is easier to leave your children at home if you have someone else to watch them, or another doctor to share the calls with."
Technology has brought many welcome changes, Lose said, and not just in surgery and healthcare. Practicing in times before cell phones, Lose had one of the first Motorola radios, "Call number KGH656," she remembered.
With a laugh, she offered this advice to young vets:
"Never make friends of horse owners," she said. "You are never not a vet—you can't just go visit someone because they will say, 'While you are here …'"
She loves everything the job has shown her over the last 50 years, though more than a few successes stand out. At her surgical hospital, Lose developed a procedure that transects the check ligament sheath, which released the tendon and resulted in nearly 100 percent success in every club-footed horse she tried it on. "I'd like to write one more good paper on club-footed foals," she said.
She also prides herself on never having an animal with a post-op infection, which she credits to her obsession with cleanliness.
Any regrets?
"I wish I had stayed up later, and gotten up earlier," she said. "Which is hard to do when you are already working almost around the clock."