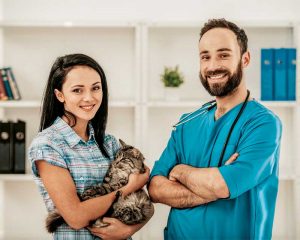 When your clinic provides an extraordinary client experience, which entails taking that extra step to help clients and their pets feel welcomed, supported, and understood, there's no doubt your team is going above and beyond expectations.
In Ryan Pirkle's recent online feature article at veterinarypracticenews.com, "Why practice owners should copy hotels for inspiration," he offered pre-appointment, arrival, and postappointment strategies to make the visit to the veterinary clinic exceptional.
I'd like to take the conversation a little further to offer veterinary team members examples of providing extraordinary five-star veterinary service.
Note: Use this article during a team meeting. First, describe your client's current experience (be completely honest and objective); then use the following examples as ways to improve it.
1) Greeting
Greet the client by stepping out from behind the receptionist's desk. Approach her with grace and ease, and provide a warm handshake. Wear a name tag and introduce yourself. Greet her by her first name (or last, whichever is most appropriate) and thank her for being a great pet owner by bringing in Fluffy. Briefly review the reason for the visit.
Every member of the team can deliver this style of greeting. Team names should be easily identifiable (with a professional-looking badge or name embroidered on the apparel), as clients want to know with whom they engaged.
If the veterinarian is a few minutes late for the appointment, ask the client if she would prefer to sit in the reception area or the exam/consultation room.
Sometimes, clients prefer to remain in the reception area, watching the goings-on and being a part of random conversations. Other times, especially in the presence of rowdy dogs or anxious cats, clients prefer to be placed in the exam room.
Action: Describe your team's greeting protocol and determine how you can improve it.
2) Exam-consultation room
When a client is escorted into the exam room, offer her something to read (possibly a handout on the topic for their visit) and perhaps a beverage.
Explain the veterinary technician, assistant, or veterinarian will be with her shortly, emphasis on "shortly," which means within five minutes. Think how it feels to be crammed into a small, stale room. Time goes by slowly.
Consider placing a timer set for five minutes on the outside of the exam room door. If the timer goes off without a team member entering the room, have someone (e.g. receptionist or assistant) check to see how the client is doing. The attendant can find the appropriate team member immediately for the next step in the office visit.
Action: Determine how long your clients sit in an exam room, on average, without interaction with a veterinary professional (and be honest). Also critique the exam room. Are the photos, posters, and information on the wall framed nicely or tacked randomly? Is the room comfortable, hot and stuffy, or cold? Can the client hear all the ruckus and conversations going on in the back? What about dust bunnies or random fluids splattered on walls or baseboards?
Action: Have each team member sit alone in an exam room for 10 minutes. Ask them to share at the staff meeting how it feels and determine how you can improve the experience.
3) Consistent messaging
Your clients anticipate receiving expert services from knowledgeable, kind professionals. In addition, they want answers to their problems and concerns. No matter the team member, deliver the same message in a consistent manner to provide a high level of professionalism and competency.
Imagine going to a restaurant and asking about the special of the day and the hostess tells you one dish and the waiter tells you another, but then you notice a third dish listed on a white board. How would you know which one was correct? Now envision your client trying to make an informed medical decision when the messaging is inconsistent among team members.
To simplify training the team, identify the top 10 services your veterinary hospital provides. Then generate scripting, treatment plans, and educational handouts around each.
Action: Top 10 training can occur during meetings—choose one service to discuss at each meeting. Once your team is confident and knowledgeable on those 10, move on to the next 10.
4) Communicate better
When your client brings in Fluffy but is not staying for the appointment, ask if she would like to receive updates via text messaging. If she says yes, get her cell phone number.
Several opportunities will present themselves during the day to update the pet owner. For example, begin by taking a photo of the veterinary technician tending to Fluffy. Send the photo with a message such as, "Fluffy is in good hands with Valerie." As soon as the procedures are complete, send another text stating Fluffy did great. Then follow-up with a pickup time for Fluffy once she is ready to go home.
This can decrease client anxiety and minimize the chance of her calling the clinic multiple times to find out what is going on. You can control the amount and timing of the messages, simplifying the client communication process for your team.
Action: Describe ways your team can improve client communication while the patient is in your care. (Tip: It does not and should not fall on the veterinarian's shoulders.)
5) Discharge
In my experience, the team tries to accomplish far too much at the front desk, which can be noisy and distracting with other clients checking out, pets being noisy, and perhaps children in tow.
A far better scenario is to escort Fluffy's owner into a calm, quiet exam-consultation room or other quiet location for more focused engagement. This can allow for quality time for the veterinary technician or veterinarian to recap procedures, review discharge instructions, and explain the completed invoice. Ideally, payment can be processed here as well, even if it means running the credit card to the front desk. Then Fluffy can be brought into the exam room and the client can leave without any front-desk hassles.
Action: Objectively critique current discharge procedures, consider the process from a client's point of view, and determine how it can be improved.
Consider taking your client service experience from simply okay to five-star. You might be surprised by how making small improvements can create an extraordinary client experience.
Rebecca Rose, CVT, founder and president of CATALYST Veterinary Practice Consultants, has 30 years of veterinary industry experience as a veterinary practice management consultant, a practice manager at two AAHA-accredited animal hospitals, and an award-winning veterinary technician. She is a NAVTA past president (2015-2017). Contact her at getCATALYST@CATALYSTVetPC.com or visit CATALYSTVetPC.com.