Suggested Veterinary Products
Some pet owners are in such financial straits today that they might not even seek care for their pets.
Reaching those individuals has become a priority for a number of veterinarians nationwide who have hosted free clinics.
Owners and their pets line up in Atlantic City, N.J., at a free clinic offered by Suzanna Brown, DVM.
"There has been a growing popularity of low-cost spay and neuter clinics and those kinds of things," said David Kirkpatrick, a spokesman for the American Veterinary Medical Association.
Veterinarians who have offered services for free at special events find the experience as rewarding as it is hard work.
Suzanna Brown, DVM, of Best Friends Animal Hospital in Mays Landing, N.J. recently held her fourth free clinic in two years. She and her staff provided maintenance care and vaccines and distributed pet food.
"We're at least an hour from Philadelphia and two hours from New York, so we're still semirural," she said. "However we do have Atlantic City, and the casino industry is what fuels a large part of our economy. With the recession, the casinos took a real beating."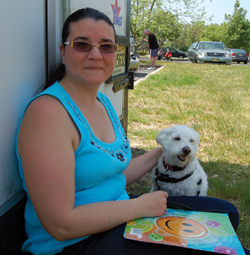 Emmery Villada and Bon-Bon.
Atlantic County, N.J., where Brown's clinic took place, had a 13.6 percent unemployment rate as of April, compared with 9.8 percent statewide.
"I think that's why a lot of people turn to the free clinics," Brown said.
Emmery Villada of Egg Harbor Township, N.J., who brought her 9-year-old poodle, Bon-Bon, for a free check-up, agreed.
"I'm unemployed and my husband's hours have been cut," she said. "It's been about a year since [Bon-Bon's] last check-up, so this event allowed him to stay on track. Without it we would have had to save up over time, and it probably wouldn't have happened for a while."
David Dawson, DVM, owner and medical director of San Roque Animal Hospital in Santa Barbara, Calif., said many people in his community were already suffering when the recession struck.
"In Santa Barbara we have a fair number of homeless people," he said. "The community interacts with these people and their pets directly—if they think a puppy is cute and want to pet it—or indirectly through the animal waste left behind or through other pets or people they can infect."
Dawson, like Brown, has offered four free clinics, where he and staff members provide basic care.
"Most of the care is preventive, though we are able to treat minor issues and we will obtain some diagnostics, if needed," Dawson said.
Each clinic has attracted 20 to 30 people.
Terry Stoothoff, business manager at South Ocala Animal Hospital in Ocala, Fla., reports that veterinarians there host a free clinic at a soup kitchen every two weeks. About three to 10 animals are treated at each session and 20 to 70 owners come for free pet food, she said.
"We do the basic vaccines—rabies, dystemper, FVRCP," she said. "For puppies we'll do a basic worming."
All of the clinic representatives interviewed for this article reported receiving funding from Pets of the Homeless, a Nevada non-profit organization that provides grants of $500 or more for free clinics.
Careful Compassion
Precautions should be taken before a free clinic program is started, said Karen Felsted, DVM, CPA, the CEO of the National Commission on Veterinary Economic Issues.
"The liability issue question is a good one," she said. "There are different kinds of liability, and some of the issues may be different if you use volunteers versus employees or are operating out of a parking lot versus an actual veterinary clinic.
"[What] you have to look at is how do you keep your for-profit veterinary business separate from your free clinic? How do you make sure the people you intend the free clinic for are the ones using it? And how do you continue to communicate value to your clients who are paying full price for your services at your regular clinic?"
Stoothoff said her clinic ensures that free care reaches only those who need it.
"We started something new this year where we are having [pet owners] register," she said. "They do need to have some proof of need."
Individuals are limited to free care for two pets over a six-month period. The rules were made after some unfortunate situations.
"We did have some problems with people taking advantage of the clinics," she said. "Some people were taking the food and selling it."
Dawson suggests marketing free clinics very carefully. "We contacted local social workers, who were instrumental in publicizing the event without making it a public event," he said.
Advanced Care
Some animals brought to free clinics may have problems too complex or expensive to be treated there.
"We are working with a couple of local humane organizations that might fund treatment for more serious procedures," Dawson said.
Stoothoff noted that spay/ neuter services are available through her county's "Neuter Commuter" bus. For other services, a board of directors determines whether the hospital can provide assistance.
Brown, the New Jersey veterinarian, has confronted the issue, too, because some pets have gone without care too long.
"If it's something I think I can address at my office, I will have them give me a call and on a case-by-case basis I will work on a sliding scale," she said.
Serving so many clients during one clinic can be overwhelming and in some cases impossible, said Brown, whose events have attracted more than 200 people in a day.
"I have had to turn people away in the past," she said. "I actually ran out of supplies and ran out of time. It made me realize how big a need there actually was."
From the Heart
The feeling of helping people in need certainly motivates veterinarians offering free services.
"Some people are just scraping by and their pet might be the only thing that keeps them going," Brown said.
Dawson, who once received a fellowship to complete a spay/neuter program in Bosnia/Herzegovina, was similarly motivated.
"Since moving to Santa Barbara I have always wanted to make a difference," he said. "Homeless people are going to have pets regardless of the free care available.
"As veterinarians it is our job to protect the public from zoonotic diseases and prevent needless suffering where possible."
This article first appeared in the July 2010 issue of Veterinary Practice News. Click here to become a subscriber.