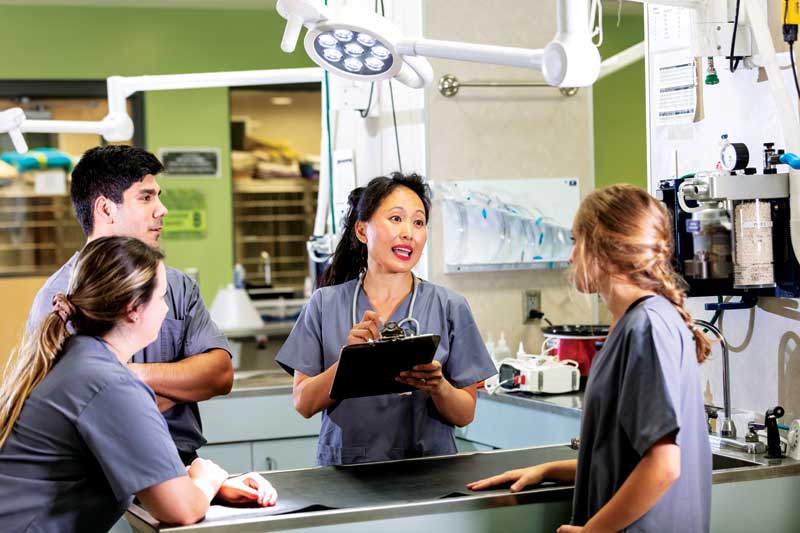 Do you find yourself feeling like a playground monitor breaking up arguments over time on the swing set, or yelling over who gets to go first in kickball? Does it feel like your team can't seem to stop gossiping about one another, assigning blame, and pointing fingers at each other? Do you sometimes find yourself screaming, "Why can't we all just get along?" Well, you are not alone!
Many managers have shared their stories about front office staff bickering with back office staff, or surgery in direct conflict with treatment, and how this type of daily or weekly backbiting can erode the team chemistry and rapidly destroy the healthy culture you have worked so hard to cultivate. Often, these battles boil down to breakdowns in three areas of concern: communication, training, and trust.
Communication breakdown
Physical barriers in the work environment can be a cause of communication breakdown, such as distance from the front desk to the treatment room or boarding area. Try using technology to bridge this physical ravine. Instant messaging systems, two-way radios, phone systems with an intercom, or other platforms can all help increase communication between departments without the need to move team members from their assigned work areas.
Something as easy as adding a checkout code in the practice management software, or PMS, to communicate a patient is "ready to go" or a client is "ready to check out" can also be a way to improve communication utilizing technology already in place.
Teams not communicating well also do not play well on the playground, or in the treatment room. Communication between certain team members can be particularly challenging as personality differences make communication difficult, both on the giving and receiving ends. Emotional intelligence, listening skills, patience, and the ability to see situations through a different lens are just a few essential skills that do not come easily or naturally. Just as common sense is not so common, these skills are becoming increasingly rare in the modern workplace.
Individual coaching sessions outlining appropriate behaviors and expectations are a more direct way to approach communication training. This investment can be time consuming, but it will be well worth it should the employees be receptive and coachable in these sessions.
Absolute accountability is enforced with one-on-ones giving examples of inappropriate behaviors and discussions of future desired outcomes. Again, be cautious to stay away from blame and shame, and instead focus on how to correct the behaviors in the future, offering role play and dialog to set the minimum standard.
Team meetings focused on communication training are a powerful tool in a manager's toolbox. All team members can benefit from this type of training. Using personality exercises, such as www.personalityperfect.com, can be an inexpensive, easy, and fun way to discuss the different personalities within the team. The team member will learn how they interact, and sometimes do not interact, well with other personality types.
Manufacturers' drug reps can also be a great resource to tap into for more complex personality style training, such as Myers-Briggs, DISC, or Dog Breed Qui. These are interactive self-development tools that give team members the skills not only to understand themselves better, but to understand and communicate better with others, as well.
Don't point!
Blame and finger pointing are often a response from team members when someone else failed, either with a minor mistake or oversight, or with an important task.
Repetitive errors from the same individual and within the same department begin to take a toll on the other team members and other departments. The consensus says the department in question is an epic failure and cannot do their job, so errors become expected rather than the exception.
However, a well-developed training manual and system to train the entire department consistently and uniformly will minimize and all but eliminate regular errors department-wide. Creating standard operating procedures, or SOPs, for processes in the practice is a great way to start compiling a consistent and uniform training manual.
YouTube videos can quickly and easily be created to share step-by-step instructional how-to guides for procedures, which can be utilized for initial training and referred to as often as needed.
ACT Online Training or AtDove.org are internet training technology tools that can serve to supplement training when incorporated with a training manual and schedule. Checklists for training and goals for accomplishing sections of training are great ways to appreciate and reward team members, celebrate successes, and show frustrations can be addressed using a healthy mode of communication. No bickering necessary!
Once blame has been placed, communication breakdown has occurred, and training is lacking, the result is broken trust. This fracture is not easily mended and corrective measures supporting the entire team through the restoration process take time. If communication, training, and trust are areas in your practice needing to be addressed, start with identifying the areas in the practice that are problematic.
Pinpoint obstacles or challenges preventing a cohesive team environment with a collaborative culture. Once these are outlined, don't be afraid to talk about the elephant in the room with your team. Ask about ways in which the team can take action to change the gaps in communication or training specific to your team. Focus on the problem at hand, and not the team member or person.
Stay away from blame at all costs! Instead, steer toward corrective action as a team. Haven't we all made mistakes? Didn't we all start in this profession not knowing or having the skills to be proficient at our job? And don't we all still sometimes make mistakes, even now?
Role play
The Veterinary Hospital Manager's Association (VHMA) breaks a practice manager's role into five areas: human resources, marketing, finance, law and ethics, and organization of the practice. The Pareto Principle states that for many situations, 80 percent of our consequences come from 20 percent of our causes.
As a practice manager, 80 percent of our time is spent on only 20 percent of our duties: human resources management, including coaching, teaching, and training our teams.
Do not forget, communication is vital, essential skills are not always easy, training requires effort, and trust takes time!
Design a plan, outline success, and be specific with which goals you want to be accomplished, set action items to achieve, give a realistic deadline, and carve out time to "Just Do It." By creating and continuously cultivating a thriving team with a healthy culture in an engaged workplace through communication, training, and trust, the winner is: everyone!
Andrea Crabtree, BS, CVPM, SPHR, PHRca, CCFP, is the owner of FurPaws Consulting in Orange, Calif. She works with veterinary practice owners and practice managers all over the country to develop their team, as well as to expand and develop their practices. When Crabtree is not busy working, she can be found speaking at veterinary events and webinars or recording for PAWSitive Leadership Podcast, which she co-hosts.