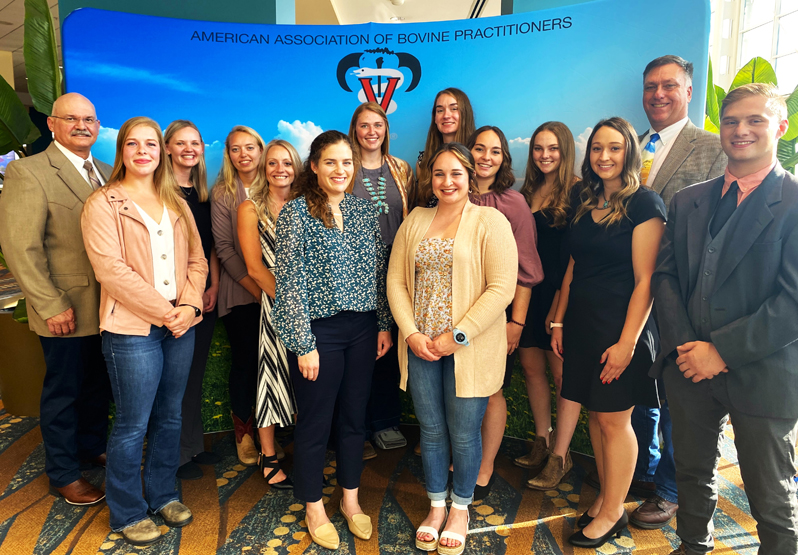 Ensuring America's cattle continue to receive the veterinary care they need is the driving force behind a recently distributed round of educational grants.
Eighteen third- and fourth-year veterinary students have been awarded $5,000 each ($90,000 total) from pharmaceutical company, Merck Animal Health. The scholarships, which were distributed based on students' academic achievements, career goals, and work experience, were specifically awarded to those interested in beef and/or dairy veterinary medicine.
Selected students received their funding and an American Association of Bovine Practitioners (AABP) Bovine Veterinary Student Recognition Award at the 2022 AABP Annual Conference, held in Long Beach, Calif., Sept. 22 to 24.
"For nearly two decades, we've seen firsthand the outstanding individuals who will soon join our field, and this year's group of students is no exception," says the association's executive director, Fred Gingrich II, DVM. "We're incredibly grateful to Merck Animal Health for its continued partnership as we support the next generation of bovine veterinarians."
The recipients are:
Madison Baumgartner, University of Minnesota
Caroline Beninger, University of Calgary
Eleni Casseri, Cornell University
Cayley Childress, University of Arizona
Emma Cijka, Cornell University
Trevor Copes, Tufts University
Gregor Greer, Virginia-Maryland College of Veterinary Medicine
Jessie Hoagland, Ross University
Paige Isensee, University of Missouri
Mallory McConathy, Louisiana State University
Hanna McCray, Cornell University
Elisabeth Regusci, Cornell University
Emily Schuurmans, Michigan State University
Seth Shirky, Cornell University
Lilly Smith, North Carolina State University
Payton Smith, North Carolina State University
Emily Violini, Washington State University
Kaci Way, The Ohio State University
"Merck Animal Health is proud to honor these students who represent the future of cattle care," says Merck's executive director of livestock technical services, Justin Welsh, DVM.