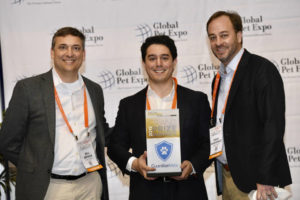 GuardianVets was awarded Purina's 2019 Pet Care Innovation Prize (PCIP) after pitching to an audience of investors, retailers, and the pet care leaders at Global Pet Expo.
GuardianVets is a business-to-business (B2B) telehealth service and platform allowing veterinary hospitals to offer 24-7 continuous client care. The startup is the triage provider for the American Animal Hospital Association (AAHA) and serves more than 600,000 pet owners in over 30 states.
The prize is a collaborative effort of Purina's 9 Square Ventures division with investing leader, Active Capital. The startups must address pet and pet owner needs in the areas of pet health and wellness, services, technology, nutrition, and emerging innovations.
As the grand prize winner, the Chicago-based company will receive a cash prize and the opportunity to work with Purina on a project.
"I'm very appreciative and thankful to be the grand prize winner of the Pet Care Innovation Prize and hope to use this opportunity to continue to move GuardianVets forward and help strengthen the relationship between pet owners and their veterinary practices," says GuardianVets founder, John Dillon. "The PCIP program is built on developing comradery within the pet industry, and it's amazing to see a leader like Purina support startups in such a personal and impactful way."
In addition to competing for the grand prize, the top five also each received $10,000 in cash from Purina and a weeklong experience at a pet care business accelerator boot camp in the company's hometown of St. Louis, Mo.
The other four startups are:
• Shameless Pets (Chicago, Ill.), which uses upcycling to turn ingredients that may have otherwise been lost or wasted into premium pet treats supporting pets' health;
• Bond Pets (Boulder, Colo.), which is working with cellular agriculture technologies to reinvent pet nutrition, making dog and cat foods sourced from real animal protein, without harming any animals in the process;
• Pet genetics company, Basepaws (Los Angeles, Calif.), which has developed the first consumer genetics test for cats that includes detailed information about breed, traits, and health and genetic markers for potential hereditary disease; and
• PlayDate (New York, N.Y.), which is building a smart pet monitoring system, beginning with toys, to keep dogs and cats happy and healthy throughout their lives.