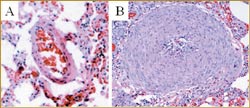 The American Heartworm Society has released its 2007 Guidelines for the Diagnosis, Prevention and Management of Heartworm Infection in Cats, paying specific attention to the newly defined heartworm associated respiratory disease, or HARD.
"Each year cats die needlessly from complications related to this very preventable disease," said Tom Nelson, DVM, president of the society.
"These new guidelines clearly indicate more than ever the need for veterinarians to encourage cat owners to comply with prevention for the health of their cats."
Some cats never exhibit clinical signs, but even a small number of worms can be life-threatening, according to the society.
When signs are evident, they usually develop either in the first stage when the heartworms enter a blood vessel and are carried to the pulmonary arteries, or in the second stage, when the heartworms die.
Signs associated with the first stage are often misdiagnosed as asthma or allergic bronchitis, when they are actually due to HARD. The second stage often leads to fatal acute lung injury.
Signs of HARD include difficulty breathing, convulsions, diarrhea and vomiting, blindness, rapid heart rate, fainting, sudden death, coughing, vomiting, lethargy, anorexia and weight loss.
The updated guidelines also provide information on interpreting serology test results. Heartworm infection is harder to diagnose in cats than in dogs, and it is easy to overlook, according to the society.
Diagnostic tests have limitations, so negative test results do not necessarily rule out an infection, Nelson said.
Antigen tests, for example, detect only adult female or dying male worms. Immature or male-only worm infections are rarely detected.
Studies indicate that less than 5 percent of U.S. households with cats regularly administer heartworm preventives. In contrast, 59 percent of dog-owning households regularly use a heartworm prevention product.
The American Heartworm Society and The American Assn. of Feline Practitioners have teamed up to promote a public awareness campaign about HARD. The KNOW Heartworms campaign will educate veterinarians and cat owners about the disease and the importance of prevention.
The program stresses the importance of understanding the five myths and misunderstandings about feline heartworm disease:
• Dogs vs. Cats: Heartworm is not just a canine disease. Heartworms affect cats differently than dogs, but the disease they cause is equally serious.
• Indoor vs. Outdoor Cats: Heartworm disease is mosquito-borne and evidence has shown indoor cats are just as susceptible to it as outdoor animals. In a North Carolina study, 28 percent of the cats diagnosed with heartworm were inside-only cats.
• It's a Heart Disease: "Heartworm disease" is a misnomer; it mostly affects the lungs, not just the heart. The disease frequently is mistaken for asthma and other respiratory diseases.
• Adult Heartworms vs. Larvae: New research shows that the heartworm larvae at all stages, not just adult worms, can cause serious health problems.
• Diagnosis: Accurate diagnosis can be difficult, since negative antigen and antibody tests don't automatically rule out the presence of heartworms.
"This is a very preventable disease," Nelson said. "This education program and the updated guidelines are based upon the latest, ongoing research conducted around the world."
For more information, visit http://www.heartwormsociety.org/ and http://www.knowheartworms.org/.
New Diet Target FLUTD
Hill's Pet Nutrition Inc. has launched Hill's Prescription Diet c/d Multicare Feline, a combination of Hill's Prescription Diet c/d Feline and x/d Feline.
The combination includes antioxidants and omega-3 fatty acids from fish oil to help break the cycle of inflammation in patients with feline idiopathic cystitis and other causes of feline lower urinary tract disease, a company spokeswoman said.
"While feline lower urinary tract disease is one of the most common problems veterinary health care teams face, it is also one of the most manageable," said Karen Padgett, DVM, chief of the veterinary business channel at Hill's.
She said the product "provides complete nutrition for feline patients who require preventive maintenance, as well as patients in need of treatment for urinary tract disorders."
Pala-Tech Laboratories has also launched a product to help promote urinary tract health. The company's chicken-flavored Potassium Citrate Plus Cranberry Granules, which is available only from veterinarians and veterinary product distributors, contains potassium citrate plus cranberry extract. The product is for dogs and cats.
"Potassium citrate is known to prevent calcium oxalate bladder stones and cranberry extract is widely accepted as beneficial to urinary tract health," said Ray Cooper, vice president of sales and marketing for Pala-Tech. "The granules also contain essential fatty acids to improve skin and hair coat."
The benefits of urinary tract health are also being addressed in the consumer market. Wellness Natural Pet Food has launched Wellness Complete Health, part of its new Dietary Solutions feline dry nutrition line. Its recipe includes three sources of cranberries to promote urinary tract health, animal protein to promote lean muscle mass and omega-6 and -3 fatty acids to support a healthy coat, according to the company.