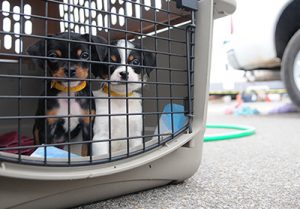 To honor Pet Preparedness Month, veterinarians at PetSmart released a list of tips to help owners ensure the safety and security of their animals in the event of a natural disaster.
"The best way to keep pets safe during an emergency is to prepare a disaster plan, especially with hurricane season around the corner," said Nick Saint-Erne, DVM, PetSmart's resident veterinarian. "It is common to overlook pets when preparing for an emergency, but taking a few simple steps to include your pets' needs in your family preparedness plan will help ensure they are comfortable and safe in the event of an emergency."
Dr. Saint-Erne suggests owners take the following pet preparedness safety measures to help their animals stay safe and calm in the event of an emergency.
Ensure pets are safely contained
When severe weather warnings go into effect, crate or kennel your animal. Consider purchasing a pet carrier in the event of evacuation. Additionally, have lidded plastic buckets or bins on-hand if you own fish, turtles, or similar animals.
Look for pet-friendly housing options for your animal in case you need to evacuate your home
Be sure to your pet up-to-date on its vaccinations, which are often required for boarding, and have copies of its medical records on file. Prepare a list of local shelters, boarding facilities, and clinics able to shelter animals during an emergency.
Make sure your pet has identification
Consider microchip identification for your animal in the event you are separated during severe weather. Proper identification is the best assurance you and your pet will be reunited following the emergency.
Be aware of "paw-level" hazards post-storm
Look out for sharp objects, spilled chemicals, and other substances that could be dangerous for your pet.
Provide comfort
Bring along your pet's favorite toy or blanket to help alleviate their stress during the emergency.
Assemble a pet disaster supply kit
Include the following items in an easy-to-carry waterproof container:
Portable food and water bowls, along with a one-week supply of food and fresh water
Hard copies of each pet's updated vaccination records
An extra supply of medication (if refrigeration is necessary, have easy access to a small, insulated bag or cooler)
First-aid items (e.g. antiseptic spray, antibacterial ointment, liquid bandage products)
A list of regional pet-friendly hotels
A bed, carrier, or leash and harness for each animal
Pet waste bags
Cat litter, litter box, and scoop
Current photos and descriptions of your pets in the event you are separated
For more tips, click here.