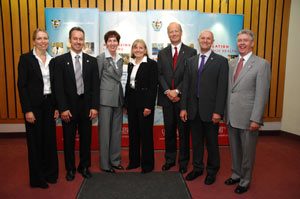 Hill's Pet Nutrition Inc. of Topeka, Kan., has made a $5 million, 10-year commitment to the University of Guelph to support a new educational center at the Ontario Veterinary College.
The Hill's Pet Nutrition Primary Healthcare Center will focus on teaching and research in primary companion animal health care and service delivery. Students will also learn to educate owners about the health, nutrition and well-being of their pets.
"As a veterinary college, we want to emphasize the importance of primary health care in enhancing the significant relationship between pets and their owners," said Elizabeth Stone, the college's dean. "Hill's commitment will help us create a health care model that includes nutrition, rehabilitation, behavior, public health and other areas of practice."
The center, which is part of the overall redevelopment of the college and its teaching hospital, is also supported by the Ontario government. The Ministry of Training, Colleges and Universities invested $9.5 million in the facility and college redevelopment in February.