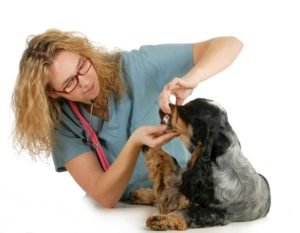 With today's specializations, the general practitioner can find it a challenge to treat all aspects of a pet's health. Areas like dermatology, behavior, and especially dentistry have seen a dramatic reduction in the general veterinary practice. Referral to specialists is becoming more and more the option and for good reason. By the very nature of their work, specialists have an increased knowledge in their particular field, making referral to them a wise choice, particularly when the referring veterinarian has little to no experience with a specific discipline.
That being said, there is room for these specialized disciplines in a general practice. This is especially true when a practice has a veterinary technician specialist (VTS) credentialed in that specialty, and when appropriate time and effort is given to learning it, performing its procedures correctly, and most importantly, relaying that expertise to the client.
Endodontic therapy (i.e. root canal therapy) and crown restorations are two disciplines that can be incorporated into the general practice, if only in a limited way and usually at a much lower cost than a referral practice. Single-rooted teeth, such as canine teeth and incisors, can be good candidates for root canal therapy. When adequately learned, endodontic therapy of single-rooted teeth can be instituted and practiced, allowing your client, their pet, and the income to remain within your practice. With the proper tools, an adequate understanding of the procedure, and sufficient experience, procedures like root canal therapy, vital pulpotomy, and simple fillings or restorations can become options general practice veterinarians can offer their patients.
The scope of this article is far too limited to discuss complete procedures and techniques for endodontic therapy or crown restorations. Instead, the author's intention is to illuminate the vacuum existing in general practice regarding more advanced dental services other than cleaning, polishing, and simple nonsurgical extractions.
When to recommend endodontic therapy

The American Veterinary Dental College's (AVDC's) website can direct you to more specific information; however, the rule to live by is that a broken tooth with pulp exposure has but two options: root canal therapy or extraction. Doing nothing or advising a "wait-and-see" policy should not be considered. Knowing the difference between complicated and uncomplicated crown fractures and understanding the critical time restraints involving a vital pulpotomy can help a general practitioner make sound decisions and offer recommendations. Discolored or non-vital (i.e. dead) teeth also require endodontic therapy. Pupal death means the presence of dead organic material inside the tooth, which can lead to a tooth root infection.
Tools and technique
If you are already performing dental radiographs and have a good working knowledge of tooth anatomy, you are halfway there. The canine tooth is a good place to begin. With continuing education now at our fingertips, learning how to perform quality endodontic therapy of these single-rooted and otherwise healthy teeth can be a profit-generating service. Although root canal therapy or any endodontic therapy can call for a vast variety of instruments and products, a basic endodontic kit is as follows:
Dental unit containing a quality high-speed handpiece
Endodontic files and broaches ranging from small path finders to large files
Paper points ranging in sizes and lengths
Gutta-percha points, root canal filler/sealant and restoration material/calcium hydroxide, zinc oxide, and eugenol
Spreaders and packers
Root canal preparation—numerous are on the market, ranging from inexpensive mixtures mixed in-house to premixed preparations
A collection of dental burs ranging in size and shape appropriate for access to the canal and for crown preparation
A visible curing light
Adequate illumination
Magnification
Many of these items may be alien to some general practices; however, with a little time and experience, successful endodontic and restorative crown therapy is right around the corner.
Root canal therapy for single root teeth


Fracture of the canine tooth in dogs and cats is very common. Although there are many different types of instruments and techniques that go beyond the scope of this article, the basic and rather simplified technique is as follows:
Radiograph the tooth and determine if it has become diseased and possibly beyond the ability of the procedure. Apicoectomies and other advanced dental therapies may not be within a general practice's scope of treatment and should be referred to a specialist.
Access the tooth's pulp either at the fracture site or right at the gumline parallel to the pulp chamber. Use of a small round bur or other more specific burs should be used to access the canal.
Once accessed, a small file or an instrument called a path finder can be used to enter the canal. Also use a small file to obtain the depth measurement. Use a broach to remove the pulp and other organic material residing in the canal. Begin with a small file, working your way up to a larger file until complete removal of all organic material and infected dentin has been accomplished.
Flush the canal well with sterile saline, then flush with sodium hypochlorite. Flush once again with sterile saline, and then dry the canal thoroughly using paper points.
Dental radiographs should be taken along the way to determine the working depth of the file and to visualize the apex.
Once dry, fill the canal with the sealant and gutta-percha. Use of the packers and spreaders will help fill any small voids, if necessary.
Restore the access opening using a glass ionomer and a composite material, such as acrylic. Use of amalgam has dramatically diminished with the advent of composite materials, which are easier and simpler to use with a curing light.
Vital pulpotomy/direct pulp cap
A vital pulpotomy is, for all practical purposes, an emergency procedure. Fractured vital teeth can be treated using vital pulpotomy or direct pulp capping if treated within a maximum of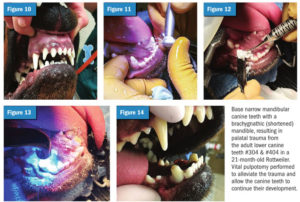 48 hours. A relatively simple technique, the vital pulpotomy is the removal of 10 mm of pulp at the fracture site using sterile techniques and placing calcium hydroxide to help stimulate dentin formation. This allows the tooth to remain vital and continue to grow and develop. Doing so is especially important in young dogs where the tooth is too underdeveloped to perform root canal therapy. If discovered and treated in time, this procedure is invaluable for allowing the tooth to grow and becoming a better candidate for root canal therapy in the future if needed.
Fillings and crown restorations

How many times during a routine teeth cleaning have you seen fractured crowns where the pulp has not been exposed? As stated earlier, crown fractures are broken down into classes: complicated or uncomplicated. Crown fractures that do not have direct involvement with the pulp chamber are classified as uncomplicated and can benefit from a bonded sealant and/or restoration.

Adding this material prevents bacteria from flowing into the dentinal tubules—which help make up the dentin—preventing pain and, in some cases, infection. After using a smoothing stone bur, the sealant is applied to the fracture site, cured with the visible curing light followed by a harder, more protective layer of restorative if necessary.
As initially stated, a referral specialist in dentistry to send complicated dental cases is invaluable and certainly should be offered if there is no room in your practice for more specialized dental procedures. Some of these procedures, however, are not as complicated as one might think and with a little time, experience, and appropriate training, they can be a powerful addition to your services. Root canal therapy, vital pulpotomies, and simple crown protective restorations can be offered to help expand your knowledge and certainly increase your profits, while keeping your patients and your clients happy with your services. As a VTS in dentistry, I have found it worthwhile to promote these services, along with our routine professional teeth cleaning.
Brent L. Wilson, RVT, VTS (dentistry) has been a registered veterinary technician in North Carolina for the past 28 years and has held his VTS in dentistry credentials since 2008. He has been employed by All Animals Veterinary Hospital in Sanford, N.C., since 1990 and enjoys the challenge of oral health issues facing the majority of patients seen from simple cleanings to more extensive procedures, such as the ones described in this article.
References
Veterinary Endodontics, Steven E. Holmstrom, DVM, DAVDC, Word Small Animal Veterinary Association World Congress Proceedings 2011