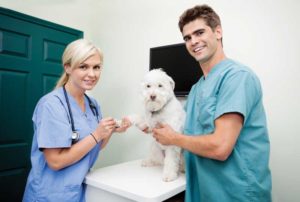 What is the difference between an under- and top-performing health-care team? Let's say you schedule appointments every 30 minutes. In an eight-hour workday, one doctor sees 14 patients and has an average transaction of $160, generating $2,240 in revenue. Your average doctor transaction should be 3.2 to 3.5 times your exam fee, according to the Well-Managed Practice Benchmarks Study.1 If you leverage your nursing team and schedule time based on the reason for the visit, you could see 21 patients per day, producing $3,360 per veterinarian and averaging three patients per hour. Revenue rises when you add dental income that nurses deliver.
How can nurses help you grow revenue? Follow these steps:
Check your staff-to-doctor ratio
Every employee feels the hospital is short-staffed. Chances are you may have the right number of employees, but are using them inefficiently. Aim for a staff-to-doctor ratio of 4.7 team members per full-time veterinarian, according to WTA Consultants in Columbus, Ohio.2 This support staff includes two nurses, one veterinary assistant, one receptionist, and 0.7 managers.
Assign doctor-nurse teams
Designate daily which staff will be outpatient nurses (exams) and inpatient nurses (treatment area). Assign two nurses or assistants to each veterinarian. This medical team of three works together the entire day. Define roles and tasks each support employee will perform. Doctors need support from the right person with the right skills at the right time. This allows veterinarians to focus on three medical responsibilities: diagnosing health conditions; sharing treatment solutions; and performing surgery and procedures.
Nurses do everything else. Think of nurses and assistants as "staff extenders" to perform nondoctor functions, such as client education, technical skills, and medical-record management. This approach lets you see 30 to 40 percent more appointments in the same amount of time.3
See the table for examples of outpatient and inpatient nursing duties.
You will use three types of nursing teams:
Outpatient nursing team: You may use two credentialed nurses, one nurse and one assistant, or two assistants. For a 20-minute checkup, Nurse 1 spends the first five minutes gathering a brief history, getting the patient's vital signs, and explaining services and products that will be delivered today. Confirm the reason for the visit at the beginning of each exam. Say, "I'm <name>, the nurse who will assist Dr. <Name>. For your pet's checkup, we will do a nose-to-tail exam, vaccines, heartworm/tick screen, intestinal parasite screen, and refill preventives. I will take a brief history, collect samples for testing, and get your pet's vital signs. Then the doctor will begin the exam. Does your pet have any health or behavior concerns you want to discuss with the doctor?" If the client shares a concern, this becomes the chief complaint the veterinarian will address before delivering preventive care. (Watch my video on "The #1 Question to Ask to Keep Exams on Time".) Nurse 1 takes the patient to the treatment area where an inpatient nurse or assistant helps collect samples.
When the patient returns to the exam room, the doctor is ready to begin. The veterinarian will spend the middle 10 minutes of the appointment performing the exam, vaccinating the pet, discussing exam findings and test results, and answering the client's questions. Nurse 1 stays to assist the doctor with the physical exam.
Meanwhile, Nurse 2 is starting the next appointment, allowing the doctor to consecutively work two exam rooms. Nurse 1 closes the first appointment, reviewing medication instructions, as well as providing client education. This exam workflow lets your team see three or more patients per hour, significantly increasing productivity and income.
Surgical nursing team: The veterinarian prioritizes today's surgical cases. A nurse and two assistants support the surgical doctor.3 The nurse anesthetizes patients, places catheters, monitors patients, assists the veterinarian during surgery, and updates medical records. In the afternoon, the same nurse may discharge patients. Assistant 1 preps patients and moves them into the surgical suite. Assistant 2 recovers surgical patients. The veterinarian changes gloves and follows sterile surgical protocols between each patient. The nursing team calls, emails, or texts clients as each patient is recovered and confirms discharge appointments.
Dental nursing team: By age three, most dogs and cats have periodontal disease.4 Because doctors diagnose dental disease daily and advise treatment, schedule dental procedures Monday through Friday to meet the demand. The veterinarian performs presurgical exams, sets anesthetic protocols, oversees cases, and does oral surgery.
Nurses lead your dental profit center. The dental team includes one nurse and one assistant. The nurse anesthetizes patients, places catheters, and checks the assistant's work. The assistant takes dental X-rays, cleans and polishes teeth, recovers patients, and updates clients.3 The veterinarian reviews X-rays and performs extractions and oral surgery. While employees will always help teammates when needed, the key to maximum production is simple: Nurses don't do assistants' work, and doctors don't do nurses' work.3
Schedule nurse appointments
Use nurse appointments for admissions, discharges, and outpatient services that support staff perform. When clients walk in for nail trims and bandage changes, these unscheduled services may put additional stress on your nursing team and cause clients to wait when employees aren't immediately available. To bring structure to walk-in chaos, create a column for nurse appointments in your schedule just as you have rows for doctor exams. Concentrate blocks of nurse appointments during afternoons and evenings, such as 1:30 p.m. to 3:00 p.m. and 5:30 p.m. to 7:00 p.m.
Avoid nurse appointments for outpatient services during mornings, when your nursing team is preparing for surgical and dental procedures, as well as checking hospitalized patients. Morning nurse appointments are limited to surgical and dental admissions. Let's say you have six procedures today. Schedule admission appointments every 10 minutes from 7 a.m. to 8 a.m. Because doctor exams haven't started, the assistant will admit patients in the privacy of exam rooms, where clients may comfortably ask medical and financial questions.
Set guidelines for nurse appointments so receptionists properly budget time:
10-minute nurse appointments: Express anal glands, collect blood samples for drug monitoring or follow-up testing, perform intestinal parasite screens, insert microchips, provide Level 1 nail trims (cooperative patients), remove sutures, give booster vaccines that don't require a doctor's exam, and check the weight of pets on weight-management programs.
20-minute nurse appointments: Change bandages, clean ears, Level 2 nail trim (patient requires two or more nurses), administer subcutaneous fluids, collect urine, and perform laser therapy.
30-minute nurse appointments: Take scheduled follow-up radiographs, provide grooming services for birds, and deliver services for multipet nurse appointments.
Have your medical team evaluate every step of delivering outpatient and inpatient services. Ask, "Why do we do it this way?" and "How could we be more efficient?" When you leverage your nursing team, you can deliver more patient care, better manage your workday for less stress, and enjoy increased revenue.
Wendy S. Myers, CVJ, has been training veterinary teams for more than 20 years as owner of Communication Solutions for Veterinarians in Castle Pines, Colo. She helps health-care teams improve telephone and communication skills that result in getting more pets the medical care they need. Myers shares her expertise through conferences, online courses, and monthly CE credit webinars. She is a certified veterinary journalist and author of five books. You may reach her at wmyers@csvets.com or www.csvets.com.
References
1 Tumblin D. Problem: Your Average Doctor Transition Is Low. Clinicians Brief, January/February 2018. Available at: bit.ly/2DUIkkv. Accessed Feb. 4, 2019.
2 DVM360.com staff. Benchmarks 2016 Shows Strong Revenue Growth, Higher Staff Levels. Veterinary Economics; Sept. 7, 2016. Available at: bit.ly/2SerLsA. Accessed Feb. 4, 2019.
3 Catanzaro T. Veterinary Healthcare Services: Options in Delivery. Iowa State University Press, 2000:23-25, 52.
4 American Veterinary Dental College. Periodontal Disease: Information for Pet Owners page. Available at: www.avdc.org/periodontaldisease.html. Accessed Feb. 4, 2019.