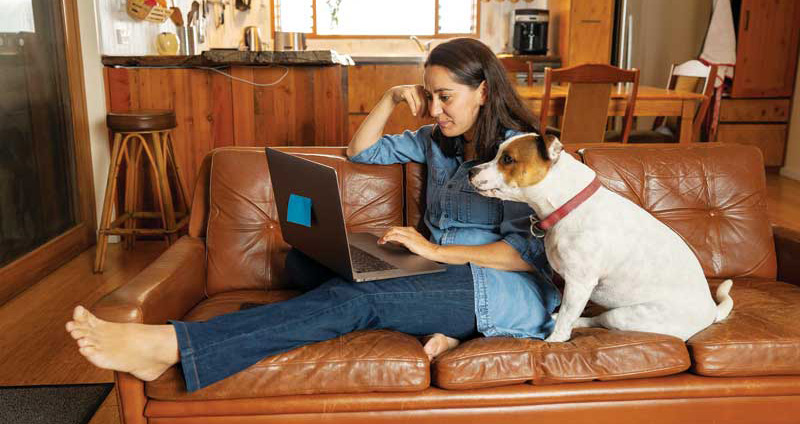 Most veterinarians and their staff already know the personality of a pet owner can have an effect on the animal's behavior. This is one reason veterinarians prefer to conduct the most invasive exams in the back room. A squeamish owner can translate into an uncooperative dog.
Not surprisingly, it turns out this phenomenon also takes place outside the veterinarian's office. The personalities of humans have a big effect on the behavior of the dogs that live with them.
Delving into a study
Understanding this owner influence can be helpful to veterinarians, who are often approached for help by clients with problem dogs.
Lauren Powell, PhD, a postdoctoral researcher at the University of Pennsylvania School of Veterinary Medicine, recently conducted a study of 131 dog-owner pairs to determine how owner personalities affected the success of retraining dogs with problem behaviors.
The dog-owner pairs attended a veterinary behavioral program for six months. Owners filled out two questionnaires at the start of the study: one to assess the human's personality, and the other to describe the dog's behavior at the start of the study. The dog behavior questionnaire was again filled out three and six months later.
Dog owners were asked to rate their canines in the areas of aggression, fear, separation anxiety, trainability, excitability, and energy level. The human personality assessment evaluated owners for extroversion and introversion, agreeableness, conscientiousness, neuroticism, and openness to new experiences. By the end of the study, 75 dog-owner pairs had completed the research.
The study revealed several interesting correlations between dog owners' personalities and their dogs' behavior. One discovery was the difference between training success with extroverted versus introverted owners.
"We found dogs with introverted owners improved less than dogs with extraverted owners," says Dr. Powell. "Introverted people tend to be shy and reserved, and may rely on their dogs for companionship more so than extraverted owners. Introverted owners may also find it tough to leave their dogs or give it space if required as part of the dog's treatment plan."
This kind of information can be valuable for veterinarians being approached for help with behavior problems.
"Veterinarians can spend more time with introverted owners explaining why their fearful dog should be able to choose when it wants to interact and when it needs space," says Powell. "Vets who are able to pick out situations where dogs may be at risk for low improvement can also be more proactive during the follow-up, reaching out to the clients more frequently and empathetically."
Powell notes her study highlights the crucial role veterinarians can play in helping owners with canine behavioral problems.
"One of the key findings in our study was dogs showed significant improvements in trainability following their veterinary consultation," she says.
"Additionally, trainability is vital for veterinary behavioral interventions, and is often a key feature of treatment plans."
Powell adds dogs must be attentive, responsive to commands, and be able to ignore distracting stimuli. This provides owners with the opportunity to implement behavioral modification techniques.
"The increase in trainability in our study speaks to the success of veterinary behavioral treatment, and suggests owners could better manage their dog's behavioral problems," she says.
Timely topic
Over the past year-and-a-half, many dog owners began working at home, creating an environment for their pets that includes a lot of togetherness. As businesses are opening up and people are starting to go back to the office, experts in canine behavior are anticipating a wave of dogs with separation anxiety.
Chris Monsanto, co-founder of PetLab Co., a New York-based pet products manufacturer, is currently conducting a study on pet behavior as it relates to separation anxiety, researching the different facets of how owners going back into the office after the COVID-19 pandemic ends is going to affect their pets.
"During the pandemic many owners started working from home, which has been a huge shift for many pets that were used to limited attention during the day," he says. "Also, for the first time, many owners got a new pet, and those animals have never had to be separated from their owner. When there is a dramatic shift from owners being home all the time to pets being left for eight to 10 hours a day, this can lead to separation anxiety."
Monsanto notes a pet's behavior is commonly associated with the pet's environment.
"Animals, especially dogs, feed on their owner's energy and seek cues from their owner on how they should respond to their environment," he says. "This is why trainers commonly not only train the pet, but the owner, as well."
Although a dog may need a trainer, veterinarians are usually the first contact when a pet owner is experiencing behavioral problems with an animal companion.
"Veterinarians are a key part of managing behavioral issues in our pets," says Monsanto. "Mainly because some medical issues mask as behavioral issues, so it is always important to have the pet examined first by a veterinarian. Secondly, veterinarians work with behaviorists and trainers to recommend supplements and medications to aid in changing destructive behaviors."
Given the inevitable end to the pandemic and the changes in schedule that will be coming for many pet owners, veterinarians may expect to start seeing more pets suffering from behavioral issues.
"To help with the transition to a new schedule, it is recommended to slowly start getting the pet used to the owner being away during the day," advises Monsanto. "This could mean getting them accustomed to being in a kennel or just being separated from the owner for a few hours. Slowly build up the pet to being separated for a few hours each day until he can be separated from the owner for a full work day shift. This will help make the transition easier from the owner being home all the time to going to work full time."
Audrey Pavia is an award-winning freelance writer who specializes in pet and veterinary topics. She lives in Southern California with a menagerie of dogs, cats, and horses.