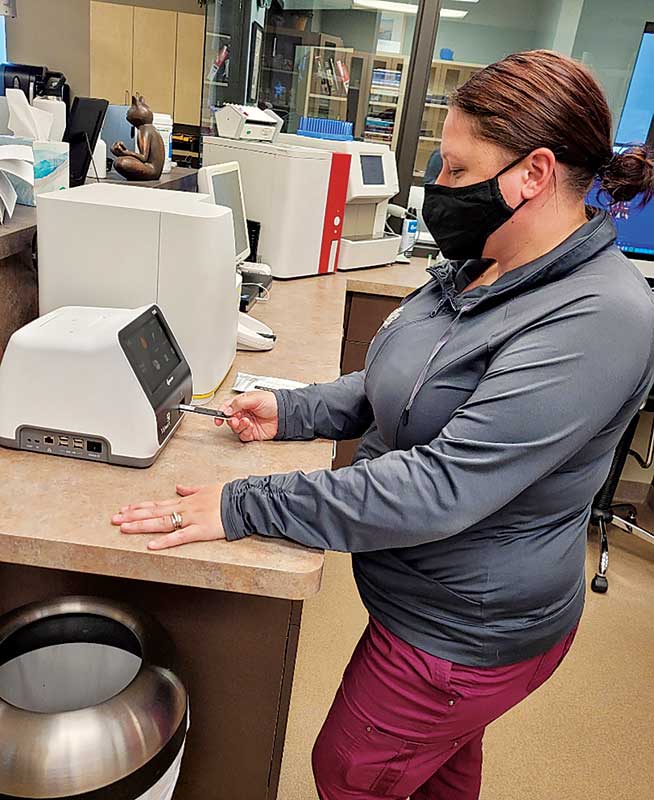 Testing for routine and critical conditions is necessary to provide optimal care to animal patients. However, defining test results can differ due to the variety of ways veterinarians obtain them. Some clinics may have to send tests out to a reference lab for analysis, often with a waiting period of two or three days before results are ready. These days, however, many clinics have a robust in-clinic laboratory or diagnostics lab suite featuring different diagnostic analyzers, some of which can provide more precise results sooner, quantitatively. When quantitative results can be obtained within the clinic setting, a number of benefits, including time and cost savings, convenience, and most importantly—accuracy and confidence in diagnosis—are realized.
The in-clinic diagnostics suite
Depending on the type of analyzer used for testing, results may be defined by positive, negative, or estimated readings, requiring veterinarians to make an educated opinion on diagnosis. There are also many analyzers that provide quantitative results on one or more tests analyzed. For veterinarians looking to increase their ability to get more quantitative results on various diagnostic tests, it is a good idea to obtain a better understanding of the types of analyzers available, the technology they utilize, how they differ, or even better, complement one another.
Several types of analyzers may comprise a chemistry and hematology lab suite. Hematology analyzers use electrical impedance methodology to obtain a result. In this process, a cell passes through an aperture and creates resistance in the current flow. Based on the amount of resistance, the type of cell that was counted is distinguished. The benefit of this methodology is that quantitative results can typically be acquired in minutes.
To obtain quantitative results, chemistry analyzers use various kinds of methodologies in the veterinary market, including photometric, slide-based refractors and full benchtop chemistry analysis. These various types of chemistry analyzers also produce results quickly to benefit in-house labs.
Different types of fluorescence immunoassay analyzers are also available for in-clinic use. When using general fluorescent materials, the stimulating wavelength and emitting wavelength can overlap with each other, causing errors to pop up in test results. Analyzers using europium-detection technology allow for greater separation in measuring wavelengths of general fluorescence for less overlap and more accuracy, offering fully quantitative results. These kinds of analyzers are complementary, provide results in minutes, and close the gap on testing deficits existing in an in-clinic lab suite. It is important to note there are some other immunoassay analyzers that do not use this technology and may only specify qualitative results.
All chemistry and hematology analyzers provide quantitative results. The challenge with outfitting in-clinic labs with diagnostic analyzers is understanding that not all analyzers offer quantitative test results on all tests needed for thorough patient care in a veterinary practice. Therefore, many labs have several analyzers to complement each other by compensating for gaps in the types of quantitative tests needed. With the influx of diagnostic technologies in today's market, there are several choices on how veterinarians can improve the quality of in-clinic testing. One example—not offered on all analyzers—is a test that quantitatively measures rising cardiac pro-hormone (proBNP) level, an indicator of heart disease in canines and felines.
How a clinic selects analyzers really depends on the needs of its patients and how important it is to get definitive diagnostic information faster.
Getting the whole picture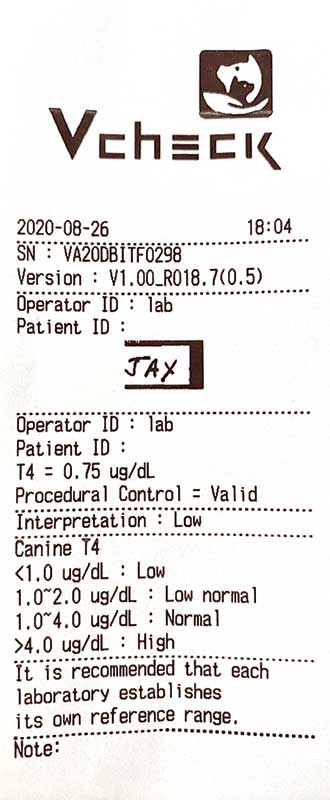 Quantitative results can provide a better understanding of an animal's overall health status or its specific condition. Rather than receiving a positive, negative, or estimated result, quantitative tests help veterinarians better identify the severity of disease in a patient, as well as the prognosis. The approach to an animal's condition can change significantly with an accurate number.
"A number can make a world of difference when it comes to proper diagnosis and therapy," says Scott Jacobson, DVM, owner of Monticello Pet Hospital in Minnesota. "If we did not have in-house equipment that provided accurate quantitative results, there would be a lot of guesswork being done to get to a proper diagnosis."
Once quantitative results are available, a patient can be monitored over time as subsequent quantitative results are obtained. Showing how a number progresses or declines reflects the change in a patient's health in real time.
Quantitative results with preoperative health screenings are also especially helpful to veterinarians. They allow for a more accurate picture of the pet's overall health for a better assessment of the animal's ability to handle anesthesia. Reliable lab work gives insight into how an animal is doing internally, flags abnormalities, and allows for calculation to determine the correct amount of IV fluids a pet needs for surgery.
Clarity for accurate diagnosis
When determining the severity of certain disease states, confidence in the accuracy of diagnostic results is especially helpful. This is overwhelmingly true with specific biomarker tests for endocrine, cardiac, liver, and kidney diseases, as well as non-disease issues where accuracy is imperative, such as progesterone assay for timing of breeding.
Quantitative results can even unveil serious states of declining patient health in the absence of symptoms conducive with a worsening situation.
"I have discovered serious pancreatitis in a seemingly healthy animal with quantitative readings," says Clay Cannon, DVM, owner of Stone Ridge Veterinary Clinic in Utah. "Quantitative results have also provided clarity for diagnosis and changed the way we were treating an animal. One patient with diabetes insipidus with a duration of several months and completely under control, presented with weight loss and inappropriate urination. Quantitative testing proved it was diabetes mellitus, rather than a loss of control of diabetes insipidus."
Next-generation analyzers, specifically the europium-detection technology-based devices, are fully quantitative. They provide more biomarkers to be tested on one machine, allowing a wide range of canine and feline diseases—including T4 and thyroid-stimulating hormone (TSH) testing for hypothyroidism—to be caught during regular health screenings. These analyzers can often direct next steps and bridge the gap in diagnostic outcomes.
"Regular health screening is becoming more the norm than something we do for just sick patients. Having the ability to screen for liver, kidney, thyroid, diabetes, and Cushing's and Addison's diseases through immunoassay analyzers and now having the ability to look deeper at heart health, is amazing," Dr. Jacobson says.
Approach to treatment
When quantitative results are obtained in-clinic and indicate a disease or condition, doctors are often compelled to initiate treatment immediately. Depending on the disease state, further diagnostics may be needed for a complete diagnostic picture.
"Owners love having results while they wait because they can start treatment immediately, rather than having to make a trip back to the veterinarian a day or two later, either after not starting treatment or getting started with the wrong treatment. It allows us to intervene on the patient's behalf to make them more comfortable, sooner," Dr. Cannon says.
Time savings and convenience
In addition to patient health benefits, clinics using diagnostic analyzers
to provide fast quantitative results have seen residual benefits in the form of client satisfaction.
"It is such a time-saver for us. We get our results while our patient and their owner are still at our clinic. We can complete diagnosis and start treatment then, rather than having to contact the owner again and have them return to the clinic. On a daily basis, we have owners comment on how relieved they are they can get immediate results. It saves them so much time," Cannon says.
Clients almost always appreciate a quick answer. Over the past decade, the rise of in-clinic, quantitative analyzers has made it normal for clinics to get answers quickly. Based on positive feedback, pet owners prefer and appreciate this evolution in care.
"When we see a sick patient, we have our certain differentials, and the results help point us in the right direction. I appreciate the ability to show the client the changes. They can see with their own eyes why their pet is ill or see the improvements. Early on, my experiences with quantitative testing results were from reference labs. Over the last 15 or 20 years, the development of cost-effective, in-house equipment has allowed us to get quick reliable results to help us and the client make the best decisions for the patient," Jacobson says.
Putting a number on fiscal health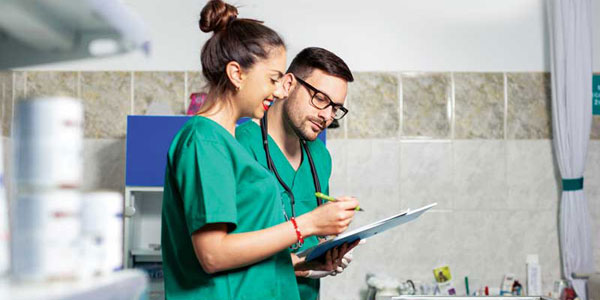 Although there are equipment and inventory investments, as well as some maintenance, many veterinarians agree there are relatively few drawbacks to adding quantitative diagnostic analyzers to an in-clinic lab. Over the long haul, they are often less expensive than using a diagnostic laboratory and can become another profit center for a clinic.
Quicker diagnosis of disease typically allows veterinarians to treat their patients earlier and longer. Follow-up testing serves as another financial benefit and also improves quality of life for patients.
However, there are checks and balances veterinarians need to keep in mind when contemplating the use of diagnostic equipment that provides quantitative results. Despite the accuracy of quantitative testing, it is always recommended that tests are interpreted with other diagnostic techniques such as echocardiography, thoracic radiography, patient history, and clinical signs.
For example, the previously mentioned NT-proBNP test would be the first step in screening for early heart failure in dogs or cats at the point of care. Upon discovery of a quantitatively elevated biomarker, other diagnostic techniques, as noted above, still need to be implemented.
Unintended benefits
In addition to no-contact pet drop-offs and other measures, another benefit has emerged over the last several months. Getting quantitative in-clinic results reduces the touchpoints veterinarians and clinic staff strive for during the age of COVID. Veterinarians using in-house quantitative analyzers recognize it keeps couriers out of their practices for an extra layer of safety, a benefit that will hopefully be less important as the year moves forward and veterinary practices across the country return to more normal operations.
By quickly dialing in a patient's health status in-clinic with just a number, quantitative diagnostics result in higher diagnostic confidence among veterinarians for better patient care outcomes and greater client satisfaction.
Randy Knick, MBA, is senior vice president of operations and sales at Bionote USA, a medical diagnostics research and development company. With more than 30 years of market experience, Knick leads Bionote USA utilizing his personal experience in the U.S., Latin America, Australia, Canada, and the Caribbean, along with extensive experience in government sales.