Suggested Veterinary Products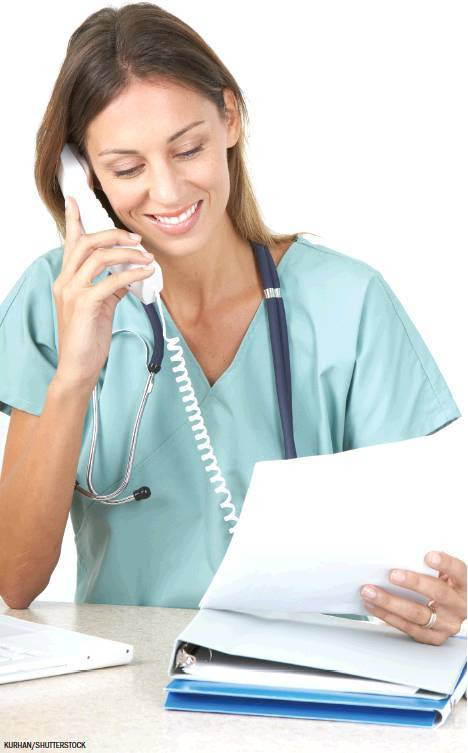 On a busy Saturday morning, a price shopper calls your veterinary clinic and asks, "How much are shots for a new puppy?" With three callers already holding, the frazzled receptionist pleads, "We're really busy right now. Can I call you back in 10 minutes?" The price shopper responds, "No thanks, I'll try another animal hospital."
The caller phones a neighboring clinic and a friendly receptionist answers questions and books the puppy's first exam. Quick and welcoming service earned the second hospital a new client. In addition to the puppy, the caller has two dogs and three cats.
The marketing dollars that your clinic invests in its website, Facebook page and ads, community events, e-newsletters, road signs and other initiatives could be wasted without the reception team's ability to win over new clients. A Communication Solutions for Veterinarians telephone analysis of 3,000 calls to U.S. and Canadian veterinary clinics found that 53 percent of receptionists failed to ask price shoppers to book appointments.1 
Let's say your hospital is open Monday through Saturday and your receptionists average four price shopper calls a day for a total of 96 calls each month. If they convert 30 percent of callers, 29 price shoppers would become new clients. These pet owners would each spend $771 during the first year for puppy, kitten and adult preventive care and spay and neuter surgeries.2 If your team recruits 29 clients a month, or 348 annually, the estimated new client income would be $268,308.
After training, receptionists convert 80 percent of price shoppers into new clients, welcoming 77 new clients each month, or 924 annually. If each spends $771, the estimated new client income would be $712,404—an increase of $444,096, or 62 percent. Underperforming employees could be costing your hospital thousands of dollars.
Here are proven telephone techniques to help receptionists turn more price shoppers into new clients.
Start Relationships with Callers
According to Harvard Business Review, prospects have made 60 percent of the purchasing decision to do business with you before they contact you.3 The first step in starting a relationship is to establish rapport. Ask for caller and pet names at the beginning of calls and then repeat the names throughout the conversation. This technique bonds phone shoppers to your hospital and personalizes the call.
Say a caller asks, "How much are shots for a new puppy?" Reply, "I'm happy to share that information. Let me start by asking your name and your pet's name. Then I will ask questions about your pet to determine what it will need."
Personalize the Phone Experience
Strive to use the caller or pet names at least three times during the conversation. Say, "Thank you, Bonnie. Let me ask you questions about Thunder so I can give you the information you'll need."
Determine a Patient's Needs
A caller's answers will let you efficiently and confidently communicate your hospital's standards of care based on the pet's life stage. Avoid medical jargon and ask questions such as:
How old is <pet name>?
Where did you adopt <pet name>? If the kitten was adopted from a shelter, it could have intestinal parasites, fleas, an upper respiratory infection, feline leukemia/FIV and other contagious conditions. If the puppy was adopted from a breeder, it may need to be spayed or neutered.
What breed is <pet name>? The answer will help you tailor vaccine protocols for dogs that will go to a groomer, hunting or other at-risk environments. For example, a caller with a Yorkie puppy may take her dog regularly to a groomer, indicating the need for Bordetella vaccination.
Which vaccines has <pet name> received?
Has <pet name> had an intestinal parasite test to check for worms?
Which flea/tick and heartworm preventives are you using?
Has <pet name> been spayed/neutered?
Has your kitten/cat been tested for feline leukemia and FIV?
Present the Service First, the Price Last
If a caller asks, "How much is a spay?" and you reply, "It's $203," she'll say, "OK, thanks. Bye." Leading with the price centers the conversation on money. Potential clients will jump to judgment and decide within seconds whether they want to schedule an appointment.
Pet owners need to make informed decisions, so educate them about which services and products their pets will need first, and then quote prices. Let's say a price shopper calls about a 16-week-old kitten she adopted from a shelter. Through your questions, you determined that Alex has had two distemper vaccines, has had one de-worming, has been neutered and has not been tested for feline leukemia and FIV.
Based on this information, explain the needed services and fees. Say, "Congratulations on your new baby Alex. As a 16-week-old kitten, Alex will need a nose-to-tail exam to check his growth and development. The doctor will vaccinate Alex for FVRCP to protect him from feline distemper and two upper respiratory diseases, feline leukemia and rabies, which is required by state law." (Tailor this script to your vaccine protocol.)
"We will perform an intestinal parasite screen to check for worms and deworm your kitten because certain worms can be passed from pets to people. We will perform a simple blood test to check for feline leukemia and FIV and have results during your appointment. We will teach you about nutrition, socialization, litter box training and parasite control. As our baby gift to Alex, you'll receive a free dose of flea/tick and heartworm prevention, an educational book, a sample of kitten food, a vaccine record keeper, a pet food measuring cup, treats and 30 days of pet insurance. This gift is valued at $<amount>. The total/range for Alex's first visit is $<amount>.
"To help you prepare for your visit, we accept cash, checks, debit and credit cards, and <third-party financing>. When would you like to schedule Alex's appointment? We could see him today at 4 p.m. or tomorrow at 10 a.m. Which choice fits your schedule?"
Ask for the Appointment
Never say, "Do you want to book an appointment?" which is a yes-or-no option. Lead the caller to schedule the exam or surgery now. Known as the two-yes-options technique, ask "when" and then offer the next two available times. Say, "When would you like to schedule your pet's exam? We can see you at 4 p.m. today or 10 a.m. tomorrow. Which choice works best for you?"
For more training, order my webinar on "Secrets to Lead Phone Shoppers to Become New Clients," which includes unlimited playback of the one-hour webinar, a handout, a test, one hour of CE credit and a CE certificate. Order the webinar here. Then watch my short video on "Incentives That Attract New Veterinary Clients" below.
References
Data on file. Communication Solutions for Veterinarians Inc.
AAHA Veterinary Fee Reference, 9th edition, 2015. AAAH Press, pp. 53, 54, 60, 62, 72, 71, 73, 74, 75, 76, 135, 140, 143, 153, 297, 296, 299, 300 and 302.
Adamson, B., Dixon, M. and Toman, N., "The End of Solution Sales," Harvard Business Review, July/August 2012. Accessed on 04-20-16 at http://bit.ly/1NWW5uJ.
---
Wendy S. Myers owns Communication Solutions for Veterinarians in Castle Pines, Colo. She helps teams improve client service, communication skills and compliance through consulting, seminars and monthly CE credit webinars. You may reach her at wmyers@csvets.com  or www.csvets.com. 
Originally published in the June 2016 issue of Veterinary Practice News. Did you enjoy this article? Then subscribe today!