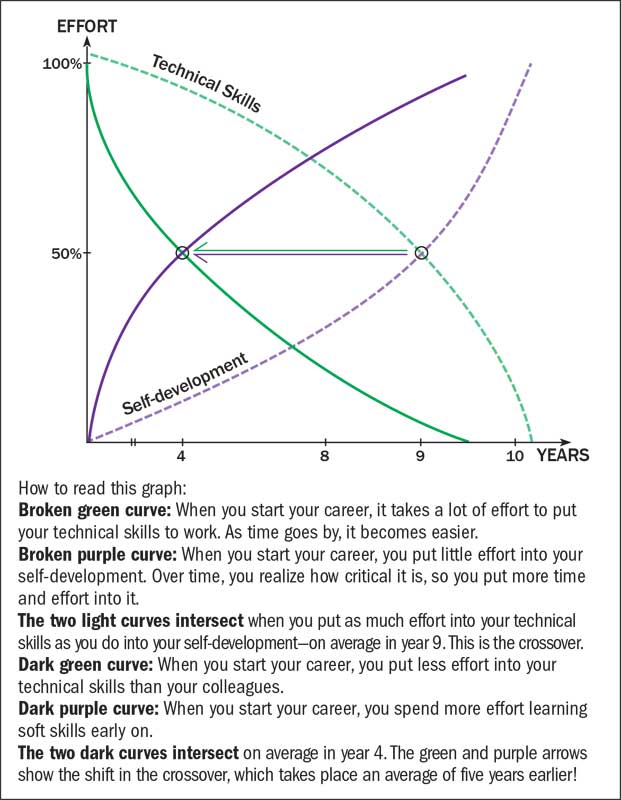 I recently heard about a fascinating concept called "the crossover." I had never heard anything about it. There is no information online. I had never read a word in an article about it. Yet understanding this concept can dramatically accelerate your career—by several years.
"The crossover can speed up your learning curve and radically increase your income," said John Howard, DDS, a dentist in Savannah, Ga.
What is this about, you ask? Let me adapt the dentistry concept to the veterinary profession.
When you start out in your career as a veterinarian, a manager, or a technician, you focus mostly on your "hard" skills: learning more about how to do certain tasks.
Vets need to gain more experience to perform a spay efficiently, work up a Cushing's case effectively, or read radiographs accurately. Nurses need to hit jugular veins reliably, place IV catheters consistently, and restrain patients safely (preferably the Fear Free way). Team leaders need to do reviews objectively, organize staff meetings efficiently, and create reports accurately.
Hard skills clearly are important—no question about it.
Meanwhile, "soft skills," defined by Google as "personal attributes that enable someone to interact effectively and harmoniously with other people," typically are neglected, sometimes for years.
Wikipedia is a little more explicit about what soft skills involve: "[They] are a combination of interpersonal people skills, social skills, communication skills, character traits, attitudes, career attributes, and emotional intelligence quotient, among others, that enable people to effectively navigate their environment, work well with others, perform well, and achieve their goals with complementing hard skills."
Soft skills can also include leadership, communication, building rapport, and conflict resolution. All of these skills are important to work effectively with colleagues and relate to clients.
"Yet those skills are usually sought out by professionals later on, on average seven years into their careers," said Dr. Howard (see Graph 1).
When they do realize how critical communication is to their career and well-being, "this is when the crossover happens," he added.
Skills that pay bills
One way to think about these concepts is that hard skills are what we learn in vet and tech school and on the job. Hard skills include tangible, technical assets. They are our credentials and degrees. Soft skills are those we don't learn in school, or at least not as much depending on your alma mater. Yet they are critically important.
What would happen if young doctors, managers, and technicians learned soft skills earlier in their careers? When they do, "Experience shows that the crossover happens on average five years earlier," said Howard.
Once you understand this concept, you can ethically encourage more clients to follow your recommendations, which means that you can help more patients, which translates into a higher income. This means that the now more profitable practice can purchase more equipment, give raises, and offer bonuses.
The crossover leads to a perfect win-win-win situation with no losers. Clear winners are the practice, the doctors, the managers, the technicians, other staff members, the clients, and the patients.
Of course, acquiring soft skills doesn't exclude adding technical skills to your repertoire. It's not an all-or-nothing proposition. You can learn both!
So how can you acquire these soft skills? Most people hope to learn about them by osmosis or by learning on the job. Yet there are much more effective resources for learning:
Audiobooks
Books
Coaches
Colleagues
Conferences
Family members
Magazine articles
Mentors
Online videos
Webinars
Websites
Of all of these options, mentoring is possibly the most powerful way to leverage someone else's experience, accelerate your success, and boost your career.
When you learn about those skills, you will experience the crossover several years before the majority of your colleagues.
Colleagues who see the light and experience an earlier crossover in their career have more referrals, a better practice culture, a more stable team, more confidence, and an overall better work-life balance, according to Howard. These doctors work fewer hours, yet they are in the top 5 to 10 percent income brackets.
Ironically, soft skills are what allow you and your hard skills
to shine.
Dr. Phil Zeltzman is a board-certified veterinary surgeon and serial entrepreneur. His traveling surgery practice takes him all over Eastern Pennsylvania and Western New Jersey. Visit his websites at DrPhilZeltzman.com and VeterinariansInParadise.com.